Necropolis of Bes-Shatir, Kazakhstan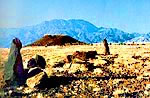 The necropolis of Bes-Shatir (Five Tents) used to be a place of worship for the ancient Scythians dwelling on the territory of the nowadays Kazakhstan in the 1st century BC. Here, on the territory of 2 sq. km, 18 imperial mounds of about 9 m. in diameter and about 2.5 m. in altitude are situated. Under the mounds one can see crypts made of logs of the Tyan-Shan fur-tree.
This unique monument of the early nomads is in Semirechye, in the head waters of the Ili River. To the west of the imperial mounds, the circuit of 45 stone stoves with pictures of animals carved on them extends from the north to the south. Scientists consider this place the ritual part of the necropolis.
In the late of 1950s a unique sanctuary with rock drawings was found at Tamgaly in the Anrakhai mountains, which is 170-km northwest of Almaty. Tamgaly is truly a gallery of ancient art. It reflects several periods of history. Over 4000 drawings have been discovered, dating back to the Bronze Age, the early nomadic era and the Turk period.
There are low slate cliffs and both sides of the gorge. These sheer, flat surfaces are decorated with individual animals and entire scenes, carved with a metal chisel. The petroglyphs include both single and group images of mountain sheep, goats, Przhevalsky's horses, deer, and steppe antelope, as well as domestic animals – camels horses, bulls, dogs.
There are also sun-headed dogs; scenes depicting hunting, religious rituals and animal sacrifices; compositions of people and animals, female forms, arches and so on. Hot far from the gorge and burial grounds dating back to the Bronze Age and early nomadic period is situated an early nomadic settlement. The Tamgaly gallery of petroglyphs is one of the world's treasures and is protected by UNESCO. The name Tamgaly derives from Kazakh "Clan sign" which called tamga.