National Park Altyn-Emel, Kazakhstan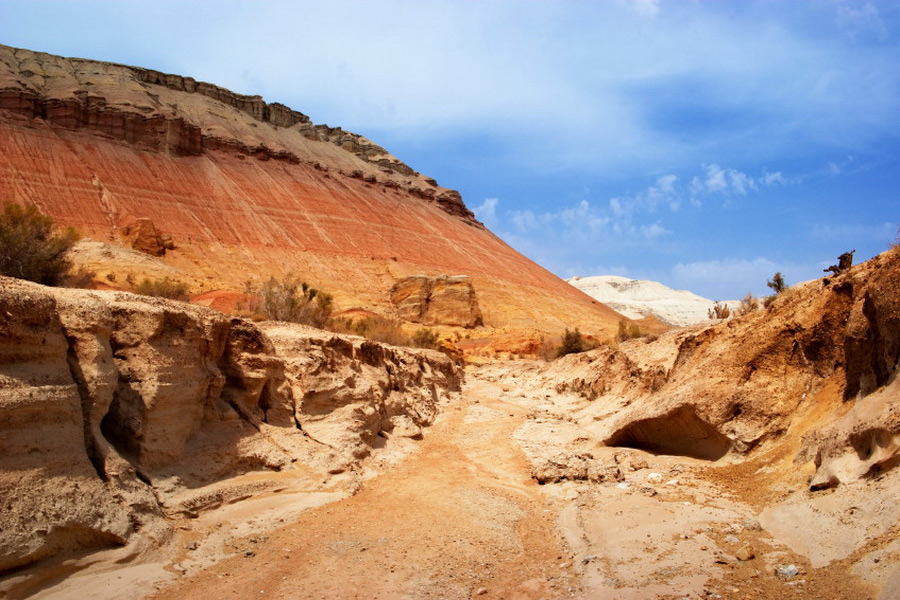 Singing dunes and Saco mounds in the famouse national park Altyn-Emel
Altyn-Emel is a national natural park located in the Ili river valley in the Kazakhstan territory. The Park was founded on 10 April 1996 with the purpose to preserve a unique natural complex, archeological, historical and cultural monuments, rare and endangered species of animals and plants. In the Park territory of total area of 520,000ha, one can find various landscapes: mountain, sand-desert, rank and deserted ones.
The flora of the Park amounts to 1800 plant species, 21 of which are entered in the Red Book of Kazakhstan, about 69 species out of them are rare ones met only in the territory of the Zhungar Alatau, Ili river basin and Balkhash. 56 species out of the animals inhabited the Park are considered rare, and entered in the Red Book of Kazakhstan, among them are argali, dziggetai, Persian gazelle.
There are a good few unique natural and historical objects of significant importance located in the park territory; the most famous one is a unique phenomenon of the nature – Singing Barchan dune which is 1.5 km long and 120m high. The barchan is a crescent in form, which fact makes it beauty unique. When the wind is blowing from the West dispersing the sands, one has a feeling that the pipe organ is playing in the heart of the desert. Up to now this phenomenon is still a riddle of the nature, but the scientists suppose that in hot dry weather the sand gets electrified due to friction and creates a certain sonic vibration. None of those who once heard the barchans singing will ever forget this phenomenon.
In addition to it, there is also Bes-Shatir, a complex of Saco mounds, which is a historical monument and heritage left by great nomads of Central Asian steppes. The burial mounds date as far back as the early years of the Iron Age (the VII-VI centuries BC). The scientists dig out and examined 31 mounds, one of which, the largest and richly decorated is considered to be "The Tsarist One". Among the things found in the burial mounds are gold-plated trappings and gold adornments and utensils, weapons and armor, everything that according to religious beliefs of the ancient nomads could come in handy to the warrior in the after-life.
The tourists may also enjoy magnificent natural landscapes of the Aktay mountains, which are not without reason, called "lunar ones" due to their distinguished color. The Aktau is chalky mountains aged over 400 million years, mainly of white color though one can meet there blue and pink, red and green slopes which add an inimitable extraterrestrial beauty to the Aktau mountains.
The National park Altyn-Emel is not only the largest and most famous natural reserve in Kazakhstan, but also a valuable and important heritage in the Kazakh culture, that is why in 2012 Kazakhstan nominated Altyn-Emel as a candidate for the UNESCO world heritage list.