The Singing Barchan, Kazakhtan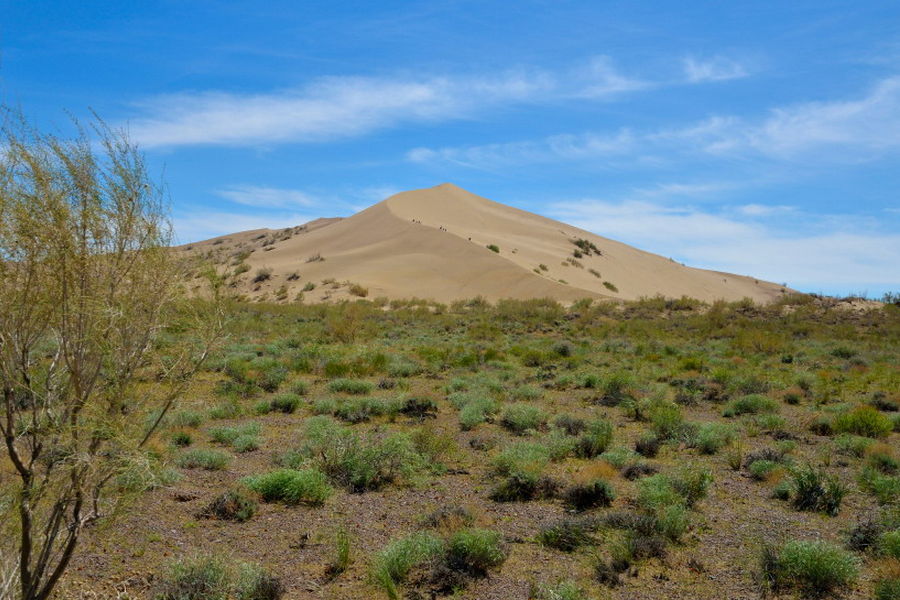 The Singing Barchan - a unique phenomenon of nature
The Singing Barchan in the territory of the Altyn-Emel Reserve is one of the unique phenomenons of nature. A lot of legends and sagas are connected with it. Scholars were not able to understand this phenomenon for a long time. And people who lived in the Middle Ages hearing the barchans singing believed that it was a yawl of the shaitan of desert.
This phenomenon of nature is located on the right river-bank of the Ili, 182 km from Almaty. The barchan reaches almost 3 km in length and 150m in height. This is the largest one among the known barchans. It stretches several kilometers perpendicular to the Big and Small Kalkan ranges. From the top of the barchan a beautiful sight is greeted to the surrounding countryside: the Ili River, mountains and Altyn-Emel Reserve.
However the barchan unicity is not only in its "singing". The fact that it is formed in the place among Rocky Mountains is also rare. The reason for it is blowing out of sands from the Ili sandbanks during fresh gales, which rise sandy dust from the river sandbanks. At the Big and Small Kalkan, spreading under a small angle to each other, the sand forced by the winds smashes against the rocky ridge and subsides forming beddings. A huge sandy mountain being stationary as long as several millenniums has been built up over many centuries.
The barchans signing is rather uncommon phenomenon. The scientists associated it with rather dry weather; the sand pouring down causes a friction effect of the grains, which results in their electrification. Something like vibration occurs, which turns into a boom sounding like the pipe organ. The more grains are involved in the process, the stronger the barchan is sounding.
In order to hear its singing the travelers are often advised to roll downhill in dry weather though climbing to the barchan top is hampered because the legs are sinking in the sand, which is "bubbling" underfoot.
In spite of the fact that the scientists have already studied and explained this phenomenon of nature, people are still narrating legends and myths about the signing barchan. According to one of these legends it was a shaitan sleeping under the barchan. It was intriguing against the people and thereby made God angry. God deprived him the ability to move at lightning speed that is why the shaitan was going on foot to its dwelling which located on the mountain peak. Passing the Ili River the shaitan got tired and decided to go to sleep, but a burden of its trespasses was so great that it is still sleeping, buried with the barchans sands. From time to time a groan is escaping from its sternum, which groans we are taking for singing.