Kolsay Lakes, Kazakhstan
Kolsay - blue necklace of Northern Tien Shan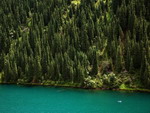 Kolsay Lakes is one of the most beautiful places of Kazakh nature. They are also called a blue necklace of Northern Tien Shan. And it is quite understandable – such beauty cannot be found anywhere! In the Kazakh language "Kolsay" means "a lake in the valley", indeed, all three lakes are situated in the eastern part of the picturesque Kungei Tau gorge, 300 km from Almaty.
The lakes are located at 1,800m, 2,250m and 2,700m above sea level. The Kolsay River originates from glaciers, located in the Kungei Alatau mountain ridges, and falls, in turn, to each of the three lakes: Verkhneye, Mynzholki and Nizhneye. The water in the lakes is fresh. Kolsay Lakes are very deep. For example, the deepest place of the first lake is 80 m, while in the second – about 50 m. The bottom in some places is shallow without crags.
Kolsay Lakes are a favorite place for mountain tourism. Trekking routes to Kolsay Lakes are very easy and fit even for amateurs. Furthermore, Kolsay is a wonderful place for picnics, horse riding and mountain biking. A suitable period for camping is from April to late September.
Along the coast of Kolsay Lakes there are all kinds of guest houses, which always heartily welcome the visitors, who wish to relax in the lap of nature and admire a magnificent panorama of the natural landscape and pristine lakes, greeted from their room window.
Anyone, who is ever lucky enough to visit these places, never forgets their splendor, peace and tranquility, prevailing around. When the surface of the water is absolutely calm, it reflects the sky, while in the evening the lake as if boiling from trout splashing in its waters!