Altyn Arashan in Kyrgyzstan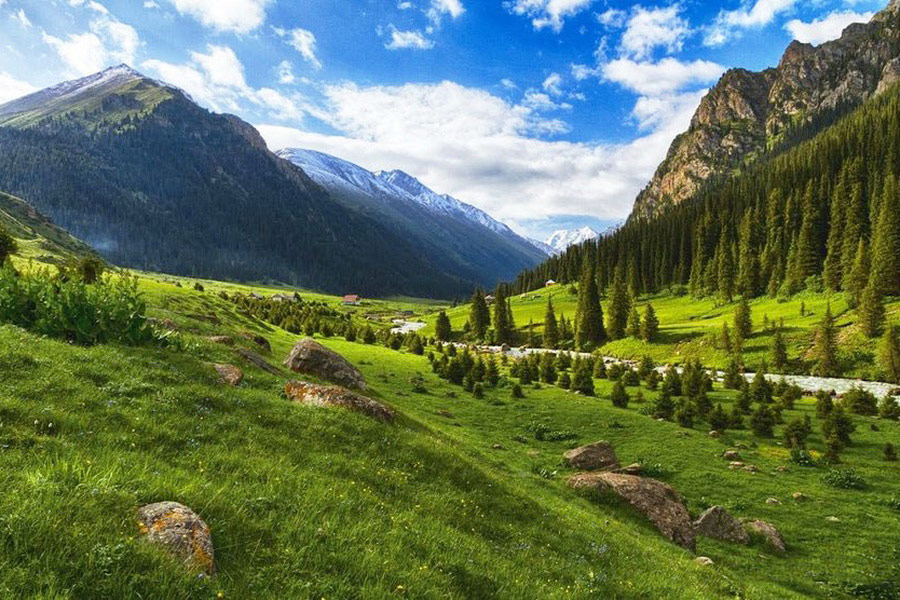 Altyn Arashan (Golden Spa) set in a postcard-perfect alpine valley at 3000 meters, with 4260 meter Peak Palatka (Tent Peak) looming at its south end. From the turn-off to Ak-Suu Sanatorium it's an often-steep, five to six hour (14 km) climb south on a track beside the Arashan River, through a piney canyon full of hidden hot and cold springs. Much of the area is a botanical research area called the Arashan state nature reserve.
The road is not an easy one, very steep in places, and requires special heavy-duty 4WD vehicles. It passes through pine forests, which contain many hidden springs (both hot and cold). Bears are known to frequent the area. There is a small museum with stuffed animals, typical of the region.
Above the resort are the Kyzyl Tash Cave and the peaks of the Ak Suu range which rise to 5022 m. a.s.l.. Nearby are the Tergen Ak Suu, Djergalan, Koi Djailoo and other ravines.
Permits are needed for hiking in the region, and they can be valid for 3 days or 10 days. They are easy to obtain. From Altyn Arashan there are a number of trekking routes, including one across the Karakol, (via the Ala Kul Lake) and Djety Orguz valleys – but the path can be blocked by snow until summer is well advanced.