Ala-Too Square, Bishkek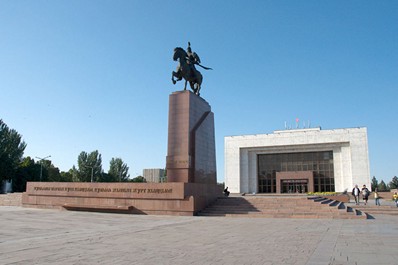 The country's main square - Ala-Too Square is located in the center of Bishkek, as in any major city in the world. Literal translation from Kyrgyz language is "Motley Mountain" symbolizes the nature of the country, two thirds of which is represented by mountainous terrain. Ala-Too Square is a favorite place for the citizens to hold street festivities, festivals, meetings, etc.
At the perimeter of the square, there are the State Historical Museum of Kyrgyzstan, Oak Park with the Museum of Sculptures, St. Nicholas Church, and the People's Friendship Monument. Its center is occupied by a 10-meter bronze statue of the national epic hero Manas. 10 years ago, there stood the Monument to Lenin. The sculpture was moved to the Old Square, where it still attracts a lot of tourists who want to take pictures with the symbol of the Soviet era.
In addition, on the Ala-Too Square, there are also a monument to the famous Kyrgyz writer Chingiz Aitmatov and black-and-white monument in memory of the disorders of 2002 and 2010, claiming lives of dozens of people. A 45-meter high flagpole with the huge waving flag of Kyrgyzstan is installed on the square.