Bishkek - Capital of Kyrgyzstan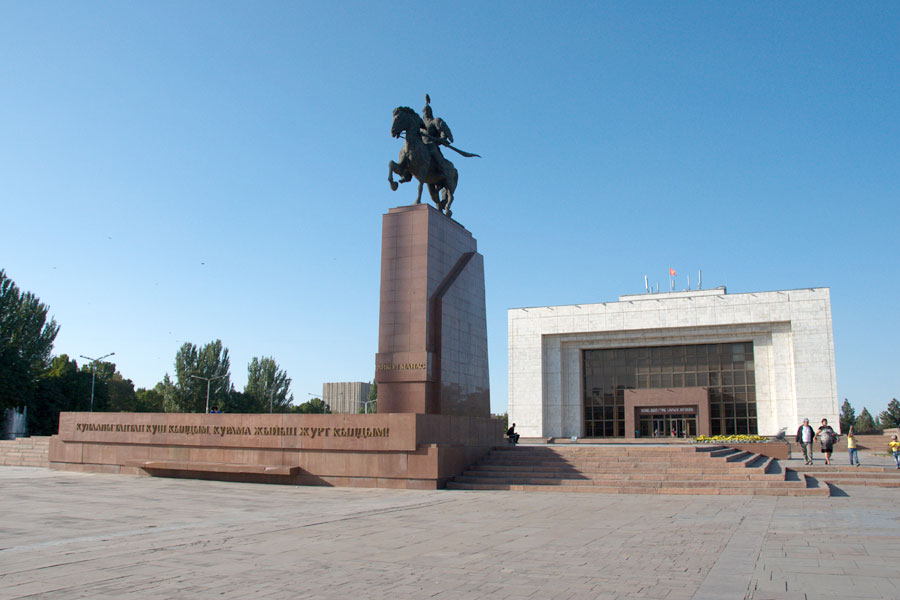 Tours, Attractions and Things To Do in Bishkek
Bishkek is the capital of Kyrgyzstan, and has a population of about one million people. Bishkek is located in the Chuy Valley, at the northern edge of the Kyrgyz Ala-Too Range, at about 800 m (2,625 feet) above sea level.
The first mention of Bishkek was the fortress of Pishpek, constructed in 1825 by the Khanate of Kokand. Pishpek was built to protect caravan routes carrying goods between Tashkent and Lake Issyk-Kul, across the Chuy Valley. After a battle between Russian imperial troops and the Khanate of Kokand in 1860, the fort was destroyed and the area became the edge of the Russian Empire. In 1897, the population of Pishpek was a total of 6,600 people, and rather than being a city, was more like a dusty village of mud houses.
Under Soviet rule, the city developed rapidly. In 1925, Pishpek became the capital of the Kara-Kirghiz Autonomous Oblast, the precursor of today's Kyrgyzstan. In 1926, Pishpek became Frunze, named after the revolutionary and military leader Mikhail Frunze, who was born there. Frunze can still be seen in the city's airport code - FRU. In 1991, the city was renamed once again, to Bishkek. According to experts, "bishkek" is the stick used for churning mare's milk for the traditional fermented drink, kumis.
Today, Bishkek is one of the major cities of Central Asia, and is the largest city in Kyrgyzstan. The population numbers over one million, with over 80 nationalities represented. The main language of international communication is Russian, but Kyrgyz and English are very widespread.
Sights Overview
There are several major museums in Bishkek, the most interesting of which are the Historical Museum, the Museum of Fine Arts, and the Frunze House Museum. Check out performances by the Opera and Ballet Theater, the Russian and Kyrgyz Drama Theaters, the Bishkek City Drama Theater, and the State Philharmonic. There are also a number of venues where pop musicians play, as well as art exhibitions, music festivals, and plenty of interesting events.
There are plenty of places that showcase Bishkek's unique history. There are several monuments to Soviet architecture in the city center, including Ala-Too Square, the Historical Museum, Philharmonia, and several monuments, such as a Monument to the Red Guards and a Monument to the Martyrs of the Revolution. Check out other newer monuments to Manas, manaschy (those who recite the Epic of Manas), and to those killed by government violence in 2002 and 2010. Bishkek is also famous for being one of the greenest cities in Central Asia, with Oak Park, Erkindik Boulevard, and Panfilov Park being popular destinations in the summer.