Uzgen
Uzgen - the ancient capital of the Karakhanid Khanate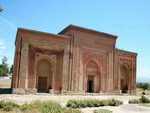 The small city of Uzgen is located in southern Kyrgyzstan, 54 km away from Osh, on the right Kara Darya river bank. Though the city geographically belongs to Kyrgyzstan, it is also located in the eastern part of the Uzbek Fergana Valley, so geographically and historically the Uzbeks make up over 90 percent of Uzgen population. The Kyrgyz accounts for 8 percent of the city's population. The city is also home to the Russians, Tartars, Turks, Uyghur, though their Diasporas do not make up more than1percent. The total population is about 50,000 people.
The city's economy main directions are agriculture and tourism. There are over 20 enterprises for processing of agricultural products from the surrounding areas.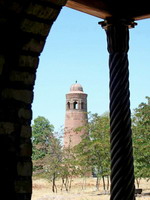 Uzgen is one of the Kyrgyz oldest cities. It sprang up as a trading post in the II-I centuries BC on one of the Silk Road routes that connected the Fergana Valley with Chinese Kashgar. In the XII century Uzgen was the capital of the eastern Kara-Khanid Khanate, whose dynasty was ruling in Central Asia from IX to XIII centuries. Its tourist attraction is the architectural complex of the XII century. The complex includes 3 Kara-Khanid mausoleums, a 44 m-high minaret, mosque and madrasah. Also, the city is notable for ruins of an ancient fortress, shrines and graves of saints and other landmarks. All the facilities have been restored with the support of various international organizations, and now Uzgen is one of the main points of tourist routes in Kyrgyzstan.
Today, the city is divided into Verkhny and Nizhny Uzgen. Verkhny Uzgen includes a city with businesses, shops and bazaar, while Nizhny Uzgen is residential districts. Although there are two rivers - Karadarya and Yassa near the city, the people are experiencing a constant shortage of drinking water. The city's water canal satisfies only 60 per cent of needs, drinking water is supplied by water pumping wells located in the yards and open water supplies. The city's center is occupied by a park area with a monument to soldiers killed in Afghanistan, and a cinema theater. There is also a stadium, cultural center, sports grounds and music school. Near Uzgen, in the mountains there are two summer recreation zones "Kara Shoro" and "Salam – Alik".