Dmitrov, Russia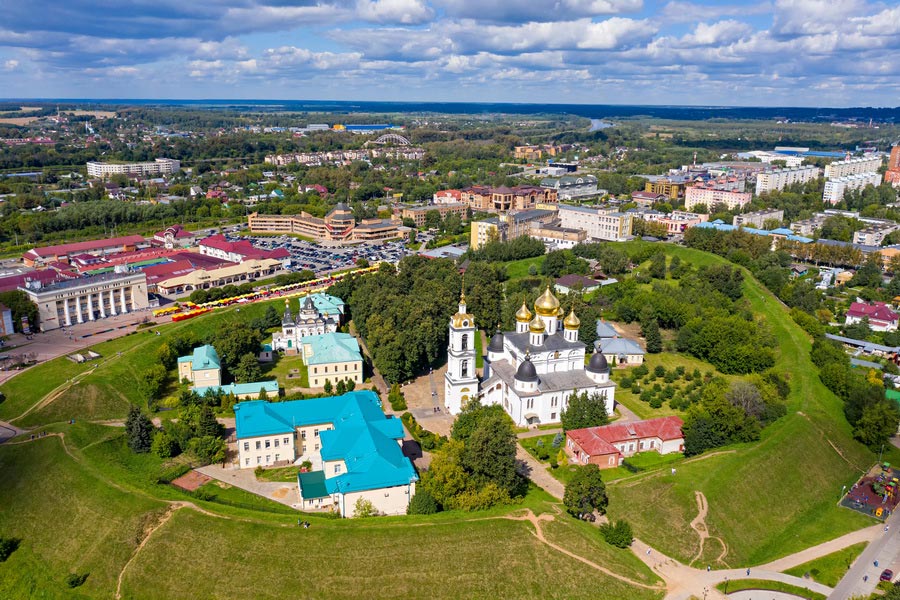 Tours, Attractions and Things To Do in Dmitrov
Dmitrov Travel Guide
Dmitrov is a small town with a rich history. Located 80 kilometers north of Moscow, it is the same age as the Russian capital and attracts thousands of tourists annually with its historical sites and modern entertainment venues.
Dmitrov was founded in the 12th century by Grand Duke Yuri Dolgoruky. Throughout 900 years of history the city has endured many attacks and civil strife. It incurred particularly serious damage during invasions in the 13th-15th centuries by the Tatar-Mongols, who repeatedly set it ablaze. Despite this devastation some of its historical monuments survived, and today Dmitrov is one of the most beautiful cities in Moscow Oblast.
Dmitrov attracts visitors with its silence and solitude, historic churches and monasteries and a natural beauty which captures the very heart of Russia. In celebration of its 850th anniversary, Dmitrov underwent significant reconstruction and landscaping, and now residents and guests of this suburban town can enjoy pleasant pedestrian roads, redesigned public spaces and modern comforts.
Dmitrov Architecture
Dmitrov Kremlin, founded in 1154, is the city's main attraction. The fortress is now a museum-reserve which includes Assumption Cathedral, the ruins of an old moat and rampart, a large history museum and the famous Nikolsky Gate, which was once the main entrance to the Kremlin. It is worth visiting Dmitrov Kremlin just to learn about the history of Russia through each time period and to admire its splendid architecture.
Another striking monument in Dmitrov is Vvedenskaya Church, which was built in the first half of the 17th century and stood apart from all other churches with its unusual and magnificent decor. The walls were originally decorated with paintings and stucco and the iconostasis adorned with gilding and artful carvings. Although Vvedenskaya Church remained open during the Soviet years, its bells and utensils were confiscated, much of the finer décor was stripped from its walls and the most valuable murals were painted over. In later years these murals were restored and the church itself was reconstructed, and today Vvedenskaya Church in Dmitrov is a pearl of medieval church architecture filled with four centuries of secrets.
Anyone great example of Russian Empire architecture is Podlipichye Estate, built in the 18th century in a village of the same name. At the estate, which exemplifies classical architecture, you will find a luxurious two-story brick house, the stone Kazan Church, Podlipetsky Pond and a lime grove. Podlipichye Estate is a great place to take a leisurely walk and reconnect with nature.
Dmitrov also has a sizable share of buildings reflective of Soviet modernism, including entire neighborhoods with well-preserved Soviet structures. A short distance from Dmitrov Kremlin are perfectly preserved Soviet panel houses decorated with luxurious mosaics, including illustrations of old Russian fairy tales, heroes on horseback and even a painting of the famous character Doctor Aybolit surrounded by dancing animals. Such a large collection of Soviet murals in one spot is a rare phenomenon these days, even in large cities, so be sure to take the opportunity to see these unusual relics of the past, which remain just as delightful today as when they were first painted.
Dmitrov Entertainment
There are two municipal theaters in Dmitrov that have regular concerts and performances – Big Nest Drama Theater and Harlequin Children's Theater. In the first you can attend performances based on Russian and foreign classics, and in the second you can watch elaborate costumed productions of children's fairy tales.
Family entertainment can be found at Extreme Park, which includes a concert hall, trampoline center, roller skating rink, football fields and other sports and gaming areas. The complex regularly hosts sports and dance competitions, seminars, concerts and trainings.
Cherdak Family Studio (Studio Loft) offers creative culinary workshops for children and adults, including baking classes and pottery sessions.
If you are looking for a quiet indoor activity, several public libraries hold large collections of Soviet and modern publications.
What to See in Dmitrov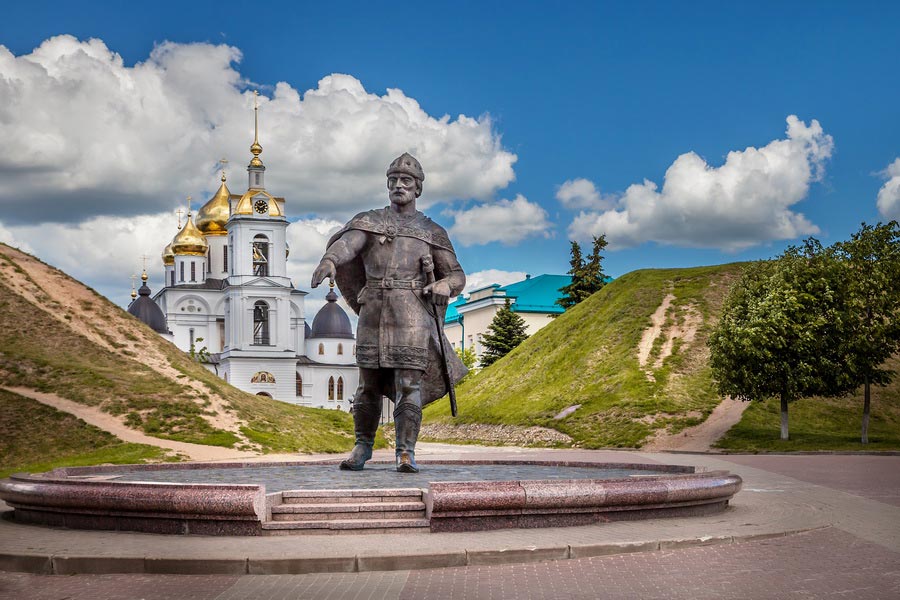 One of the easiest ways to see the sites of Dmitrov in one day is on a walking tour. Begin at Dmitrov Kremlin, the oldest attraction in the city. Be sure to tour the museum expositions dedicated to the history and culture of the region from the 18th -21st centuries. One of the most curious exhibits is a real chicken peasant hut from the late 19th century, which has been named "House in the House". The wooden Nikolsky Gate is an accurately recreated model of the original gates which burned long ago.
Not far from Dmitrov Kremlin is the curious Frog Museum. Many frogs inhabit the area and have long been an unofficial city symbol. There is even a legend that when enemy troops approached the city the frogs began to croak loudly, as if warning residents about the danger. In the museum you will see a large collection of frog figurines made from a variety of materials. As a souvenir you can buy a rag, porcelain, plaster or paper frog.
Continue to the city center to visit magnificent multi-domed cathedrals, including Boris and Gleb Monastery, one of the main attractions of Dmitrov. Head to Monument to Yuri Dolgoruky, the founder of the city, to take some photos and admire the massive statue. According to legend this monument is located on the exact spot where the Grand Prince predicted the imminent birth of his son.
For a peaceful stroll, take a walk along the pedestrian stretch of Kropotkin Street, which is lined with well-manicured lawns and old one-story wooden homes. The street is now paved and dotted with interesting sculptures and monuments.
Dmitrov Souvenirs
Dmitrov has been famous for its ceramic and porcelain products ever since 1766 when the first porcelain factory in the Russian Empire opened in the nearby village of Verbilki. It soon began producing table sets for Empress Catherine the Great herself, and two centuries later was manufacturing 4 thousand different items, including famous coffee and tea sets, beer mugs, figurines and plates. Today these exclusive products are still admired around the world for their fine quality.
Those looking for budget-friendly items will appreciate elegant birch bark and wood products, including vases, sugar bowls and plates, which make great gifts for family and friends.
For edible souvenirs, Sokol Chocolate Factory offers delectable treats ranging from delicate marshmallows and pies to a wide range of individually-wrapped chocolates which are often bought by the kilogram.