Istra, Russia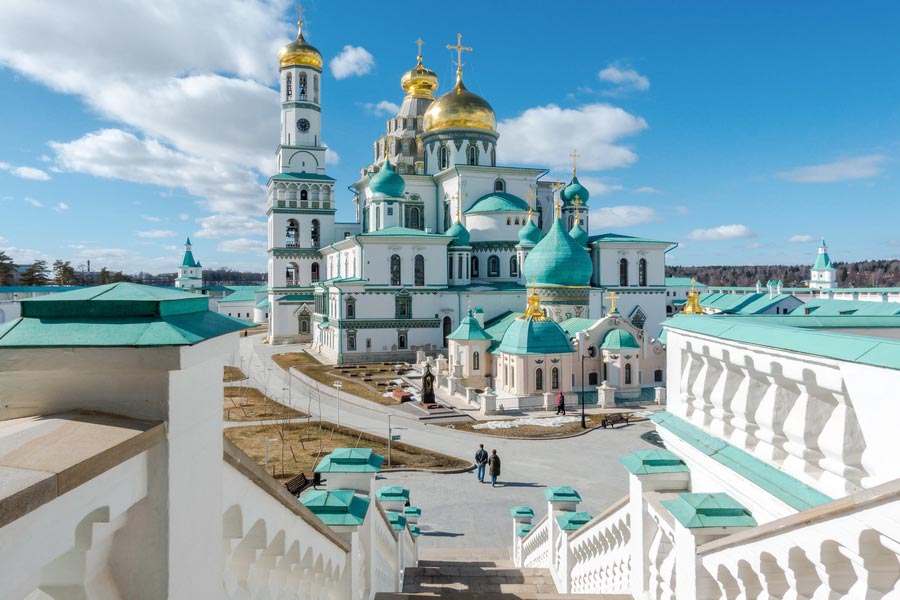 Tours, Attractions and Things To Do in Istra
Istra Travel Guide
Istra, Russia is a small city situated 50 kilometers from Moscow which is famous for New Jerusalem Monastery, a copy of Church of the Holy Sepulchre in Jerusalem. Built by Patriarch Nikon in the mid-17th century, it has attracted thousands of religious pilgrims over the years and has served as the main attraction of modern Istra ever since it reopened in the 1990s.
Istra likewise attracts fans of writer Anton Chekhov, who lived in the town in the late 19th century and penned several of his works here while working as a doctor.
History of Istra
The settlement of Voskresenskoye, named in 1589 in honor of a church located in the town, was the predecessor of modern Istra. The town did not truly begin to develop until New Jerusalem Monastery was founded here in 1656. In 1781 the settlement was renamed Voskresensk and received the status of a county town. In 1930 it was renamed Istra after the adjacent river. A two-month German occupation of Istra in late 1941 wreaked extensive damage to the city and monastery, and although the Soviets made plans to transform Istra into a resort town this idea was never carried out.
Attractions of Istra
The main pride of Istra is Resurrection New Jerusalem Monastery, founded by Patriarch Nikon in 1656. It serves as a second Holy Land and is regarded as a brilliant example of Russian architecture. Its grounds are filled with churches, towers and other buildings named after holy places, including Zion Tower, Gethsemane Garden and Siloam Baptismal. The main church, Resurrection Cathedral, is an architectural copy of Jerusalem's Church of the Holy Sepulchre.
In 1830 poet Mikhail Lermontov was at the monastery when he penned his poem "In Voskresensk".
The monastery was shuttered in 1919 and in 1921 two museums were opened here, which a year later merged into the State Historical and Art Museum. The monastery reopened in 1994, and along with the museum attracts many tourists. New Jerusalem Museum and Exhibition Complex now houses more than 180 thousand exhibits, including a collection of 16th-19th century icons, 18th-20th century Russian paintings, church utensils and more.
Nearby is Museum of Wooden Architecture, which opened in 1981 as a continuation of Gethsemane Garden. The museum consists of a mill, a chapel and Kokorins' Old Peasant Farm, which is filled with historical household items.
Five kilometers from Istra is the village of Babkino, which is inhabited by only 30 people. Here visitors can tour Kiselev Estate, where Chekhov lived in the late 19th century. The estate is even rumored to have been the inspiration for Chekhov's play The Cherry Orchard. Renowned artist Isaac Levitan also stayed at Kiselev when he came to Istra to paint.
The picturesque Istra Reservoir was once a major channel for ships but today attracts fishermen and vacationers with its well-equipped beaches, rumored to be the best in Moscow Region.
Other noteworthy historical sites in Istra and its surroundings include:
- Yurkino Manor in Istra, site of the 16th-century Christmas Church;
- a well-preserved 17th-century church in the hamlet of Pavlovskaya Sloboda;
- Polevshino Manor in Istra (17th century), which was visited by both Chekhov and Levitan;
- Rozhdestveno Manor in a village of the same name, whose only surviving building is a church;
- Ivanovsky-Kozlovsky Estate (18th century), which is located on Istra Reservoir some 30 kilometers from Istra and includes a house and tower;
- Ognikovo-Pokrovskoye Estate (18th century), also located on the banks of Istra Reservoir (tourists can only visit the church, as a hotel is now located in the manor);
- Troitskoye Estate in Istra, which includes a 17th-century wooden chapel and an 18th-century stone church.
Unusual Sculptures
Perhaps the most unusual sculpture in Istra is Plumber Statue. It stands not far from the old water tower, where the city's first artesian well was drilled in 1924. The statue depicts a plumber standing next to a pipe valve with a dog lying at his feet. Residents and visitors like to rub the dog's nose for luck.
Two more sculptures with dogs – The Lady With The Dog, in honor of Chekhov's work of the same name, and Dog with a Bone - also attract the attention of tourists.
Naturally, Istra also has a sculpture of Chekhov, which stands in front of Istra Drama Theater.
In the village of Kashino near Istra is a memorial to the famous wartime song "In the Dugout" by poet Alexey Surkov. In November 1941 Surkov found himself on the frontlines when he arrived in uniform to Kashino, and it was here that he began writing poems which were later set to music.
Istra Souvenirs
Fedoskino lacquer miniatures, which have been made in the region for over 300 years, are the most popular souvenir from Istra, Russia. The collectibles include papier-mache trinket boxes and other products which are varnished and decorated with exquisite oil paintings and natural mother-of-pearl. In addition to these beautiful products, traditional magnets and delicacies from Istra's cheese factory will also make great gifts.