Kaliningrad, Russia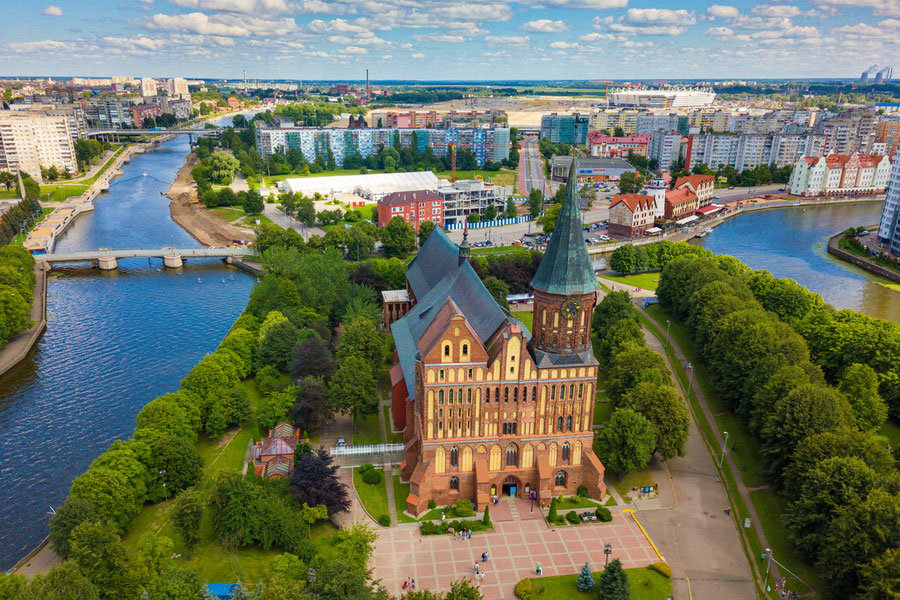 Tours, Attractions and Things To Do in Kaliningrad
Kaliningrad Travel Guide
Kaliningrad is a city in western Russia which, thanks to its unusual location, is separated from the country's mainland by several European nations. Until 1946, Kaliningrad was called Königsberg and was part of East Prussia. After World War II the city was transferred to the Soviet Union and renamed Kaliningrad, and it remained a part of Russia even after the collapse of the USSR.
Today, Kaliningrad tourism centers around its Gothic buildings, cozy cafes, unique museums and proximity to the Baltic Sea. We invite you to learn about this amazing city, which attracts tens of thousands of tourists annually, and to come and visit for yourself!
History of Kaliningrad
The history of Kaliningrad began when a castle was built near the Pregolya River in 1255. A Prussian settlement soon sprang up in its shadows and continued to develop through the years. In the 14th century the famous Königsberg Cathedral was built, and in 1824 the city was appointed the capital of Prussia. Yet Königsberg also suffered in the crosshairs of numerous wars as rivaling states fought to seize its enviable territory.
According to a decision reached at the Potsdam Conference in 1945, the territory of East Prussia, including its capital city Königsberg, was allocated to the USSR. The city was quickly rebuilt after World War II, and in 1946 it was renamed Kaliningrad in honor of the Soviet revolutionary and politician Mikhail Ivanovich Kalinin. Public transport was restored that same year, including a newly installed tram line. In 1966, the Higher Maritime School opened, followed by several museums.
Did You Know? In Soviet times, Kaliningrad was completely closed to foreigners, and only citizens of the USSR were permitted to visit the city. After the collapse of the Soviet Union, landmark elections were held in Kaliningrad for the city mayor and the governor of Kaliningrad Region. Foreign companies received permission to operate in the city, and entry was granted to foreign tourists. Kaliningrad received international recognition in 2018 when it was selected as one of the cities to host the FIFA World Cup.
Best time to visit Kaliningrad
Summer is considered the best time to travel to Kaliningrad: The weather in June hovers between 25°- 30°С, and while cloudy days are not unusual, rainfall is rare and you will be able to comfortably swim in the Baltic Sea most days. Spring and autumn are also suitable for exploring local attractions and traveling around Kaliningrad Region.
Kaliningrad attractions
Brandenburg Gate is one of the oldest and most famous attractions of Kaliningrad. Seven original gates built in 1657 were soon replaced with durable brick duplicates, yet of these seven only Brandenburg Gate has survived to our day. Noted for the many Gothic-style elements in its design, today it is an important historical monument under state protection.
Königsberg Cathedral is the oldest church in Kaliningrad and the starting point for most tourist routes in the city. While the exact date of its construction is unknown, the cathedral is first mentioned in historical documents in the 14th century. Königsberg Cathedral nearly burned to the ground during World War II, and it was during subsequent restoration work that the church received its modern German Gothic look. Only a few stone epitaphs have survived from the pre-war cathedral, although its bells, inner hall and clock have been restored to reflect their original look.
Königsberg Cathedral is famous as the burial site of German philosopher Immanuel Kant, whose sarcophagus was supplemented with a colonnade during the 20th-century renovations. Services are no longer held in the church, but thanks to its excellent acoustics it is used as a venue for organ concerts. Plan your tour around a concert for an extra-special experience!
Fish Village, a craft and ethnographic center, is known as one of the most colorful, unusual places in Kaliningrad. Rebuilt in 2006, Fish Village encompasses 14 German Gothic-style buildings which house cafes, restaurants, souvenir shops, hotels, jewelry stores, a river station and a sports and entertainment center. Several observation platforms offer gorgeous views of central Kaliningrad, including Lighthouse Tower, which doubles as an art gallery. Photo shoots are very popular at Fish Village, and tourists particularly love its cozy cafes.
Kant Island, formerly called Kneiphof Island, is situated in the center of Kaliningrad in Pregoli River. In the Middle Ages an entire city complete with streets, food stalls, river piers and hundreds of homes was located on the island, which was connected to the mainland by five bridges. In 1944 the settlement was razed to the ground and the city left in ruins, and today only a cathedral and a collection of stone sculptures remain. For a relaxing day, combine a visit to Kant Island with a boat ride and an excursion to the river walk, where you can enjoy excellent views of downtown Kaliningrad.
Amber Museum is the only gallery of its kind in Russia. Opened in 1979, it reflects Kaliningrad Region's claim to a majority of the world's amber deposits and is a major draw for Kaliningrad tourism. Amber Museum was originally housed in a lakeside fortress tower built in 1853 but was recently relocated to a three-story building with an area exceeding 1000 square meters. The exhibits include hundreds of diverse amber products ranging from small figurines to huge paintings as well as unusual amber pieces, info on the history of local mining and gorgeous sculptures carved by amber craftsmen.
Museum of the World Ocean is an underwater experience sure to impress both children and adults. The museum's main building, located on Peter the Great Embankment, opened in 2003 and is known for its aquariums filled with octopuses, corals, mollusks and other forms of marine life. Science lectures and presentations are often held in the main building, which also includes a souvenir shop, ticket offices and a dining hall where you can grab a snack or a full lunch. Climb the lighthouse located above the building to reach an observation deck which offers excellent panoramic views of Pregolya River and Königsberg Cathedral.
Museum of the World Ocean has other exhibition buildings, including Morskoy Königsberg (Nautical Königsberg) and Pakgauz, both of which cover the history of Kaliningrad as a port city. Other buildings mark famous Kaliningrad maritime sites, most notably the Great Embassy Historical Center in Royal Gate and the Ship Revival Center in Friedrichsburg Gate, the latter of which includes a fun collection of international boats.
Kaliningrad Zoo is a sprawling sanctuary filled with elephants, crocodiles, pink flamingos, rhinos, bison, giraffes and orangutans. In total, some 3500 animals belonging to 276 species live at the zoo, including 178 endangered varieties. A huge collection of fish, invertebrates and insects are also on display at Kaliningrad Zoo, which promises a fun-filled day for the whole family.
Holidays and Festivals in Kaliningrad
City Day is Kaliningrad's most significant observance and a favorite holiday among residents. Celebrated on the second Saturday in July, it is typically a two-day affair that includes carnival processions, Russian pop concerts, fairgrounds, sports tournaments, knight fights, city quests, master classes and other citywide activities.
Day of the Navy is a large-scale festival held annually on the last Sunday in July. It is celebrated with parades and concerts staged on city streets which have been festively decked out in naval motifs.
Herring Day, an original holiday dedicated to Kalingrad's famous fish, is celebrated each April with fairs which are typically held at the various branches of Museum of the World Ocean.
Amber Necklace Festival is an international music festival that takes place annually in May and June. Held in Kaliningrad since the mid-1970s, the festival includes music concerts and dance and ballet performances. Amber Necklace Festival is known for its wide variety of musical genres and for the many famous artists and performers who participate.