Klin, Russia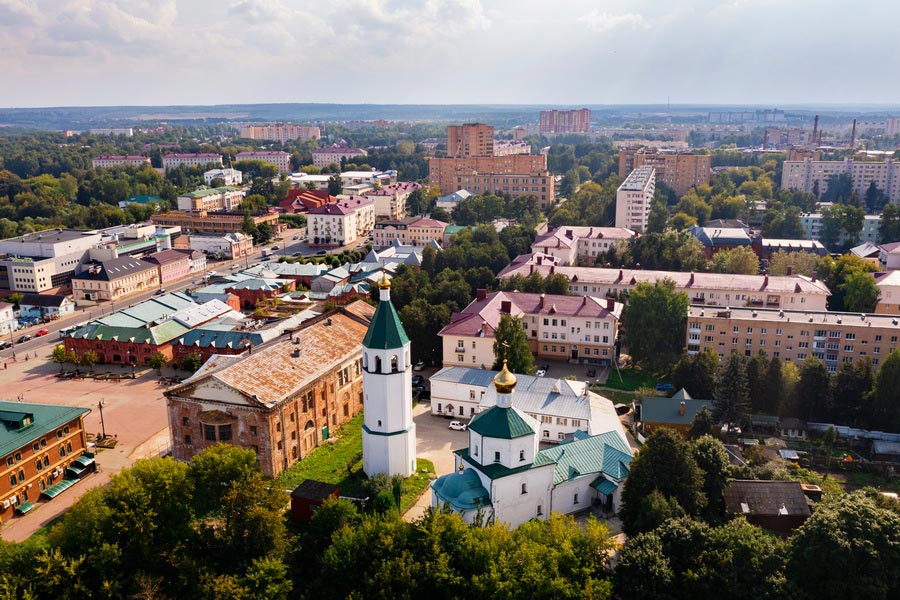 Tours, Attractions and Things To Do in Klin
Klin Travel Guide
Klin, Russia is a small town located 65 kilometers from Moscow on the Sestra River. Its medieval architecture and special atmosphere attract not only history enthusiasts but anyone with an interest in Russian literature, music and culture. The great composer Pyotr Tchaikovsky spent his most creative years just six kilometers from the city, and chemist Dmitry Mendeleev, best known for developing the periodic table, also lived in Klin.
History
The first mention of a settlement on the site of modern-day Klin is found in the Nikon Chronicle and dated to the 14th century. In its earliest days the city served as a fortress in the Vladimir-Suzdal Principality, whose unique architectural monuments are still regarded as national treasures in Russia. Later, in an ongoing power struggle between rivaling factions, Klin was annexed to Tver Principality. It remained a part of Tver until Prince Ivan III Vasilyevich of Moscow annexed the city to his territory.
Klin lay on a favorable trade route between Moscow and Veliky Novgorod and soon became a center of crafts and trade. The city has experienced many triumphs and tragedies, some of which are still reflected in the architecture of Assumption Church and other city landmarks.
Klin received official city status in 1781, at which time a coat of arms bearing the image of a horned postman on horseback was designed for the new city.
Attractions
The main attraction of Klin today is Tchaikovsky House Museum, the oldest memorial music house in Russia. The great composer spent the last years of his life in this house distinguished by its white platbands. After his death, his brother carefully preserved the home's original layout so as to give the impression that the composer had only left for a minute and was expected to return at any time. The museum is not open every day, so when planning a trip be sure to clarify the schedule in advance.
Tchaikovsky Museum is not the only cultural attraction of Klin:
Boblovo Estate was the 19th-century home of famous chemist Dmitry Mendeleev, inventor of the periodic table. Today the estate houses a small museum dedicated to the scientist.
Arkady Gaidar House Museum was home to the talented Russian children's author and Red Army commander for the last 3 years of his life.
Museum of Local Lore houses 25 thousand historical exhibits dated back to the 14th century, including paintings, sculptures, archaeological finds, clothing, household items, documents, books and more.
Klin boasts of an almost endless collection of 18th-19th century estates. Highlights include Spas-Korkodino, home of playwright Dmitry Fonvizin, who is best known for his play Nedorosl (The Minor); Shakhmatovo, the summer house of poet Alexandr Blok; and Demyanovo Estate, which is now a part of Tchaikovsky Museum.
A visit to Museum of Christmas Tree Decorations will delight old and young alike. Visitors can even participate in workshops on how to paint toys with gouache.
The most respected religious site in the city is Assumption Church, which was first built in the 16th century but later reconstructed. The 18th-century Resurrection Church is noted for its Moscow Baroque (Naryshkin Baroque) style. Holy Trinity Cathedral (19th century) was transformed into a cafeteria and later a House of Culture during the Soviet era but today is being restored by skilled renovators. Church of St. Tikhon and Church of the Icon of the Mother of God of All the Afflicted are also worth seeing while in town.
Be sure to visit "Shop Under the Clock", an old merchant's house with a tower on which the city clock is located. You can also walk along a row of late 19th-century shops for which Klin was once famous, admire the mayor's house and simply take a stroll around town to appreciate its residential buildings.
Klin also has several breweries which offer tours to visitors.
Souvenirs
At the Museum of Christmas Tree Decorations you can find ornaments with images of Tchaikovsky and the Nutcracker and even make a glass ornament yourself. Beer from the craft breweries in Klin, Russia also makes a popular gift.