Likino-Dulyovo, Russia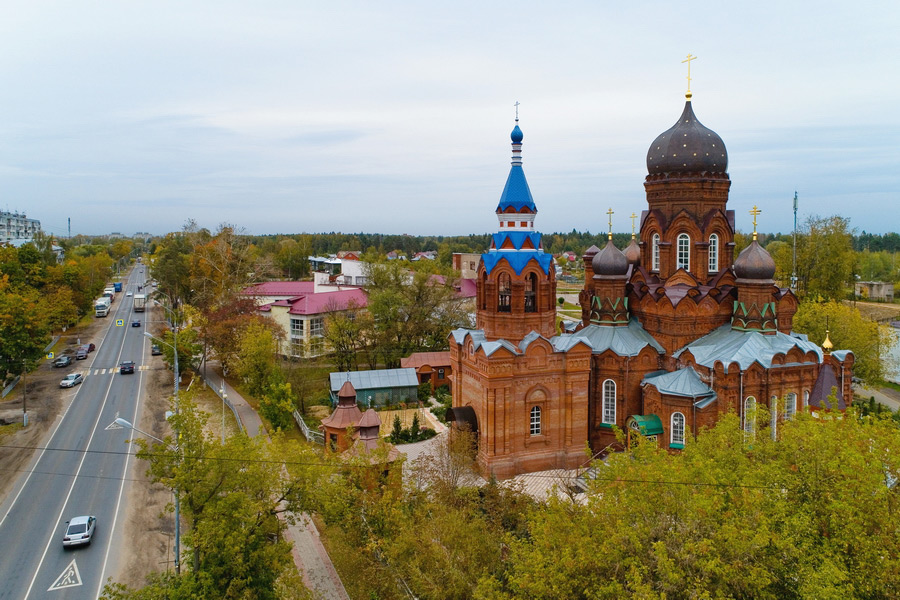 Church of St. John the Divine in Likino-Dulyovo
Tours, Attractions and Things To Do in Likino-Dulyovo
Likino-Dulyovo is a small town in the Orekhovo-Zuevsky District of Moscow Region which is best known for its exquisite porcelain now on display at Museum Dulevo Porcelain.
It all started in 1832 when Terenty Kuznetsov, a member of a noble dynasty of ceramics producers, acquired a plot of land between the village of Likino and the Dulyovo moor and opened a porcelain factory there. Dulyovo (Dulevo) Porcelain Factory reached its heyday during the Soviet years after one of the factory's artists received first prize at Brussels World Fair for his Falcon sculpture. From that time on, this graceful bird has served as the company logo, its silhouette imprinted on the back of each piece of Likino-Dulyovo porcelain even to this day.
The factory, now the oldest enterprise in the city, is one Russia and Europe's largest manufacturers of paints and decals for enamelware and porcelain, faience and glass tableware. An excursion to Likino-Dulyovo Porcelain Factory and the accompanying Museum Dulevo Porcelain promises to be a colorful tour of a wholly unique establishment filled with sculptures, dishes, jewelry and other exquisite memorabilia.
Likino-Dulyovo is likewise famous for LiAZ, a Russian bus manufacturer known for its high-quality city buses. The company was established in 1933 and has been producing buses for use across Russia since 1959. Visitors can learn all about the history and national impact of LiAZ, rated by many as "Best City Bus", on a city tour of Likino-Dulyovo.
Porcelain and public transport aside, this fascinating town promises quaint sights reminiscent of bygone Russia. One of its most striking attractions is Church of St. John the Divine, a 19th- century structure built in the neo-Byzantine style. The church is massive yet also delicate and harmonious in its external appearance, while the interior decor amazes with striking frescoes. Likino-Dulevo Museum of Local Lore likewise deserves special attention, for its seven halls are filled with exhibits which detail the origin of the town's name and its history, from the founding of an early settlement in 1209 up until the present day.
As the distance from Moscow to Likino-Dulyovo is just under 100 kilometers, it makes for a convenient day trip or a relaxed overnight option from Russia's capital.