Rostov-on-Don, Russia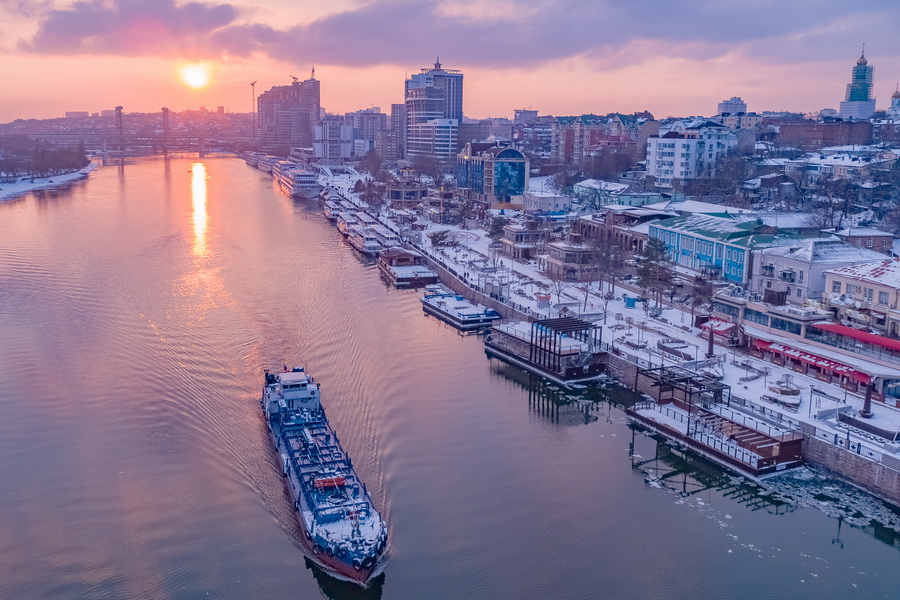 Tours, Attractions and Things To Do in Rostov-on-Don
Rostov-on-Don Travel Guide
Rostov-on-Don, Russia is a colorful southern merchant city on a port of five seas whose mild climate, rich history and welcoming attitude continue to attract travelers. The city's impressive collection of monuments associated with the North Caucasus and Don Cossacks, amassed over the past two and a half centuries, continue to testify to the city's unique role in Russian history.
Rostov-on-Don has many unofficial names, the most common of which is "Rostov-Papa". Other nicknames include "Gateway of the Caucasus", "Liverpool of Azov", "Rost Angeles" and "City of Merchants". This latter title is particularly significant for Rostov, which is filled with luxurious 19th-century merchant mansions that are practically unrivaled in all of Russia.
History
Rostov-on-Don served over the centuries as a customs office, a fortress and a port. It was officially founded on December 15, 1749 when a customs office was opened on the Don River by decree of Empress Elizabeth Petrovna. Again by order of the empress, in 1761 the office was replaced with a fortress to protect the country's southern borders. The fort was named in honor of St. Dmitry, Metropolitan of Rostov and Yaroslavl, and in later years its name was shortened to simply "Rostov". In order not to confuse the city with the already existing Rostov the Great, it was renamed Rostov-on-Don in 1806.
Its favorable location at the intersection of land and river routes allowed for active port trade with many foreign merchants, a factor which led to its rapid growth and development. In the early 20th century, Rostov-on-Don became a major center of international trade in southern Russia and the third most important city in the country in terms of foreign trade turnover. By this time, nearly a hundred enterprises were functioning in Rostov, including factories belonging to Vladikavkaz Railway, a shipbuilding and iron foundry and two tobacco factories.
Today Rostov-on-Don has a population of over one million and is one of southern Russia's largest metropolises, a comfortable city whose colorful layout makes it attractive to tourists.
Rostov-on-Don Attractions
Rostov-on-Don is replete with outstanding architectural, historical and cultural sights scattered throughout every district of the city. Yet Kirovsky District, the historic city center with the highest concentration of landmarks, remains a favorite among tourists during excursions to Rostov-on-Don.
It was in Kirovsky District that the city was birthed, and even today the neighborhood is reminiscent of the original Fortress of Saint Dmitry of Rostov. Also in Kirovsky District is Monument to Peter the Great and Don State Public Library, as well as many theaters, museums and restaurants. The nearby Rostov Embankment remains a favorite scenic hangout for residents and guests alike.
The prosperous merchants who once competed with one another in the construction of elegant estates left an indelible mark on the cityscape, and a walk along Bolshaya Sadovaya Avenue and Pushkinskaya Street, likened to an open-air merchants' museum, will take you back to simpler times. Outstanding examples of Tsarist-era architecture on this route include Margarita Chernova's House, Martyn Brothers House and City Hall, all of which are now protected under the Russian Cultural Heritage Register.
In Leninsky District is Gorky Park, the oldest park in the city, and Cathedral of the Nativity of the Blessed Virgin Mary. The railway district stretches along the Don, on the bank of which is Botanical Garden of the Southern Federal University, the largest of its kind in Russia. The picturesque Kumzhenskaya Grove, a favorite place for Rostovites to relax, is also situated nearby.
In Oktyabrsky District is one of the largest zoos in Russia and Europe, which is home to around five thousand animals. Pervomaisky District attracts with Rostov Sea (Rostovskoye More), an artificial reservoir which provides respite during the warm summer weather in Rostov-on-Don. To the west is Sovetsky District (known locally as Western District), an area famous for its year-round Ice Arena and Church of St. George the Victorious.
Theatergoers will appreciate the playful buildings and varied repertoires of the city's numerous playhouses. Both Chaliapin and Rachmaninov performed at the opera house, which opened its doors in 1892. The unusual design of Rostov State Musical Theater resembles a white grand piano with an open lid. Gorky Rostov Academic Drama Theater, whose constructivist-style building is reminiscent of the lines of a caterpillar tractor, is rightfully counted among the finest theaters in Russia.
Rostov State Circus, which is more than half a century old, deserves special attention. Unforgettable performances of the legendary magician Igor Kio, famous animal trainer Anatoly Durov and the clowns Nikulin and Karandash have all been staged here over the years. Animal lovers will appreciate Rostov Dolphinarium, where visitors can admire sea animals while becoming familiar with their aquatic environ.
Museum options also abound in Rostov-on-Don. For history buffs, we recommend the Regional Museum of Local Lore, whose halls are filled with exhibits ranging from the Stone Age to modern times. Tour the Rostov Regional Museum of Fine Arts, located in an old, gated mansion, or fulfill your childhood dream in the Museum of Cosmonautics by sitting in a real capsule from the Soyuz spacecraft. To discover unique exhibitions on the origins and development of the brewing business, look no further than the appropriately named Museum of the History of Brewing.
On the outskirts of the city is Liventsovsky Fortress (also called Donskaya Troy), built by North Caucasian tribes almost 19 thousand years ago. One of the most popular sites near Rostov-on-Don is Paramonovsky Warehouses, located on the banks of the Don. The buildings themselves may be in ruins, but the strangely beautiful pools and waterfalls make for great photos. Fans of author Mikhail Sholokhov can visit his hometown, the village of Veshenskaya, which is located four hours from the city by car.
A visit to Central Market, commonly called Old Bazaar, is a must during your tour to Rostov-on-Don. Vendors will invite you to taste their array of pickles, while on the pleasantly surprising fish row you can purchase salted, fried or stewed varieties of the city's famous Don fish.
While in this port city, be sure to sample two local dishes: authentic Cossack fish soup, which when cooked over the fire retains a delightfully smoky taste, and crayfish cooked with sour cream and red wine, whose flavors are fit for royalty!
Rostov-on-Don Souvenirs
The most popular souvenirs from Rostov-on-Don are items with Don and Cossack themes, which can be easily found in local markets. The city also offers a range of beautiful ceramics and tableware, a great selection of bedding sets made at the city's famous sewing factories, various drinks from Rostov distilleries and the ever-popular vodka gift sets.