Sochi, Russia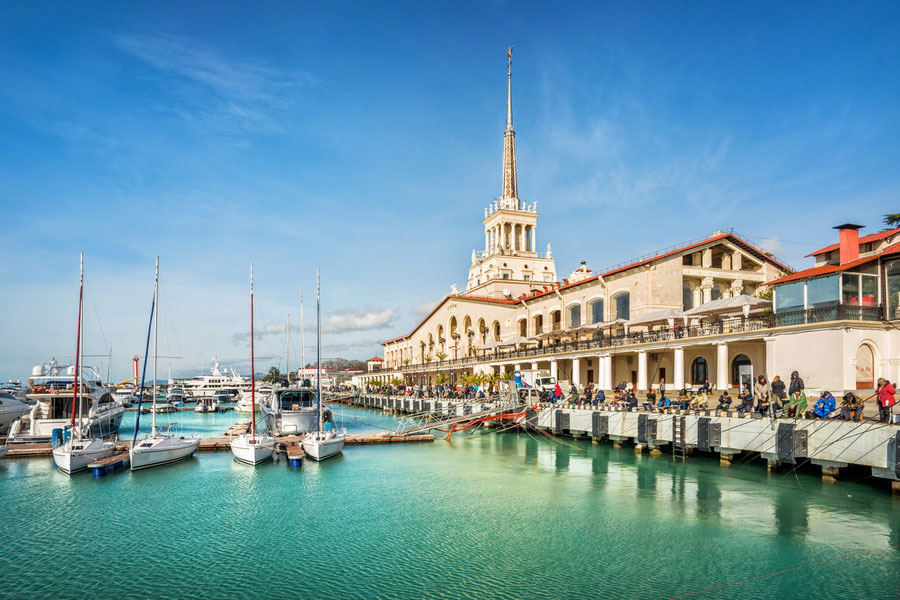 Marine Station, Sochi
Tours, Attractions and Things To Do in Sochi
Sochi is a priceless pearl of the Black Sea coast, surrounded with bright green riparian forests and exciting mountains that protect it from the northern and southern winds. This is the most popular beach resort in Russia for over 2.5 million people, who annual come there. It is a Russian President's summer residence, where he receives other heads of states at the official level.
Stretching for 148 km, Sochi ranks the world's second longest city, trailing only Mexico (200 km). The city's boundaries stretch from the foot of the Caucasus Mountains along the Black Sea coast. Sochi is famous for its tea plantations, most northerly located in Europe, owing to the experienced tea grower I. A. Koshman, who was the first in 1901 to produce the tea variety adapted to that climate. Thus, Russia got its own brand of tea with a special unique flavor.
But spending holiday at the beach is not the only reason for the tourists to come here. Sochi is famous for a wide variety of attractions, both natural and historical-cultural: mountain canyons and underground caves, relict forests and nature reserves, waterfalls and lakes, cottages of famous people and museums - the list is endless.
One of such places is the famous Sochi Arboretum. There are plants and animals brought from different corners of the world. The arboretum territory itself is beautifully decorated with various sculptures and fountains, whch add a special flair to this place.
You must visit the famous 28-meter Orekhov Waterfall, surrounded by mighty oaks and chestnuts. You are also recommended to visit Tisosamshit Grove, famous for its observation decks. They command magnificent scenery with the Khost River, running at the bottom, and the groves with over 60 varieties of different trees and shrubs.
To enjoy stunning views of Ahune mountain peaks can be from famous Eagles Rocks, where the tourists can catch a breath of purest mountain air. From there, it is also possible see Agura Waterfalls.
The cultural and historical landmark of Sochi is the Art Museum, displaying the paintings of Aivazovsky, Polenov, Shishkin and other famous artists. One of the places where the locals and tourists like to relax is "Riviera" Park of Culture and Rest, founded as far back as 1898. Located directly in the "Riviera" territory, there is the Green Theatre, which often arranges concerts of showbiz stars.
Every year Sochi hosts many major cultural events and festivals, at both regional and national levels, for example "Kinotavr", Club of the Funny and Inventive, "Sochi+", etc. Of, course, it cannot but be mentioned, that Sochi was chosen to host the XXII Olympic Winter Games-2014.