Tomsk, Russia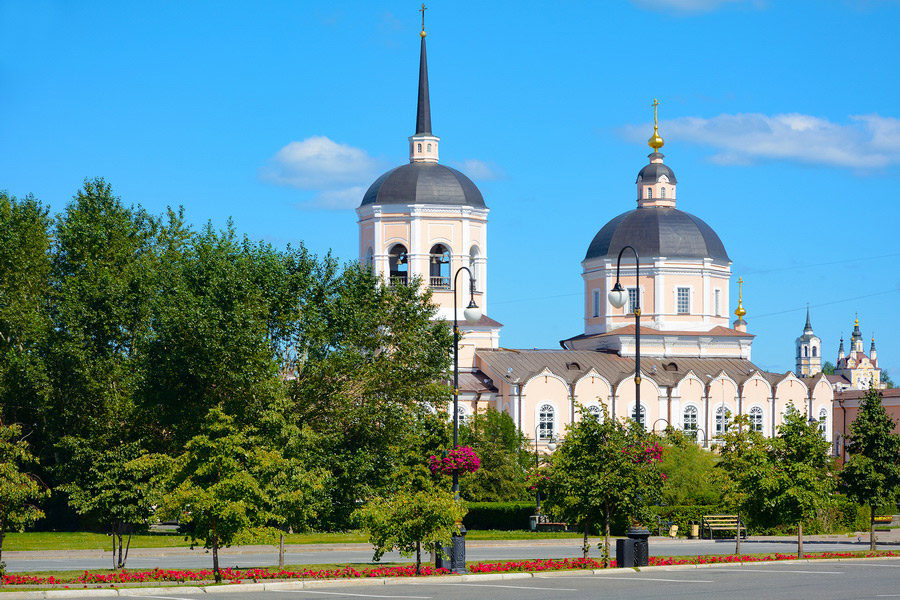 Epiphany Cathedral, Tomsk, Russia
Tours, Attractions and Things To Do in Tomsk
Tomsk Travel Guide
The city of Tomsk is one of the oldest and most beautiful destinations in Siberia. It was founded in 1604 by the decree of Tsar Boris Godunov after ambassadors of the Eushta Tatars appealed to Russia for protection from their hostile neighbors. The Russians offered to take them under their wing, and since then Tomsk has been a border region of Russia. Notorious for much of the 20th century as a place of exile for political prisoners, it was also a major transit and trade center which even served for a short time as the capital of Siberia.
Today, Tomsk is among the largest cultural and educational center in Russia, a city of innovation so renowned for its universities and scientists that it has been dubbed "Siberian Athens". Despite its rapid development, the city has managed to preserve its history, most notably through an array of 18th-20th century wooden and stone architecture which is now the pride of the city.
The climate may be frigid, but tours to Tomsk offer visitors a warm and cordial welcome and a variety of attractions which are well worth seeing.
Architectural Monuments of Tomsk
The eclectic blend of architectural complexes in Tomsk, many of which have received international recognition, make it an alluring stop for history buffs. Among this collection are museum exhibits as well as structures which remain in use. Two of the most striking examples of classicism architecture in the city are Tomsk State University, where students still study to this day, and Tomsk Museum of Wooden Architecture, which is under national protection as one of the rarest remaining examples of the Art Nouveau style.
Cultural Attractions of Tomsk
Tomsk brims not only with architectural surprises but with a thriving cultural life.
There are a dozen museums at Tomsk State University alone, including a Herbarium and zoological, paleontological, archaeological and ethnographic exhibits. Off-campus museums include Tomsk Regional Museum of Local Lore, Tomsk Planetarium, Tomsk Regional Art Museum, Museum of Wooden Architecture and Museum of the History of Tomsk. Beer lovers can learn all about local brewing traditions in the Museum of Tomsk Beer, while at Museum of Slavic Mythology visitors can discover regional ancestral beliefs, pagan gods and the heroes of local fairy tales and legends. Drama, music, puppet and opera and ballet theaters all operate in Tomsk, and each offers a repertoire which is sure to satisfy even the pickiest of patrons.
For those seeking solitude and reflection within church walls, we recommend visiting Chapel of the Iver Icon of the Mother of God and two of the oldest churches in southern Siberia: Epiphany Cathedral, built in 1773, and Church of the Kazan Icon of the Mother of God (formerly Mother of God-Aleksevsky Monastery), built in a Siberian Baroque style.
Highlights of Tomsk
In good weather, a walk through the streets of Tomsk is a great way to soak in its beauty. You can start exploring from Camp Garden along the Tom River, a park whose unusual name is derived from the summer camps of the Tomsk Infantry Regiment which were staged here in the 18th century. Be sure to stop by its amazing observation deck, located on the south side of the park.
The main street of Tomsk, Lenin Avenue, leads to Siberian Botanical Garden, in which there is a greenhouse with an unusual glass roof. Walk along Lenin Avenue to the north and you will see Novo-Sobornaya Square, in the very center of which is a monument to St. Tatiana, the patroness of students. In the surrounding neighborhood are many landmark buildings, including Provincial Government Building and the colorful House of the Merchant Gadalov, now preserved as a Monument of Regional Significance.
When in Tomsk, be sure to see the ensemble of buildings on Tatarskaya Street. Take a walk through the wooden quarter on Krasnoarmeyskaya Street, where you will find yourself transported to centuries past at the Norwegian-style House with Dragons and House with Firebirds.
To catch a panoramic view of Tomsk, head to Blue Cliff Sanatorium or the former fire tower, which is the highest point in town and can be reached from Tomsk History Museum.
The many unusual monuments of Tomsk never fail to attract visitors, including the Wooden Ruble Monument, Monument to Happiness (dedicated to the wolf from a popular local cartoon) and the truly bizarre Monument to Slippers. Many people empathize with the man depicted in Monument to Her Lover, who is seen in his boxers as he clings for dear life onto a balcony railing.
Tomsk Souvenirs
In Tomsk you can find plenty of standard souvenirs such as plates and handicrafts, as well as gifts which express the unique personality of the city. Consider something that reflects Siberian nature: pine nuts, herbal teas, dried mushrooms and taiga berries are especially popular among tourists, and their pleasant aromas and flavors will remind you of your vacation for weeks and months to come. In autumn, be sure to pay a visit to the fairs, where you will find winter clothes made of genuine leather on sale. Anyone with a taste for beer is also advised to grab a few bottles of the acclaimed Tomsk Beer.