Tyumen, Russia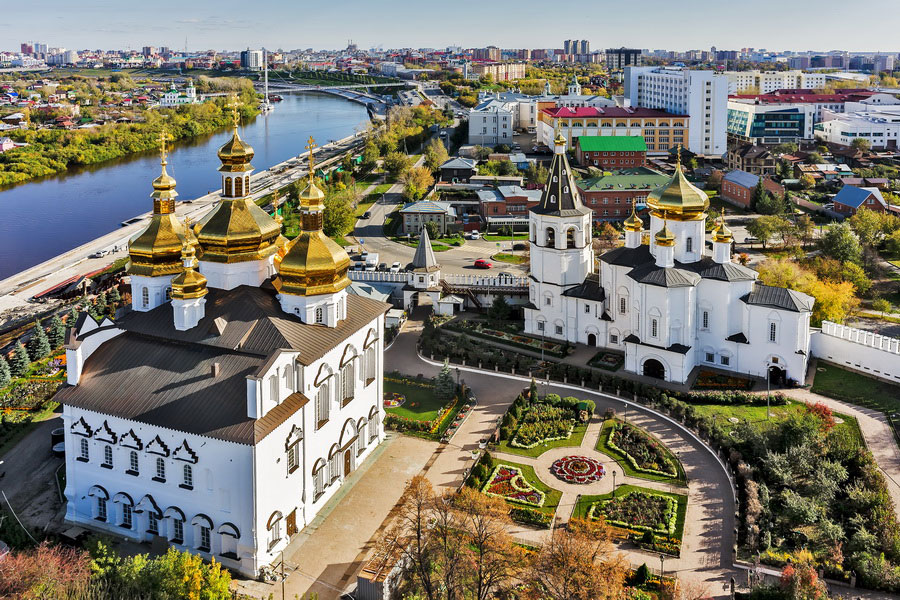 Tours, Attractions and Things To Do in Tyumen
Tyumen Travel Guide
History of Tyumen
Prior to Russian rule, the Tatar city of Chimgi-Tura marked the site of modern Tyumen, Russia and served as the capital of the Siberian Khanate. In 1586, Tyumen was the very first city to be founded by the Russians in Siberia. Part of the Ural Region until 1944, today it is the administrative center of Tyumen Region and one of Russia's key industrial and cultural centers.
The name of the city is still a mystery to researchers. Some suggest that it came from the Tatar word "tumen", meaning "army of ten thousand", while others speculate that the name is a combination of the words "tyu" and "myana", which together mean "my property". Today in the Tatar language, the word "tyumen" literally translates as "lowland", which is an appropriate term for a city which straddles the Tura River.
Whichever theory is accurate, one thing is for sure: today there is something in Tyumen to surprise and delight any traveler desiring to experience firsthand the mysterious romance of Siberia.
Tyumen Attractions
Most Tyumen city tours begin at Tura River Embankment, one of the area's most scenic spots from which sweeping views of Holy Trinity Monastery and Church of the Holy Cross Exaltation open up from Lovers' Bridge.
Historical Square marks the site of Tyumen's earliest settlements. Not far from Historical Square is Holy Trinity Monastery, which opened in 1616 and is the oldest surviving hermitage in the city today. One of Tyumen's most significant religious sites, it attracts many Orthodox pilgrims from Western Siberia and the Urals. The monastery is accompanied by a gorgeous green square which is particularly beautiful in spring when the apple trees are in bloom.
An equally important religious monument is Znamensky Cathedral (Cathedral of the Sign), located in Tyumen's historical center. The original 17th- century church was wooden, but after repeatedly burning down it was replaced the following century with a stone cathedral built in the Siberian Baroque style. Major reconstruction work was completed in 1904, and the end result far exceeded expectations. Today Znamensky Cathedral continues to evoke awe with its striking iconostasis and cheerful exterior.
A walk down central Republic Street, where many 19th-century buildings can still be seen, will conjure up images of life in a bygone era. Kolokolnikovs' Estate Museum Complex, which survived many fires, deserves special attention, as does House Averkiev with its extraordinary balconies and the former City Duma, which today houses the Regional Museum of Local Lore.
Twenty-first century Tyumen can be seen in all its glory as you wander Tsvetnoy Boulevard and Siberian Cats Park, whose name is derived from the square's many cast-iron feline figures. Tyumen Regional Museum of Fine Arts serves as the city's central showroom and is particularly known for its unique works of Russian cult artists such as Ivan Aivazovsky, Ilya Repin and Boris Kustodiev.
Tyumen has a good selection of restaurants offering cuisines for every taste and budget. For tourists, however, Chum Restaurant-Museum is a must. The restaurant serves unique Siberian dishes and is decked out in regional memorabilia. Guests even have the option to dine inside a semi-private cabinet designed to resemble a traditional chum (tent).
Tyumen Souvenirs
In keeping with its Siberian roots, memorabilia with images of reindeer, red fish and bears are all popular. Fur coats and clothing items made from reindeer skins reflect the beauty of local traditional dress and are sure to keep you warm even in the dead of winter. Original figurines carved from bone make an unusual gift, while anyone with a sweet tooth will want to pay a visit to Kvartet Candy Factory, whose chocolates and other sweets decorated with Tyumen landscapes are equally decorative and delicious.
Grab your coat and come for a visit to Tyumen, Russia, the magnificent pearl of Western Siberia!