Volgorechensk, Russia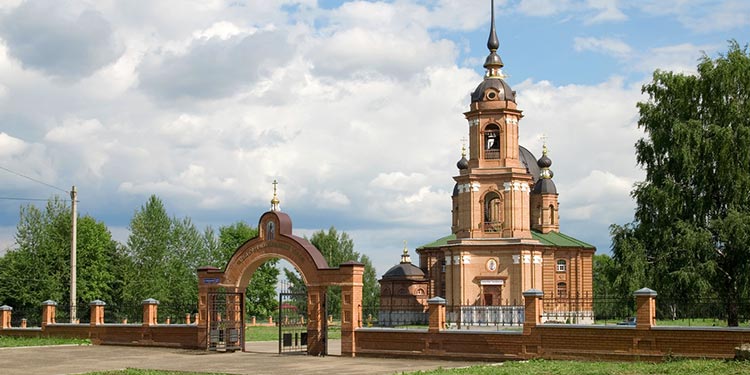 St. Tikhon church in Volgorechenk
Tours, Attractions and Things To Do in Volgorechensk
Volgorechensk, Russia is located near Kostroma in a picturesque enclave on the banks of the Volga River. This 20th-century city surprises with its modernity and brief, eccentric past. While it may stand out as an oddball among the historic Volga River cities, Volgorechensk has managed to make a name for itself with its massive fish farm, among the largest in all of Russia, and envious fishing spots.
Volgorechensk is one of Russia's newest settlements, having been established in 1964 as a home for the employees of the newly constructed Kostroma Power Station. A city of approximately 17,000 people, it is easy to traverse on foot.
Volgorechensk was intentionally designed to differ in appearance from other cities. This was primarily accomplished through the nineteen-meter figure of Prometheus, the Greek god of fire who symbolizes energy and progress. The first nude statue in the Soviet Union, it still evokes surprise among visitors who are accustomed to seeing noble monuments of politicians and historical figures in most city centers.
At the entrance to Volgorechensk stands the most beautiful building in the district, the five-headed St. Tikhon Temple with its spired bell tower and gilded crucifix. It took ten years to build and was consecrated in honor of the Reverend Tikhon Lukhovsky at the end of 2005. Previously, the young city had no established spiritual traditions, and now the chime of bells from its steeple can be heard throughout Volgorechensk. The cathedral contains many revered icons, including relics of the ancient Christian martyrs Gervasius and Protasia, which were transferred to the church in 2008.
The city's main attraction is the Volgorechensk Fish Farm, whose waters are fed by the warm waters discharged from the power plant. Travelers can tour the facilities and sample its delicious fish products. A silver jewelry factory, lighted fountain and a few scattered monuments are also worth noting.
Green Volgorechensk attracts with its cozy lodgings and idyllic fishing spots, which can be enjoyed in both summer and winter. Some tourists time their visit with the annual underwater hunting competition.
Those interested in the history of Volgorechensk, Russia will want to stop by the local history museum. The first hall includes exhibits on urban and peasant life of the 19th - early 20th centuries, plus a collection of tools, antique furniture, ceramics, books and photographs. The second hall offers 20th century memoirs and relics which tell the story of the power plant's construction.