Yekaterinburg, Russia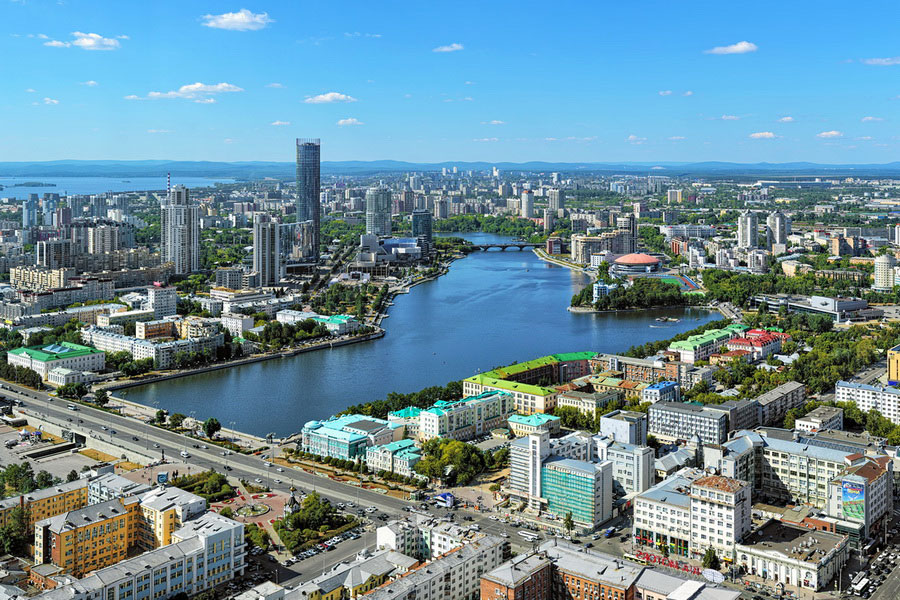 Tours, Attractions and Things To Do in Yekaterinburg
Yekaterinburg Travel Guide
Yekaterinburg, Russia attracts tourists with a rich history displayed through unique architecture, picturesque landscapes and the cordial hospitality of its residents. The capital of Russia's Ural Mountains, Yekaterinburg has also been nicknamed "Third Capital of Russia" for its cultural wealth, economic significance and popularity with tourists.
Capital of Russia's Ural Mountains and one of the largest cities in Siberia, Yekaterinburg's formation is associated with the construction of a fortress factory on the Iseti River in 1723. The locale was chosen by famed historian Vasily Tatishchev and the city named after Empress Catherine I. Two centuries later it was renamed Sverdlovsk, only to have its historical name restored in 1991.
Today, Yekaterinburg is one of the fastest-growing cities in Russia and a major manufacturing center. Yet the city's reputation stretches far beyond industry, being framed by the famous fairy tales of Pavel Bazhov, a native of Yekaterinburg best known for his collection of works titled "The Malachite Box". It also boasts of many parks, picturesque lakes and ancient buildings, while its well-maintained embankment attracts with a Beatles monument, a giant computer keyboard and an impressive row of fountains along the dam. Even in the frigid winter temperatures of Yekaterinburg, guests will be entertained with the jaw-dropping sculptures of Ice Town and the festival of ice figures.
Art connoisseurs will find Yekaterinburg well worth visiting, with the city's many museums and art institutes offering an eclectic mix of classic and modern exhibits. The birthplace of many talented playwrights, its diverse repertoire of theaters reflects its historical association with cutting-edge drama. World-famous opera singers Boris Shtokolov and Yuriy Gulyaev were both natives of Yekaterinburg who studied at the local conservatory, and during the Soviet era the city grew to fame as the birthplace of Russian rock 'n' roll, known as Ural rock.
One of the more unusual features of Yekaterinburg tourism is the original way in which its touristic sites have been divided between two routes. The 6.2-kilometer-long Blue Line has 11 attractions connected to the Romanov family and was marked on the sidewalk in 2018 on the 100th anniversary of the royal family's execution. The Red Line is about 6.5 kilometers long and contains no less than 35 touristic sites. It begins at Lenin Monument in 1905 Square and circles the center of Yekaterinburg before ending in the same place.
Districts of Yekaterinburg
Modern Yekaterinburg is divided into seven districts which continue to expand. In some neighborhoods, ancient edifices now stand scattered among modern high-rise buildings, while in other areas the city's history has been tactfully preserved. The historic residential quarter, replete with gardens, wooden homes and mansions more than two centuries old, is permeated with the atmosphere of a pre-revolutionary city. Most of the wooden mansions and carved fences which line the streets of the literary quarter underwent careful restoration, and now this island of old Yekaterinburg is another favorite among residents and tourists.
Almost every district has a special place of which Yekaterinburg's population is proud. Among them are Railway District's Yakov Sverdlov Street, often referred to as the "front gate of the city", and the city's first church and school, built more than three centuries ago in historic Chkalovsky District. The central districts delight with green parks and squares, yet the most famous pedestrian zone, known as the local Arbat, is located on Vayner Street in the old merchants' quarter. 1905 Square in central Lenin District is beloved as the birthplace of Yekaterinburg, for it was here that an iron-making plant was built on order of Peter I in 1723.
Mysterious Places of Yekaterinburg
Yekaterinburg tourism includes many mysterious places and haunted sites which would serve as the perfect backdrop for a good thriller. Much can be said about the Chekist Town, where residential and administrative buildings were erected on the site of a cemetery. Rumors have been flitting about the spirits of the dead and strange things happening there ever since. On the unfinished television tower, people repeatedly took their own lives throwing themselves down and Satanists gathered inside to carry out gloomy rites.
When in Yekaterinburg, consider touring the estate of the merchant Zheleznov, located on Rosa Luxemburg Street. In 1905, Zheleznov and his family moved into the late 19th-century house after amassing wealth through gold mining and trade in dynamite and gunpowder. Zheleznov's wife was rumored to suffer from kleptomania, yet her loving husband would always compensate for her theft. In 1914, Maria Yefimovna died suddenly during a ballet performance at a local theater. Three years later, Zheleznov and his children moved to Omsk, yet the ghost of Maria Yefimovna is said to still wander through the house in search of her family.
Of similar interest is the 1814 Kharitonovs-Rastorguev Estate, whose owner purportedly promised an early release to a French convict in exchange for constructing his mansion. Yet the merchant did not keep his word and after completing the home, the man was sent to a prison in Tobolsk, where he hanged himself. Before his death, the builder cursed the estate, and soon thereafter tragic events began to occur in the Rastorguev family. One of the daughters drowned herself in a pond to escape marrying someone she didn't love, while five children of the second daughter died consecutively in infancy. Lev Rastorguev himself passed away after falling out of a window under suspicious circumstances, and it was only after his death that his daughter was freed from the curse and began giving birth to healthy children. In 1837, the family abandoned the ill-fated estate. No one has lived here since, although its ghosts are said to roam the nearby park.
What to Buy in Yekaterinburg
A visit to Yekaterinburg would not be complete without souvenir shopping. Jewelry created from the famous Ural rock crystal and jasper make great gifts, as do the wide assortment of materials made from malachite and porcelain, the latter of which is produced in the nearby city of Sysert. Fans of the author Bazhov can buy his works in local bookstores, while anyone with a sweet tooth will enjoy flavorful Sverdlovsk cakes, Tales of Bazhov gingerbread figures and the famous " Vivat Russia! Catherine I" candies. If you are wanting to sample local beverages, we recommend Iset and Tagil Beer.
Treat yourself to an unforgettable trip to Yekaterinburg, Russia, for you are sure to leave enamored with the city's unusual heritage!