Monument to Alexy II, Yoshkar-Ola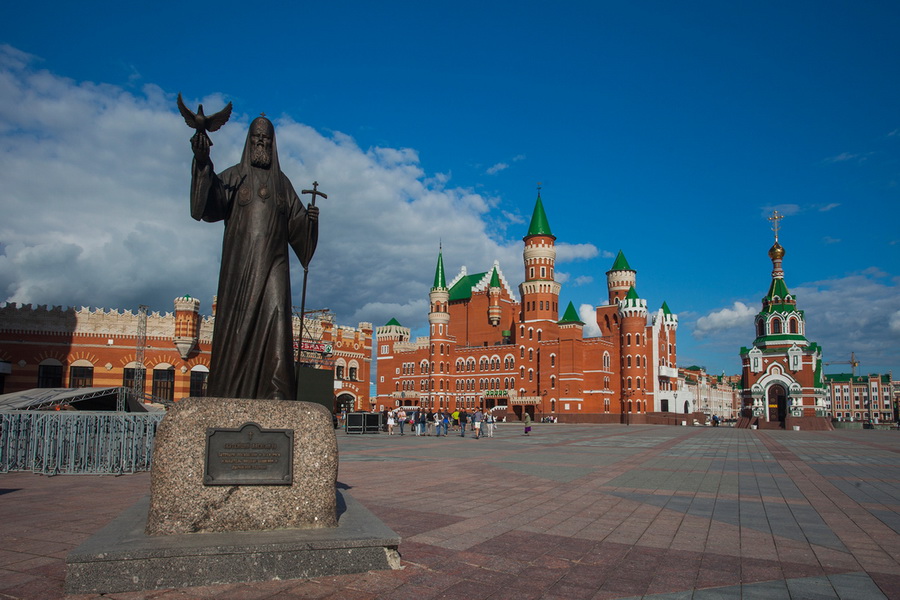 Monument to Alexy II in Yoshkar-Ola, the capital of Russia's Mari El Republic, is counted among the city's landmark sites. The figure stands in the charming Patriarch Square, which was unveiled along with the statue in 2010 in celebration of the 90th anniversary of Mari El.
Patriarch Square straddles Malaya Kokshaga River and was named in honor of Patriarch Alexy II, who served as head of the Russian Orthodox Church from the early 1990s until his death in 2008. He made a significant contribution to the founding of the Mari and Yoshkar-Ola dioceses, and through his efforts the number of churches and monasteries in Yoshkar-Ola significantly increased. His leadership garnered deep respect from the Mari El population, and the majestic sculpture is an apt expression of their appreciation.
Monument to the Most Holy Patriarch Alexy II of Moscow and All Russia, as it is officially called, was erected near Resurrection Bridge, where it remains to this day. Inspiration for the statue came from then-head of the Mari El Republic, Leonid Markelov, and was created by famed Russian sculptor Andrey Kovalchuk. The bronze figure of Alexy II stands 3.5 meters high atop a massive granite pedestal inscribed with his name. The priest is depicted in a clerical robe with a panagia necklace on his chest. In his left hand he holds a staff, while from his right hand he releases a dove, a tradition which the patriarch would regularly perform during the Feast of the Annunciation. The gaze of the imposing figure is fixed on Resurrection Cathedral, located on the opposite riverbank, giving the appearance that Alexy II is blessing Yoshkar-Ola while at the same time admiring its beauty.
Monument to Alexy II is one of the most recognizable sites of Patriarch Square and remains a favorite meeting point for citizens and guests of Yoshkar-Ola.