Zvenigorod, Russia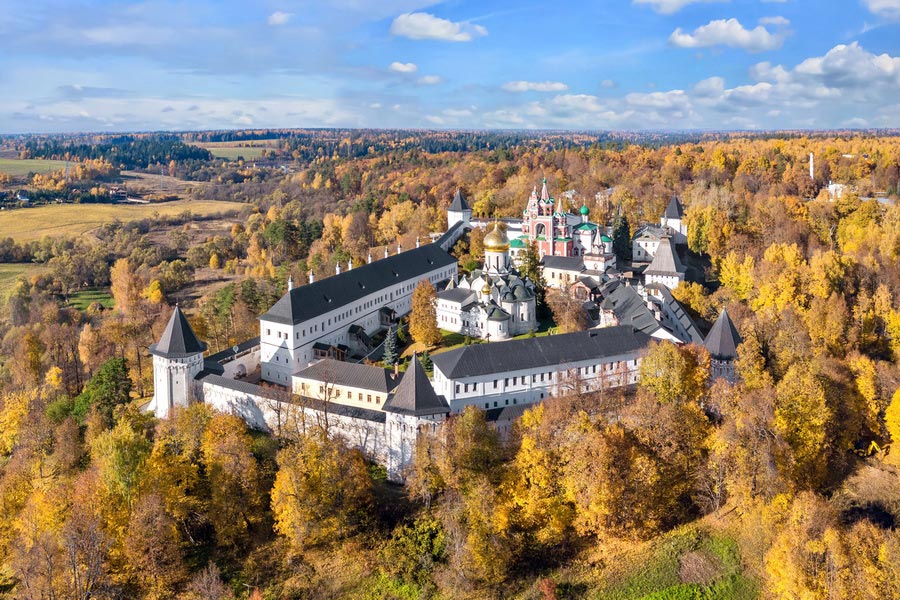 Savvino-Storozhevsky Monastery
Tours, Attractions and Things To Do in Zvenigorod
Zvenigorod Travel Guide
Zvenigorod, Russia - a quaint, quiet town located 50 kilometers from Moscow - has scarcely changed in the past two centuries. Its small-town atmosphere, gorgeous layout, fresh air and calming landscapes have earned Zvenigorod the nickname "Russian Switzerland" and make it an attractive destination for tourists.
History
Zvenigorod was founded in the 12th century when Rurikid Prince Yuri Dolgoruky established a settlement on site of the present-day city. The outpost, which was established around the same time that Moscow was founded, became famous for its defensive structures.
The first official mention of it dates to the 13th century, when Grand Duke Ivan Kalita bequeathed Zvenigorod to his son Dmitry Donskoy. Prince Dmitry proceeded to construct a Kremlin fortress in Zvenigorod which would eventually develop into the city center. Yet it was Dmitry's son Yuri Zvenigorodsky who built Assumption Cathedral, now one of the region's finest examples of early Moscow architecture. The cathedral remains in excellent condition and to this day has retained its original appearance in near entirety.
Throughout its history, Zvenigorod has seen numerous victories and defeats. Its residents bravely warded off attacks by the Tatar-Mongols and for centuries managed not only to preserve but to increase their wealth. The city's advantageous location allowed it to flourish economically for years, yet by the 18th century its commercial growth began to subside and was gradually replaced with a new reputation as a flourishing resort center.
Zvenigorod's beautiful nature, favorable climate and close proximity to the capital beckoned noble families from all over Moscow Region to while away their summers in Zvenigorod. This influx of wealthy seasonal tourists instigated the construction of luxurious merchants' estates, and a beautiful embankment was soon designed which quickly became a favorite spot for evening walks. Today Zvenigorod's many 19th-century buildings, most of which are found outside the historical center, allow you to enjoy the unique atmosphere of this era of Russian history.
Attractions
Many of Zvenigorod's historical monuments have not survived to our day, yet those which have are well worth seeing. Although little remains of the original settlement save a few ramparts, the city's claim to fame - the white-stone, 14th-century Assumption Cathedral – has been preserved. The interior is particularly striking with its 15th-century frescoes, which some believe are the creation of famous Russian icon painter Andrei Rublev. When its bells chime, the sound echoes in every corner of the town.
There are many Orthodox cathedrals in Zvenigorod, each of which is unique in its own right. The 16th-century Ascension Church was built in a neo-Byzantine style and attracts attention with its clean-cut turrets. In the eclectic Alexander Nevsky Church, visitors can see holy relics of several martyrs and priests. Located near Storozhka River is Savvinsky Skete (currently under restoration), which was built on the site of a cave where Saint Sava once lived. Yet the most significant spiritual attraction of Zvenigorod is the colorful Savvino-Storozhevsky Monastery. Founded in 1398, it became the first in Russia to receive the title of lavra and remains one of the most revered monasteries in all Russia.
Zvenigorod offers more than religious architecture, for it is also home to many unusual museums. At the Cultural Center of Lyubov Orlova, a famous 20th-century actress from Zvenigorod, you can see the personal belongings of the actress and watch her biographical film in a small cinema hall. Another fun option is the Museum of Russian Dessert, where you can enjoy sweets prepared according to traditional recipes.
In a picturesque setting five kilometers from the city is House-Museum of Mikhail Prishvin, whose famous writings are dedicated to the beauty of Russian nature. The museum grounds include an apple grove and a lime alley leading to a country house, whose interior remains in good condition. The cottage garage still holds the writer's old Moskvitch car.
The countryside and pleasant wooded areas surrounding Zvenigorod remain much as they were in Prishvin's day, and if you spend much time in their calming environ you too may be inspired to write some prose of your own!
Zvenigorod Souvenirs
Tourists to Zvenigorod often purchase unique bells (a city symbol of Zvenigorod), samovars painted in the Old Russian style and dolls dressed in folk costumes, all of which can be found at the souvenir shops near Ascension Church. Ceramic plates made by local craftsmen and decorated with original patterns are another great gift option. Orthodox tourists often purchase icons and silver crosses as keepsakes, while anyone with a sweet tooth will enjoy the selection of dandelion jam, fragrant honey and other unusual treats in Museum of Russian Dessert.
A visit to Zvenigorod makes a perfect day trip from Moscow and is a great way to experience the joys of small-town Russia.