Tajikistan - Traditional Crafts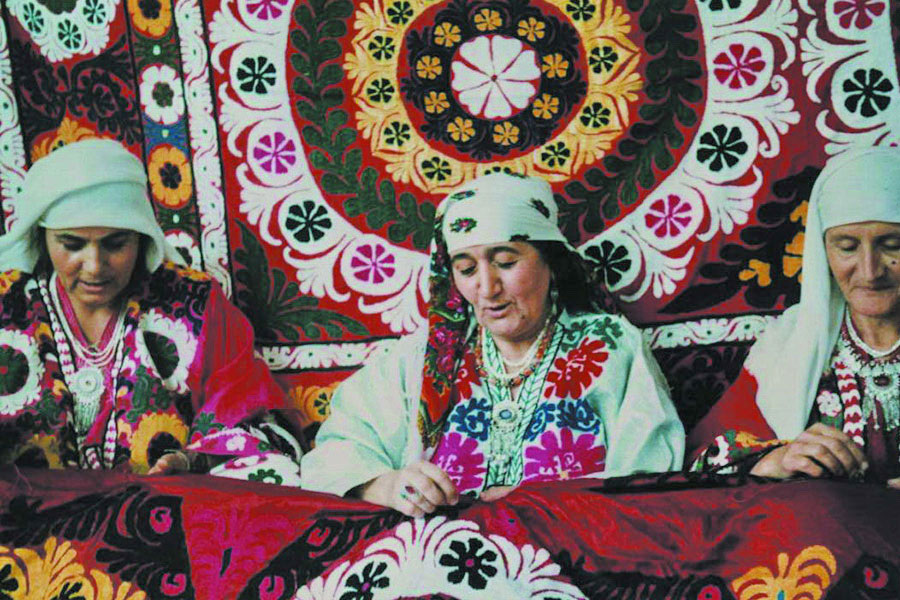 From times immemorial Tajiks have been famous for creations of national craftsmen. These skilful hands have been making fabrics, utensils, musical instruments, carpets, furniture, jewelry and many other things for many centuries using only natural ecologically pure raw materials.
Today many of these things have became souvenirs which are especially appreciated by foreign visitors to Central Asia and Tajikistan in particular. Tajikistan is famous for entire dynasties of national craftsmen which pass their ancient arts from generation to generation.
Tajik Crafts - Fancy Fabrics
The most ancient kind of national Tajik crafts is weaving. The most widespread Tajik fabrics are:
Zandona - it has been known since ancient times; it used to be popular in Maverannakhr' Khurasan' Iran as well as in ancient Russia and Scandinavian countries' China and Arabian caliphate. The center of its manufacture was located Zandona settlement near Bukhara. During Samanids rule it was exported to various countries; it was both uniformly dyed and patterned. Sometimes it was ornamented by knotted weaving which laid down the basis for abr (cloud-like) ornamentation. Zandona has survived, though in more sophisticated form.
Alocha - a bright, multi-colored striped fabric from silk and cotton. Its smooth surface shimmers and flickers. Now the national craftsmen living in Hissar Valley of Tajikistan produce different kinds of alocha. Two kinds of alocha were used in everyday life: zebak and faranchi (from European thread).
Bekasam - a multi-color semi-silk fabric with striped, patterned ornament. It is made by national craftsmen of Samarkand' Bukhara' Tashkent' Kokand. In modern Tajikistan mainly Karatag craftsmen can make bekasam. Even now the fabric is very popular with local residents.
Brocade - a silk fabric known all over the world. Clothes made from brocade are worn during great holidays.
Karbos - a cotton fabric' the most widespread kind in Central Asia. It was made in Samarkand' Bukhara (Uzbekistan) and Karatag (Tajikistan).
Shokhi-kamus - a silk dense fabric with rich patterns. It is used for sewing smart dresses and head scarves.
Chit - cotton, ornamented fabric' one of the most widespread fabrics in entral Asia. It is still produced in Samarkand' Bukhara' Ura-Tyube' Karatog. Beside the above mentioned fabrics Tajik national crafts are famous for making cotton prints - mallya' falga' and foota. Graceful silk fabrics such as kimhob' dibo' silk coverlets with multi-color abr ornament are distinguished by skillful workmanship.
Tajik Crafts - Zarduzi
It is one of the most widespread kinds of Tajik arts and crafts. Two kinds of threads were used in gold embroidery: golden and white. Gold embroidery is mostly applied on velvet. In the past it was used on leather items' furs' cotton fabrics. There are two kinds of gold embroidery: zaminduzi and gulduzi.
Zaminduzi - a multi-colored ornamentation applied all over the used material; it is characteristic for all regions of Central Asia.
Gulduzi - is embroidery made on pre-drawn pattern. This style is one of the most complex in gold embroidery art. Gulduzi is used for decorating dressing gowns' chapans, bride's shoes' boskat' skull-caps' harnesses.
Modern gold embroidery is mostly reperesented by gulduzi style used for souvenirs. A thread contains 10-20 % of gold. The most popular patters used are: oftob (sun) ' bulbul (nightingale)' guncha (buds)' sadbarg (rose)' gulshan (flower bed)' chashmi bulbul (an eye of a nightingale)' mavdzh (wave), etc.
Abrbandy - a kind of printing. It is the most ancient kind of national craft of Tajiks. Abrbandy is applied by means of printing abr patterns on a prepared material. The ornament is distinguished by special artistic quality and a variety of patterns: geometrical, flowery, etc. Each region had its own palette. Today abrbandy is a special kind of art which is the most characteristic for Ura-Ttyube region. It has been passed from generation to generation.
Tajik Crafts - Artistic Embroidery
Hardly any Tajik loom work can do without national artistic embroidery. Central Asian women embroidered their things from time immemorial but in the 19th century embroidery became one of the most developed, popular and prospering kinds of folk art. In the mountains of Tajikistan skilled craftswomen decorated their clothes with embroidered patterns. Nomadic cattlemen created surprising in their embroideries intended for decoration of their tents and silk headdresses.
This art has ancient roots and is still used for decoration of carpets' textiles' clothes and souvenirs. Tajiks do this using special needles and cotton' woolen and silk threads as well as precious and semiprecious stones.
The most ancient centers of Tajik embroidery are located in the country's north: Ura-Tyube' Khujand' Isfara' Kanibadam' Asht' Pendzhikent.
Suzane. It is a big rectangular embroidered wall picture - the main and customary ornament of a Tajik house no less beautiful than a carpet. This tradition of home decoration originated in ancient times. The kind of embroidery used for this is also called suzane which in Persian language means "needlework". Suzane is embroidered on velvet' silk and cotton fabrics. The most known suzane are from Samarkand' Bukhara (Uzbekistan)' Ura-Tyube (Tajikistan).
Suzane is a great gift for a variety of holidays, especially wedding. Making of suzane intended for wedding was considered a very honorable craft and was trusted only to highly skilled craftswomen. Mothers had thought out a wedding pattern long before their daughters reached age of consent. More often suzane represents a symbolical picture of a blossoming garden. However, somewhere in the midst of rich patterns of magnificent ornament one can see latent magic symbols and wishes: a pomegranate - for fertility, knifes - protection from an evil eye, a pepper - evil spirits will pass you by, a lamp - purification from evil, a bird - for luck. Each area has its own embroidery patterns and seams.
Lace - decorative embroidery of mountain Tajiks decorating some items. Lace ornament is mostly of hem band character.
Rumol is a man's waste scarf decorated with embroidery of various colors - a basma seam or a two-sided satin-stitch. Prevailing patters are of basically vegetative character which reminds Arabian lettering. Embroidery also decorates: borpush (coverlet) ' dzhoinamoz (a mat for praying) ' kars (kerchief)' ruidzho (coverlet) ' zardevor (for home wall decoration) ' oinakhalta (for mirrors' personal things).
Toki - kallapush (skull-cap) - a traditional part of a national Tajik costume. The most popular are "chusti" - man's black-and-white skull-caps: standard patterns - bodom (almonds) or kalamfur (cayenne) embroider on white silk. In many areas of Tajikistan men wear light hemispherical skull-caps - arakhchin decorated by means of machine embroidery. There are several traditional kinds of ornamental patterns compositions in Tajikistan. The most widely spread are women's quadrangular skull-caps with a bright «vegetative" criss-cross pattern. Pamir people wear Tajik round flat satin-stitch embroidered skull-caps.
Tajik Crafts - Decorative Carving
Everyone who has been in Tajikistan knows how important the art of decorative carving for local residents is. It decorates the monuments of architecture, household objects, musical instruments, utensils, doors, frames, souvenirs and so forth This is one of the most ancient and widespread crafts in Tajikistan. There are woodcarving (utensils, furniture), stone carving and ganchu (architectural monuments, houses, interior decoration).
Long time ago images of people and animals were widely used in carving. After Islam had been introduced they gradually disappeared to be replaced by numerous Arabian inscriptions. Some carvers prefer "vegetative", geometrical patterns. Household objects are normally decorated with onychoid four-leaf carving made on red-black painting. In architecture the ornamentation in the form of lotus, tulips and other flowers is more characteristic.
Besides mosques and madrasahs carving was used decorating of gravestones and mausoleums. All carving elements can be seen in modern housing architecture.