Holidays in Tajikistan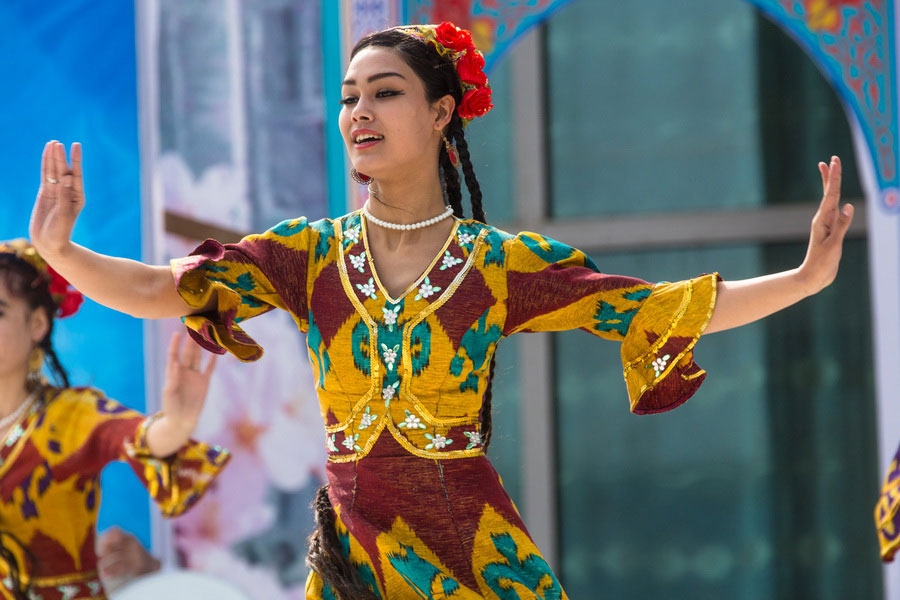 Public Holidays in Tajikistan in 2023
| Date | Holiday |
| --- | --- |
| December 31 - January 1, Sa-Su | New Year's Day |
| February 23, Th | Armed Forces Day, also known as Tajik National Army Day |
| March 8, We | International Women's Day/Mother's Day |
| March 21, Tu | Navruz |
| April 21, Fr | Eid al-Fitr |
| May 1, Mo | Labour Day |
Date
Holiday
May 9, Tu
Victory Day
June 27, Tu
Day of National Unity/National Reconciliation Day
June 28, We
Eid al-Adha
September 9, Sa
Independence Day
September 19, Tu
Apple Festival
September 11 or 18, Mo
Honey and Melon Festival
November 6, Mo
Constitution Day
| Date | Holiday |
| --- | --- |
| December 31 - January 1, Sa-Su | New Year's Day |
| February 23, Th | Armed Forces Day, also known as Tajik National Army Day |
| March 8, We | International Women's Day/Mother's Day |
| March 21, Tu | Navruz |
| April 21, Fri | Eid al-Fitr |
| May 1, Mo | Labour Day |
| May 9, Tu | Victory Day |
| June 27, Tu | Day of National Unity/National Reconciliation Day |
| June 28, We | Eid al-Adha |
| September 9, Sa | Independence Day |
| September 19, Tu | Apple Festival |
| September 11 or 18, Mo | Honey and Melon Festival |
| November 6, Mo | Constitution Day |
Public Holidays in Tajikistan in 2024
| Date | Holiday |
| --- | --- |
| December 31 - January 1, Su-Mo | New Year's Day |
| February 23, Fr | Armed Forces Day, also known as Tajik National Army Day |
| March 8, Fr | International Women's Day/Mother's Day |
| March 21, Th | Navruz |
| May 1, We | Labour Day |
| May 9, Th | Victory Day |
| Date changes annually | Eid al-Fitr |
| Date | Holiday |
| --- | --- |
| June 27, Th | Day of National Unity/National Reconciliation Day |
| Date changes annually | Eid al-Adha |
| September 9, Mo | Independence Day |
| September 19, Th | Apple Festival |
| September 11 or 18, We | Honey and Melon Festival |
| November 6, We | Constitution Day |
| Date | Holiday |
| --- | --- |
| December 31 - January 1, Su-Mo | New Year's Day |
| February 23, Fr | Armed Forces Day, also known as Tajik National Army Day |
| March 8, Fr | International Women's Day/Mother's Day |
| March 21, Th | Navruz |
| May 1, We | Labour Day |
| May 9, Th | Victory Day |
| Date changes annually | Eid al-Fitr |
| June 27, Th | Day of National Unity/National Reconciliation Day |
| Date changes annually | Eid al-Adha |
| September 9, Mo | Independence Day |
| September 19, Th | Apple Festival |
| September 11 or 18, We | Honey and Melon Festival |
| November 6, We | Constitution Day |
December 31-January 1,
New Year
New Year is one of the most anticipated holidays in Tajikistan. Streets and houses are decorated with New Year trees, garlands and other beautiful décor while the festive atmosphere of fairs, special concerts and fireworks unite people in the days and weeks leading up to the holiday. The largest decorated tree in the country stands on display in Dusti Square, the central plaza of Dushanbe. On the night of the 31st, however, most people in Tajikistan can be found celebrating with close friends and family at home.
February 23,
Armed Forces Day
Armed Forces Day, also known as Tajik National Army Day, is a public holiday which has been celebrated annually since 1993, when a parade of armed forces was held in Dushanbe for the first time since Tajikistan gained independence from the USSR. Each year, Armed Forces Day is celebrated with military parades, fireworks and various ceremonies, with the celebratory programs planned well in advance. Military bands and pop stars alike take part in the activities and all of the men, most of whom have fulfilled military duties, receive warm congratulations.
March 8,
International Women's Day / Mother's Day
The Tajik people will attest that their ancient culture has long held a reverence for women, and at one point in their history a spring holiday dedicated to a local cult of women was even observed. Although the March 8th celebration of Women's Day and Mother's Day is based on a women's rights movement of the early 20th century, many Tajiks wishing to see their traditional culture revived also view it as a continuation of their historic customs.
Each year on March 8th, men give flowers and gifts to women and offer words of praise and warm congratulations.
Navruz (Nowruz) is a very special holiday in Tajikistan, for it signals the arrival of spring after the long winter months. The gentle sun warms the mountain peaks as delicate white snowdrop flowers, the main symbol of spring and of Navruz, slowly begin to blanket the mountainside.
Nowruz is one of Tajikistan's most important holidays and is widely celebrated all around the country. Festive performances and concerts are held in the cities while villagers gather together for traditional horse races, national sports contests, cockfighting, kite and pigeon flying and an age-old game of goat head snatching on horseback called buzkashi.
Labour Day was celebrated on May 1 in the Soviet Union, and the tradition lives on in Tajikistan. Although Labour Day is a working day, folk festivals, performances and fairs organized throughout the country create a holiday atmosphere.
For the Tajik people, who lost more than 300 thousand soldiers in World War II, May 9 is a sacred date. War veterans are showered with great honor and concerts, feasts and veterans' gatherings are organized in parks and squares for every military unit. Every year on Victory Day, the president himself meets with veterans in Dushanbe's Victory Park to congratulate them.
Date changes annually,
Eid al-Fitr
Eid al-Fitr, a religious holiday celebrated in Tajikistan and throughout the Islamic world, marks the end of the month-long, dawn-to-sunset fasting of Ramadan. Eid al-Fitr is not just an opportunity to break the fast, but also a celebration of spiritual cleansing and renewal for adherents of Islam, the main religion in Tajikistan.
Men gather at the mosque in the early morning for a special holiday prayer before visiting the graves of their deceased relatives and ancestors. Later in the day, people gather around a festive table with family and friends. Even on ordinary days a Tajik table is a work of culinary art, and on holidays such as Eid al-Fitr its sumptuousness is brought to perfection.
June 27,
Day of National Unity/National Reconciliation Day
The Day of National Unity commemorates the signing of a peace treaty on June 27, 1997 which ended the country's 5-year civil war. Tajikistan President Emomali Rahmon declared it a holiday in 1998. Festive events are held throughout the country, and it is an official day off of work.
Date changes annually,
Eid al-Adha
Muslims celebrate Eid al-Adha (Idi Qurbon) 70 days after the end of Ramadan. The holiday commemorates a story from the Quran in which Allah stopped the faithful Ibrahim from sacrificing his son, Ismail, by providing a ram to be sacrificed in his place. It has become customary to sacrifice animals on Eid al-Adha in remembrance of Ibrahim's faith and God's mercy. The meat from the sacrifice is divided into three parts: one is given to the poor, one to relatives and the third is prepared for a festive meal to which friends and family are invited. People stand ready to welcome many guests into their home during this holiday.
September 9,
Independence Day
Tajikistan celebrates its independence from the Soviet Union on September 9, 1991 with great fanfare. Parades, cultural performances, fireworks shows and more are organized in cities, towns and villages. The main festivities for Tajikistan's Independence Day are usually held in Dushanbe's Kokhi Borbad State Complex, Ayni Park, Peoples' Friendship Park, 800th Anniversary of Moscow Square and the Amphitheater.
September 19,
Apple Festival
With more than sixty varieties of apples grown in Tajikistan, apple harvesting plays an important role in the country's agricultural industry. In 2019, the first Apple Festival was held as an exhibition in Dushanbe. At the festival, farmers from across the country presented regional varieties of apples and homemade jams, juices, dried apples and other sweets, with the products available to the public for taste testing and purchasing. The event was such a success that people requested it be held annually, and thus one of the newest holidays in Tajikistan was created.
September 12 or 19 (2nd or 3rd Sunday in September),
Honey and Melon Festival
Honey and Melon Festival is celebrated in Dushanbe, Tajikistan on the second or third Sunday in September. This joyful event has been an intrinsic part of Tajik culture since 2007. At the Honey and Melon Festival activities are organized, competitions held and prizes are handed out to participants. Attendees can discover and taste a wide variety of melons, watermelons, honey and oriental sweets for which Tajikistan is famous.
November 6,
Constitution Day
The Constitution of Tajikistan was adopted on November 6, 1994, and Constitution Day has been widely celebrated in the country ever since. The most notable feature of this public holiday is the president's congratulatory speech to all the citizens of Tajikistan.