Tajikistan Trip Planner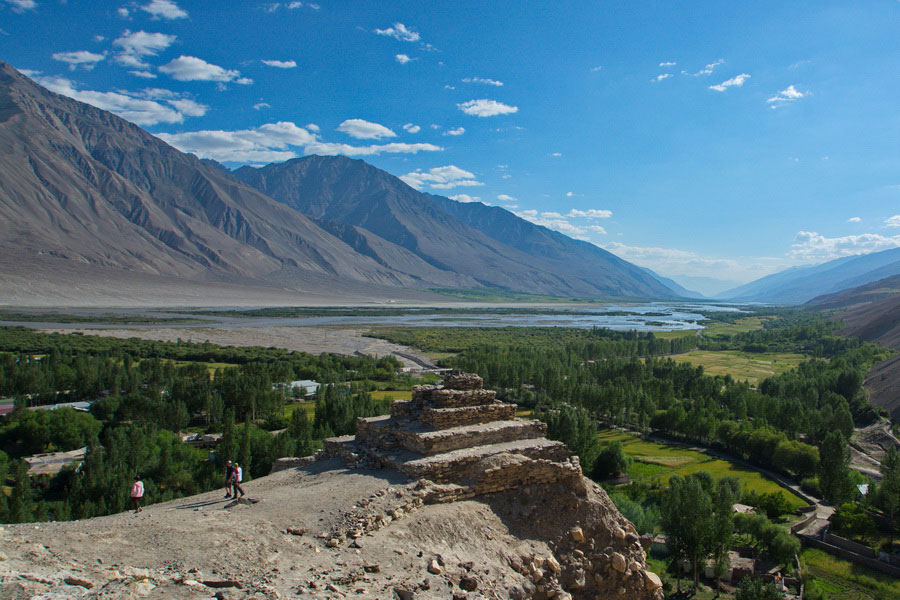 Tajikistan Trip Planner | Buddhist stupa in Wakhan Corridor
What do you need to know before your trip to Tajikistan
The most pleasant time to travel in Tajikistan is the period from May to the mid of October. It is best to take care of tickets and hotels in advance in order to make sure of the availability of places. You can use our online booking system to make the booking of the ticket, tour or hotel.
How to get to Tajikistan
Traveling by plane or train
The most convenient and fastest way to get to Tajikistan is taking a flight to its capital city. The international airport of Dushanbe receives international flights from Moscow, Saint-Petersburg, Almaty, Bishkek, Istanbul, Dubai, Urumqi, Teheran, Frankfurt-am-Maine, and other big cities of the world. There are dozens of foreign air companies based in Dushanbe: Flydubai, Turkish airlines, China Southern, Air Astana, S7 Airlines. Apart from Dushanbe, there are international airports in Kulyab and Khodjand. In local directions there are operating companies such Tajik Air and Somon Air. These air-carriers also operate flights to Europe.
Trip to Tajikistan is also possible by train (to Dushanbe), but this is less comfortable, rather expensive and long. Road from Moscow, for example, takes 4,5 days. Moreover, the railway to Tajikistan lies through Turkmenistan and it will require obtaining a transit visa.
Travel by car
Traveling by car is not a convenient way to get to Tajikistan because it will require passing several borders of neighboring countries on the way. From Russia to Tajikistan there is a route bus, but it is very tiring and long.
Arrival in Tajikistan
Visa
Foreign citizens must have a valid passport and visa to enter the territory of Tajikistan. It's possible to obtain a visa through a Tajikistan embassy, or you can conveniently get an electronic visa on the portal of the Ministry of Foreign Affairs of Tajikistan. Citizens of 69 countries may also obtain a visa upon arrival at the Dushanbe airport. More information about Tajikistan visa regulations can be found here.
Entry
Every foreigner upon arrival in Tajikistan receives an immigration card. It should be filled out before passing the passport and customs control on the border. Frontier guards will put a stamp with the date of arrival. Immigration card should be kept and given to the officers on the border upon departure from Tajikistan.
It is also required to fill out a customs declaration form in 2 (two) copies (Customs declaration upon arrival) at the customs control point. You need to indicate the exact amount of each currency being transferred and all valuable goods including expensive items such as jewelry, electronics and photo technology. One copy of the declaration form remains with the customs officer, and the second copy with the stamp is returned back to you. It is recommended to keep the second copy of the customs declaration until departure as it contains information on the amount of valuables and foreign currency that you have brought with you to the travel to Tajikistan. Upon departure, tourists are allowed to take out valuable goods and foreign currency in the limits of the amount indicated in the customs declaration form upon arrival. It is prohibited to export the national currency.
Registration
Every foreigner should register within 3 working days since the day of arrival in the country. It is required to get a registration form from the hotel and then register with the Visa and Registration office for foreigners (OVIR). Registration may take more than 3 days, thus it is better to contact the hotel administration or the tour agency that will help you with organization of your trip. Registration with OVIR and the hotel is chargeable.
You will have validity of your passport and visa checked at the passport control upon your departure from Tajikistan. Immigration services officer may also ask you to show registration forms from the hotel or local OVIR. Thus, make sure you have the registration form from the hotel at hand (keep it together with the passport) before you pass the passport control at the airport.
Accommodation
There are hotels of EU-standards with a wide range of services in Dushanbe and large touristic cities of Tajikistan. Other cities will have "Soviet" style hotels and private hotels with rather modest living standards at your disposal.
Money and currency exchange
It is possible to exchange USD, Euros and Russian roubles to Tajik somons in the airports of Dishanbe, banks and exchange offices in hotels. Exchange offices and banks accept the banknotes if they are not old, torn, folded, worn out or if they are written on them in hand. It is possible to pay with the credit card or withdraw money in a cash machine only in big cities of Tajikistan and supermarkets. Travelers' cheques are not in use in Tajikistan.
Departure from Tajikistan
Preparation for departure
The procedure of departure in the airport is simple: you will need to check for the flight, go through the customs control and passport control, pass the security services and walk to the plane. It is recommended for travelers of international flights to arrive at the airport 2-3 hours before the flight. Before leaving the hotel, make sure of the availability of the following documents: passport, registration form given by the hotel or OVIR, customs declaration upon arrival, air-ticket and the validity of your Tajik visa in the passport.
Customs control
You will need to fill out one copy of customs declaration upon departure. Please indicate the exact amount of any currency being transferred and all valuable goods. It is to note that formally it is not allowed to export more items that was imported in the beginning of your travel in Tajikistan.
Handmade goods and souvenirs
The customs officer may ask you to show items of hand-made work and souvenirs that you have purchased at the control check, to make sure you are not dealing with illegal export of goods that are of cultural value or antiquaries. If you are exporting such goods from the country, you are required to have corresponding documentation.