Nisa, Turkmenistan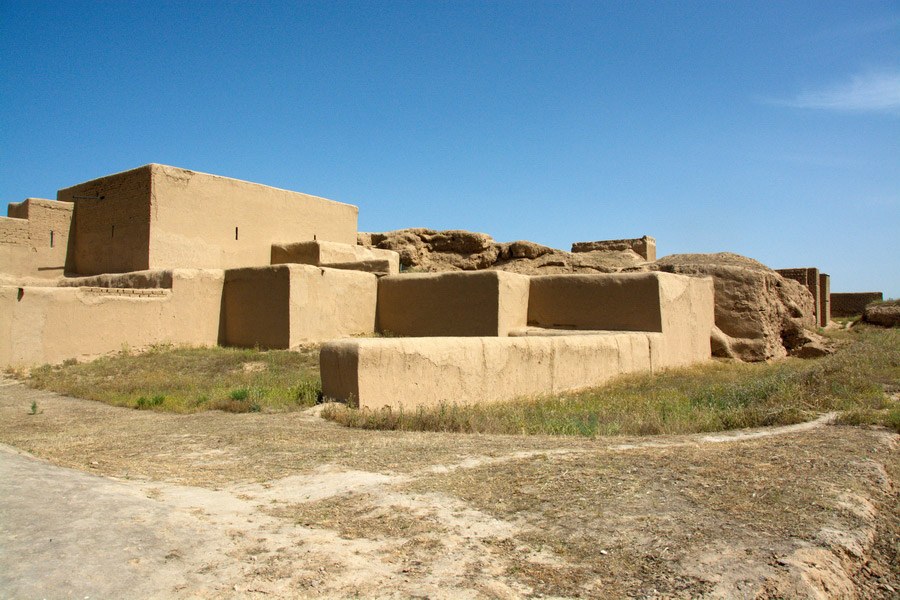 18 km to the west from Ashgabat there overlook the ruins of Nisa, the capital of ancient Parthia, existed at the turn of the I millennium BC and I millennium AD. In the III century BC New Nisa was the capital of Parthia and the Old Nisa fortress was an imperial residence at that time.
Old Nisa was the place where palace and temple buildings were concentrated. There also located a treasury, huge wine warehouse and storerooms with numerous stocks. The fortress walls were 8-9 m thick in their base and were strengthened with 43 rectangular towers.
In the period when Parthian Empire was a world power, Old Nisa was called as Mitridatkert after the name of king Mitridate I (171-138 BC) who ordered to build this city. Later on, the capital was transferred to Asia Minor, but a special attitude to Old Nisa was retained: there located tombs of the ruling Arsacids dynasty members, the kings came to Nisa to have big festivals and arrange offering sacrifices.
In 225 the Parthian Empire ceased to exist and Artashir, the former Arsacid governor, founded a new state ruled by Sassanid dynasty. With the purpose to expunge from the people's memory everything that was connected with the Parthian rulers, he ordered to destroy Old Nisa. The Arsacid entailed estate was plundered and practically turned into ruins. The life there was restored only several centuries later, when Nisa became a part of the Arab Caliphate; however the fortress never gained its past might. Nowadays the former majesty of Mitridatokert can be seen in the archeologists' finds – beautiful ivory horn-like pots (rythons), unique documents of the II-I centuries BC, written with a brush on potsherd pieces, amazing sculptures made of white marble and so on.
The latest find in Old Nisa, a unique fresco fragment is a genuine masterpiece of Parthian pictorial art.
The fortress at Nisa was declared a World Heritage Site by UNESCO in 2007.