Internet for Travelers in Uzbekistan
Access to the Internet in Uzbekistan
Internet access for travelers in Uzbekistan leaves much to be desired. Slow speeds relative to world trends, limited availability, a small coverage area, and a lack of ready-made solutions for foreigners can all be headaches.
Most hotels in Uzbekistan do offer free Wi-Fi, but the best quality connection is only found in 4-5-star hotels. In some budget hotels, Wi-Fi may not work at all or be of very poor quality, suitable only for messenger apps. Internet cafes used to be popular in Uzbekistan but are rare and mostly outdated today. Providers using ADSL (city telephone line) and FTTB (fiber optic network) standards do not work with foreign citizens or offer any short-term Internet packages for tourists.
Mobile Internet is the best option to communicate in instant messengers, log-on to social networks, and browse sites in Uzbekistan. Up until 2018, travelers could only access the Internet via Wi-Fi at their hotels, but thanks to changes in legislation, foreign citizens can easily connect through one of the cellular providers by choosing Internet tariffs or buying mobile Internet packages.
The quality of cellular communication in the larger cities of Uzbekistan is generally good, and the speed of the mobile Internet allows users to quickly open websites or watch videos online. Mobile operators ensure high-quality communications by using 3G technology (more than 3 Mbit/s) and HSPA+ (up to 42 Mbit/s). The quality of mobile Internet decreases with population size–smaller cities and less populated areas have slower connections and less coverage. Here, users can use messenger apps and expect sites to slowly using EDGE technology (up to 384 Kbps).
Mobile operators in Uzbekistan are regularly working to expand their coverage zones, bandwidth, and the speed of their Internet, however. There are currently five mobile operators in Uzbekistan. Beeline, Ucell, Mobiuz (UMS), and Uzmobile all run GSM networks while Perfectum and Uzmobile use CDMA. Beeline, Mobiuz, and Ucell are consider the market leaders and have the most widespread, reliable coverage.
How to get a local number? How to get a sim card?
In order to become a subscriber of any cellular company in Uzbekistan, a foreign citizen must provide two documents:
International passport;
A document confirming the right of temporary residence in the territory of Uzbekistan (temporary residence permit or hotel check-in).
The minimum cost of connecting numbers to all operators is about US $1 (payment is made in national currency).
Please note: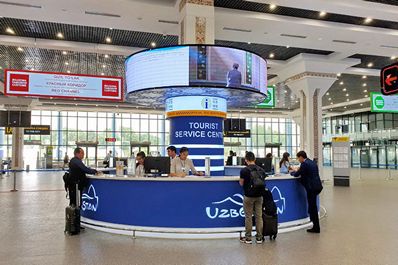 You can buy a tourist simcard from a local telecommunications operators at the Tourist Service Center at the arrivals halls of the international airports in Tashkent and Bukhara. You will be asked to show your passport and make payment. There are two tourist tailored monthly subscription plans that vary between 3 and 7 USD (As of June 2019). There are also Mobiuz points of sale at the Central Railway Station in Tashkent and at the International and Sayohat Hotels (both in Tashkent). In all other cases, foreign citizens can only enter into a subscription agreement at the central offices or headquarters of cell providers located in major cities. Addresses and contacts of these offices can be found below.
How much does mobile Internet in Uzbekistan cost?
The cost of mobile Internet in Uzbekistan depends on the selected tariff. There are special packages that include some amount of available mobile data, however most Uzbeks prefer to buy separate packages for Internet each month based on their own actual usage in order to save money. On average, across all companies, a 1 GB Internet package costs US $3.50-4.
To buy an Internet package, you must send a USSD request or an SMS, which will launch the menu for selecting and purchasing an Internet package. To complete the purchase, you must have enough credit on your account. Topping up your mobile is quite easy – Paynet, which transfers funds to your mobile account in seconds, is found throughout Uzbekistan.
Mobile Options in Uzbekistan
Beeline
Beeline has one of the largest client bases in Uzbekistan–about 10 million subscribers. The advantages of the company are a fairly good signal strength in cities and stable Internet speeds. Their cost of service is average, and they offer everything from budget rates up to very expensive unlimited packages.
Site: beeline.uz
Main office:
Address: 1 Bukhara St., Tashkent
Opening Hours: M-Sa 08:00 to 20:00, Sunday: from 09:00 to 18:00
Mobiuz
Mobiuz is a major mobile operator in Uzbekistan and Beeline's greatest competitor. It has similar characteristics in terms of communication quality and coverage areas but stands out by offering special fares for tourists such as the "Uzbekistan Pass". Mobiuz is trying to open more points of sale for SIM cards at airports around Uzbekistan–its first such point of sale recently opened at Bukhara International Airport.
Website: mobi.uz
Main office:
Address: 24 Amir Temur Ave., Tashkent (near the Wyndham Hotel)
Opening Hours: 08:00 to 20:00 daily
Ucell
The third largest communications company in Uzbekistan, after Beeline and Mobiuz, Ucell features a good selection of budget fares and a large coverage area. One major downside is that high-speed Internet is only available in the major cities of Tashkent, Samarkand, and Bukhara.
Site: ucell.uz
Main office:
Address: 1 Shahrisabz St., Tashkent (near the Wyndham Hotel)
Opening hours: M-F 9:00 to 19:00, Sat. 9:00 to 18:00, Sun. 9:00 to 16:00
Uzmobile
The national communications company of Uzbekistan, Uzmobile has relatively few subscribers–only 500,000 overall. One advantage of the company's CDMA network is a large coverage area, including remote locations; its GSM network coverage is still developing. The quality of mobile internet in both CDMA and GSM is average at best but having coverage in even the most remote areas of Uzbekistan can make Uzmobile a good option.
Website: uzmobile.uz
Main office:
Address: 8 Navoi St., Tashkent
Opening Hours: M-Sa 09:00 to 18:00, Closed Sundays
Perfectum Mobile
A small telecom operator in Uzbekistan, Perfectum fills the need for a CDMA carrier. The advantage of Perfectum is its wide coverage area, including remote areas of the country where other operators do not work. The speed of the mobile Internet is currently quite slow, however, but the company is developing a 3G network.
Website: perfectum.uz
Main office:
Address: 21 Taras Shevchenko St., Tashkent
Opening House: M-F 09:00 to 18:00, Sa. 09:00 to 17:00, Closed Sundays