Uzbekistan Guided Tours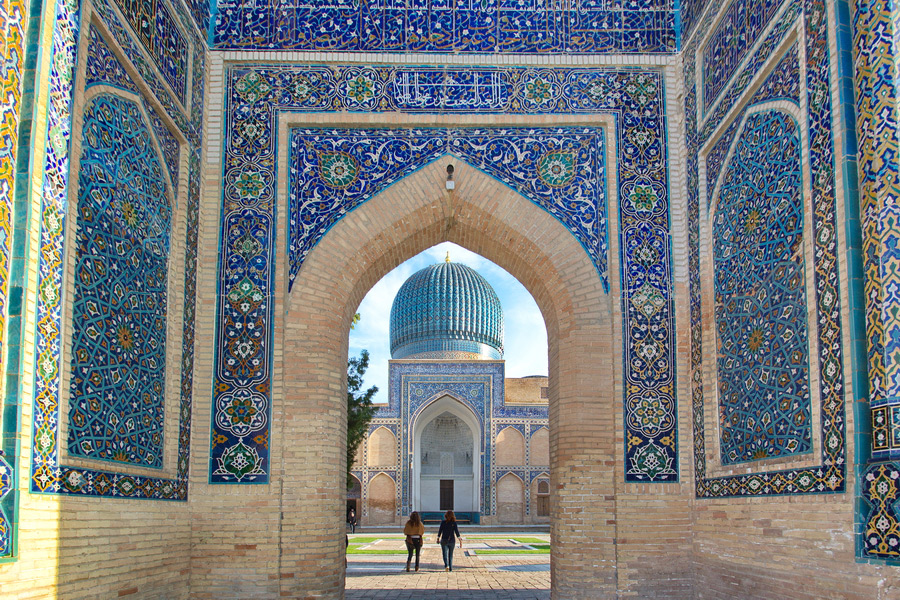 Private Trips and Group Vacation Packages in Uzbekistan
Uzbekistan tours take you to the greatest cities of the Silk Road: Samarkand, Khiva, and Bukhara. Old parts of these cities are intact versions of ancient Silk Road cities, where you can wander through alleyways and monuments and see these cities as they looked centuries ago. Recognizing their impressive architecture, atmospheres, and value to humanity, UNESCO has designated them to be World Heritage Sites.
As part of our Uzbekistan tours and holiday packages we offer a wide range of activities in addition to visiting historical sites: you can ride a camel in the Kyzylkum Desert, stay in a yurt, taste (or even cook) the best pilaf, or meet master-craftsmen as they make silk fabric in Margilan or pottery in Gijduvan. If you prefer an active holiday, visit the mountain resorts of Chimgan and Beldersay, or head to the Aral Sea for a unique opportunity for adventure seekers, photographers, and ecologists. Alternatively, spend some time in the Nurata Mountains, to see untouched nature and everyday village life while supporting local ecotourism.
For those who love the arts, the Fergana Valley, with its rich and colourful textiles and other handicrafts, is ideal. Intricate skills in embroidery, pottery, carpet-weaving and blacksmithing have been handed down through families for six or seven generations. Another option is to head to Nukus, which has one of the best art collections in the region, including the world's second-largest collection of Russian avant-garde art. In Tashkent, attend a ballet or opera performance or dine at one of Uzbekistan's finest restaurants.
Book an Uzbekistan tour with us if you love ancient history, mesmerizing architecture, exotic legends, applied arts, warm hospitality, rich pilaf with crispy bread, and abundant fruits and vegetables grown naturally under the bright sun. We're pleased to offer both small group tours and private trips, and can even design a tailor-made travel package just for you! Whichever option you choose, by the time your trip ends, you'll have an extra piece of baggage and many unforgettable memories to take home!