Amberd Fortress, Armenia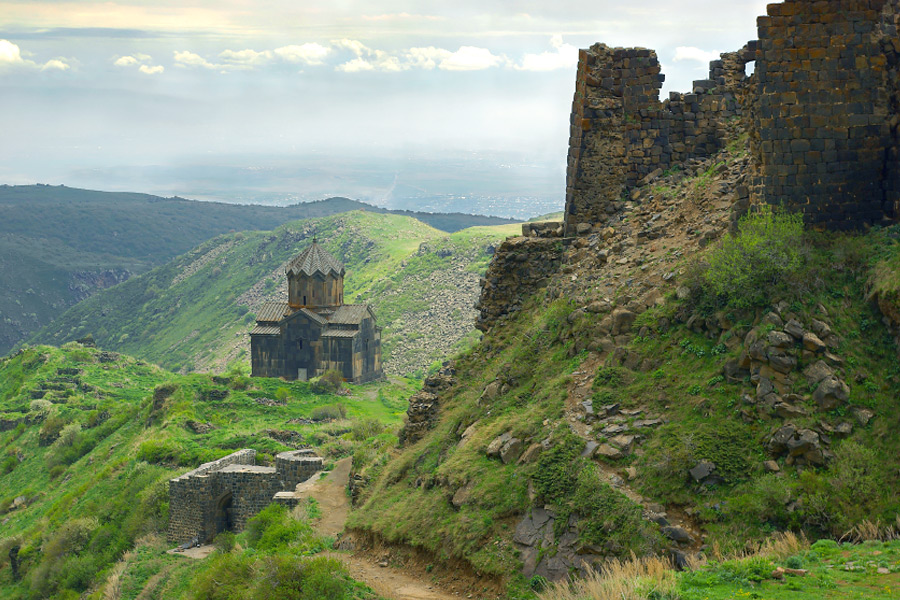 There is a medieval fortress Amberd on the southern slopes of the Mount Aragats, away from the hectic cities. It stands on the rocky cliff on the height of 2100 meters protected from two sides with deep gorges at the junction of rivers Amberd and Arkashen. This unique sight is located 50km from Yerevan. There is only one serpentine road leading to it that passes through mountains. That is why it is impossible to get there in winter when everything is covered in snow.
The history of Amberd goes back to the 7th century when Armenian princes Kamsarakan started there construction of the fortress. With the time, a small outpost turned into a well-protected fortress. However, the Kamsarakans had to pass this strategic point to another Armenian noble family Pahlavuni, who made it their residence. The great commander Vagram Pahlavuni, who lived in the 11th century, ordered to fortify the complex of Amberd and build there a church later named in his honor – Vagramashen.
Despite excellent protection of Amberd, it was invaded by Seljuks coming from Central Asia in the end of the 11th century. Later, in the 13th century, Mongols captured and destroyed this beautiful fortress. No later than a century, Amberd was reconstructed and served as an outpost for several hundreds of years, however today it has only its church preserved.
The architecture of Amberd is simple. Walls of the fortress are made of massive basalt tiles that once served to protect from shells and siege weapons. In some places, thickness of walls reaches 4 meters. Foundations of construction and few walls had been preserved inside the fortress. Church Vagramashen was built in 1026 and reached our days practically in its original state. Church architecture is ascetic, as well as the entire fortress and its only exquisite detail is the southern door.
Apart from that, archaeological research in the fortress of Amberd discovered some mysteries from its past. During the excavations, numerous underground walkways leading to rivers were found. It is now known that there used to be a water-supply system. But the most interesting finding in Amberd was Armenian lavash, dating back to the 12th century that was still edible.
Fortress of Amberd is not only a popular destination in Armenia yet, but it definitely is a gem of the medieval architecture of the Caucasus.