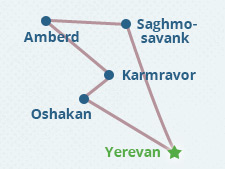 Armenia one-day tour to the mystical places that are on the north-west of Yerevan. You will visit ancient monasteries, old fortresses and unforgettable natural sceneries of Armenia. Besides, the crème de la crème of the tour is located not far from Yerevan and the road will not tire you out in such a rich excursion. This tour is a drop in the sea of Armenian culture but it grasps enough to understand its beauty.
Tour itinerary:
Yerevan – Saghmosavank – Amberd – Karmravor – Oshakan – Yerevan
Meet your guide and driver at your hotel in Yerevan. Take the way to Saghmosavank - Greek-cross style monastery of the 13th century, which played an important role in a religious, academic and cultural development of medieval Armenia. Drive to Amberd – rare historical site that survived and reached us in a good condition from the 7-th century. Some say that it was built in the 11-13th centuries, attributing it to the near located church. Amberd means 'fortress in the clouds'; the name is due to its location 2300 meters above sea level. Then continue the tour to Karmravor – the most well-known historical site of Ashtarak constructed in the 7th century from large square stone blocks. A small cross-shaped church has a porch facade. The legend says that the name of the church symbolizes dress colours of three sisters who committed suicide after falling in love with one man.
The next is Oshakan, which is known as a burial place of the father of the Armenian alphabet Saint Mesrop Mashtots. A cathedral named after him houses his grave which was rebuilt by Catholicos George IV in 1875. Drive back to Yerevan. End of Tour to Oshakan, Amberd, Karmravor, Saghmosavank.
Duration: 7 hours (~190 km, 3 hours on road)
Price includes:
Transportation;
Service of guide;
Bottled drinking water;
Entrance fees to the sights as per itinerary.
Price doesn't include:
Meals;
Personal travel insurance.