History of Armenian Apostolic Church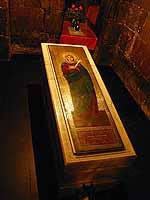 St. Thaddaeus and St. Bartholomew, the first illuminators, are considered to be the founders of Armenian Church. St. Thaddaeus mission lasted for eight years (35-43); the mission o St. Barthlomew– sixteen (44-60).
The Holy Tradition of Armenian church says that after the Ascension of Christ one of His pupils, Thaddaeus arrived to Great Armenia with Christian sermon. Among the number of new Christians was Sandukht, the daughter of Armenian tsar Sanatruk. The Apostle along with Sandukht and other new Christians met their martyr death in Shavarshan by the tsar's order. After a while, after preaching in Persia, St. Bartholomew came to Armenia. He converted Vogui, the daughter of Sanatruk, and many nobles to Christianity; then, by Sanatruk's order he accepted martyr death in Arbanos is located between Lakes Van and Urmia.
In the 1 st century Christianity dissemination in Armenia was promoted by a number of external and internal factors. For example, at that time Christianity was very popular in the countries next to Armenia: Cappadocia (present Georgia), Osroyeni. Commercial, political and cultural contacts with those countries created favorable conditions for the spread of Christianity in Armenia.
Besides, in the1st – 3 rd centuries Little Armenia was politically a part of Roman province of Cappadocia, and it was only natural that Christianity could spread via Little Armenia to Great Armenia.
Armenia became the first country in the world which adopted Christianity as state religion, long before Byzantium and Georgia. It happened in 30 under the tsar, Trdat III, thanks to Gregory I, the Illuminator. In 302 Gregory the Illuminator became the First Patriarch and Catholicos of all Armenians. Later he was canonized. The church was named after Gregory I - Armenian-Gregorian.
In 303 Echmiadzin cathedral (near Yerevan) was built; its remains are still the religious center of all Armenians and the residence of Supreme Patriarch and the Catholicos of all Armenians (except for the small period in the 14 th – 15 th centuries).
The Bible was translated into Armenian in the 5th century.