Culture of Azerbaijan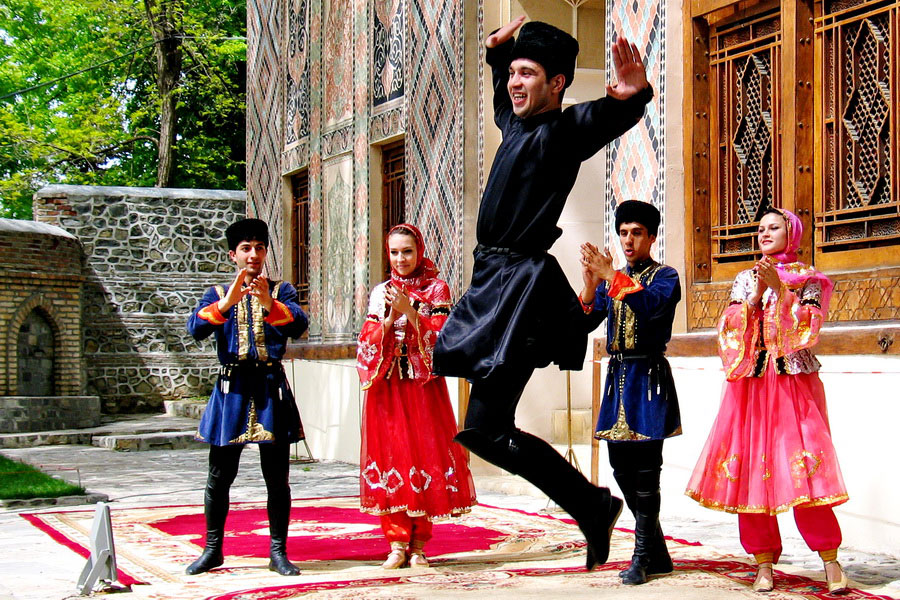 Culture of Azerbaijan seduces travelers with millennia of history now expressed through flagrant colors and impassioned displays of feeling. As the nomadic traditions of warring Turkic tribes melded with sedentary Persian lifestyles and Arab-Islamic ideology, unique traditions were birthed in this Eurasian crossroads now known as Azerbaijan. Attentive travelers will also recognize Russian and European influence in the country, whose people have retained their identity as Muslims in the Orthodox-dominated Caucasus.  
The culture of Azerbaijan is palpable in the country's lively, symbolic dances, delicate miniature paintings, exquisite handwoven carpets and advanced theatrical and cinematic productions. History and legend blend together in colorful epic stories, while visible reminders of the past are seen in Azerbaijan's hodgepodge of medieval palaces, durable Soviet structures and record-setting skyscrapers.
Traditional Azerbaijani lifestyles vary between each region, each of which lays claim to distinct music, handicrafts and folklore. This richness can be experienced through extended travel, museum tours and participation in some of Azerbaijan's many festivals which are known to attract artists from around the country.
Ancient Azerbaijani Culture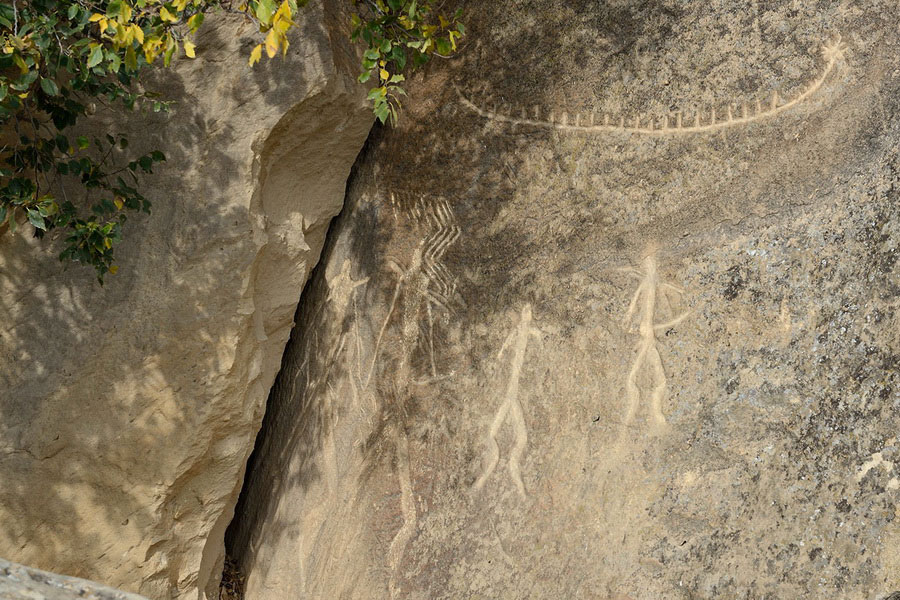 The oldest human settlements in Azerbaijan practically predate time itself. Remnants of a pre-Acheulean community excavated in Azykh Cave are estimated to be at least 700,000 years old, while pieces of a 300,000-year-old jawbone from the same site are the oldest human remains discovered in the Soviet Union.   
Ancient Azerbaijani culture is not limited to the field of archaeology, for the collection of Gobustan Petroglyphs are a must-see for anyone visiting the country. These fantastic rock carvings depict scenes of hunting, fishing, manual labor and dance performances and date as far back as the Mesolithic Period.    
For a truly unusual peek into Azerbaijan's fire-centered past, a tour of the Zoroastrian Ateshgah Fire Temple is sure to stay emblazoned on your mind. Meanwhile, Gala State Historical-Ethnographic Reserve spoils with its rich collection of rock paintings, pottery, household items, jewelry, weapons and coins. These findings reflect the cultural impact of the Greeks, Romans, Persians, Mongols and Turks while providing further proof that Azerbaijan has long laid claim to an identity all its own.
Azerbaijani Applied Arts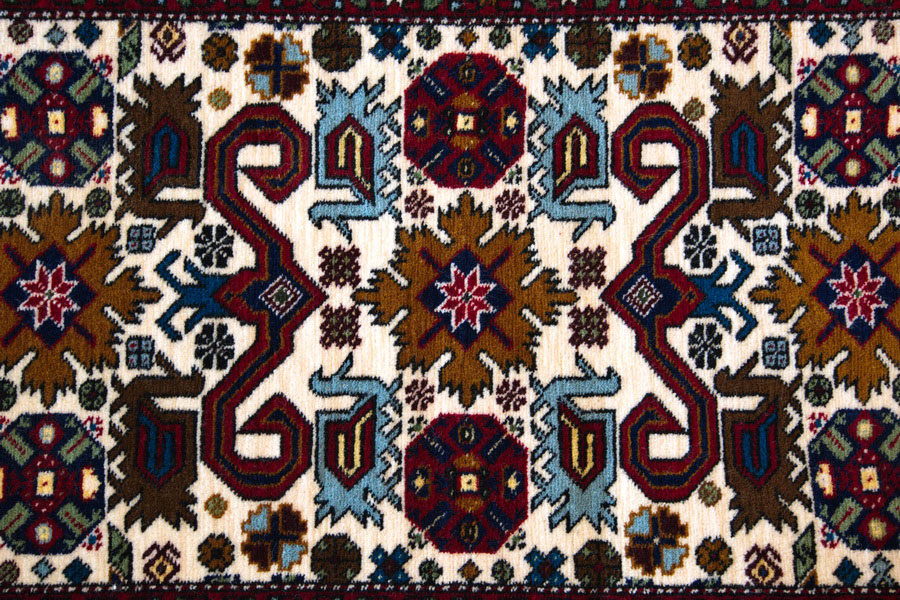 Azerbaijani applied arts began with metal and copper works produced some 5000 years ago and evolved into a wide range of handicrafts which gained renown along the Silk Road for their fine quality. Yet it is Azerbaijani rugs which have long formed the heart of local applied arts, as demonstrated by the remains of Bronze Age carpets discovered near Mingachevir. With time, carpet weaving became an essential skill in every household, as rugs were used to adorn the home. Modern specialists have now identified over 140 different carpet ornamentations in Azerbaijan, many examples of which can be seen in the Azerbaijan National Carpet Museum in Baku. Tourists will be delighted to know that Azerbaijani artisans and weavers have not lost their touch over time: high-quality handicrafts are still pervasive in Azerbaijan, and visitors will be able to select from an excellent choice of souvenirs during their travels.
Azerbaijani Folklore
Azerbaijani folklore is a creative expression of the local values of courage, wisdom, kindness, respect for nature and national pride. Some of the earliest legends of Azerbaijan have survived only through ritual performances, while other folklore has been delivered to us through poems and epics. The latter have remained a central genre in Azerbaijani traditional folklore, as seen through famous works such as Oguzname, Epic of Koroghlu and Book of Dede Korkut. Local minstrels called ashugs played a central role in the preservation of epics, which helped to solidify Azerbaijani beliefs. Traditional folklore found further expression in bayati, short but passionate oral poems consisting of four lines containing seven syllables each. Bayati often took the form of folk wisdom and were traditionally presented by female poets.
Azerbaijani Music and Dance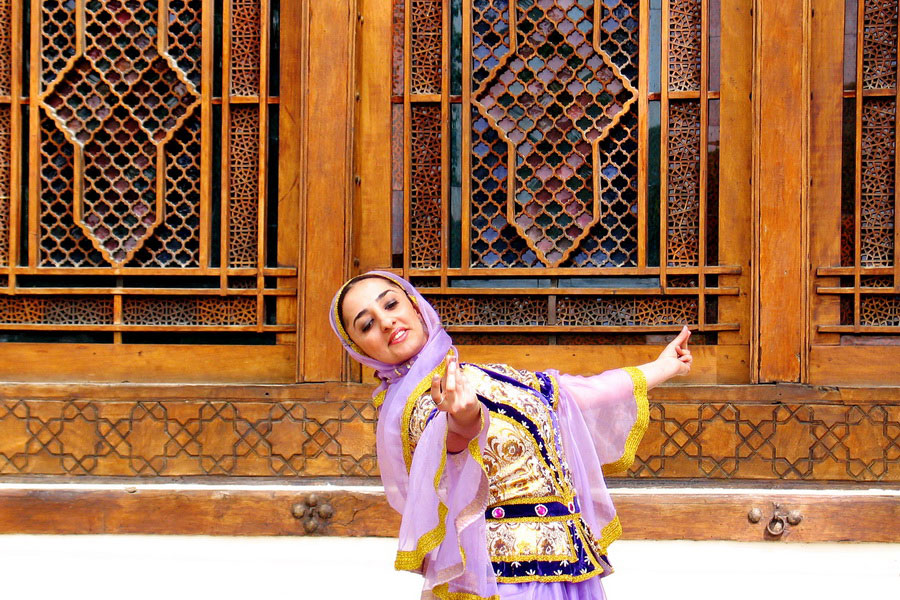 Azerbaijani music and dance are some of the most expressive forms of local art, having been perfected over the course of 4,000 years. The most defining feature of Azerbaijani music is mugham, an improvisational musical form expressed through alternating vocal and instrumental parts which is inscribed on the UNESCO Intangible Heritage List and celebrated annually at the World of Mugham Festival. In Azerbaijan, beautifully choreographed and emotionally-charged dances go hand-in-hand with music and are even depicted among the petroglyphs of Gobustan. Female dances such as the asma kasma wedding dance are slower and noted for their seamless motions and exaggerated use of the head and hands. In contrast, men's performances such as the martial arts-based gangi rely on speed, jumps and regular, rapid movement of the legs.
Azerbaijani Literature
Azerbaijani literature has been preserved through oral and written traditions. Oral folklore developed under the influence of the Turkic mentality, while written literature was formed in the Middle Ages under distinct Persian and Arabic influence. During the Soviet era, many Azerbaijani authors were forced to become mouthpieces for Soviet propaganda, yet after Stalin's death writers were once again at liberty to branch out in new directions. Today, one of the most widely-recognized pieces of Azerbaijani literature is Ali and Nino: A Love Story, which was first published in 1937 under the pseudonym Kurban Said and has now been translated into over 30 languages. Yet the most acclaimed writer in Azerbaijani history remains the brilliant 12th-century poet Nizami Ganjavi, whose legacy is widely celebrated in the country.
Azerbaijani Fine Arts and Architecture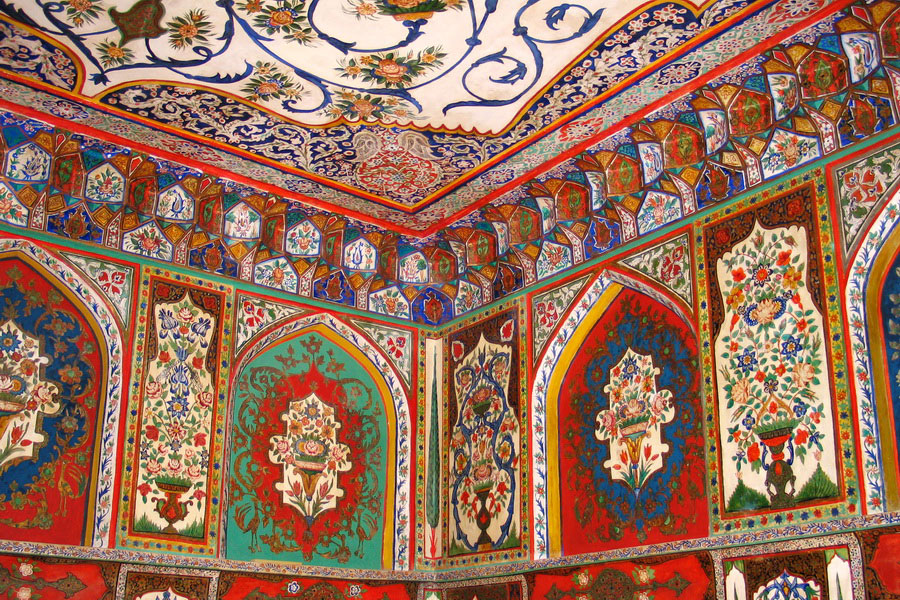 Azerbaijani fine arts can be seen in the ancient petroglyphs known as Gobustan Rock Art, ceramic items on display in the National Art Museum and decorative columns unearthed in Nakhchivan and Gabala. Silk Road trade and a 7th-century Arab invasion accelerated the development of local art forms and the establishment of a new religion in Azerbaijan, but it was the Persians who introduced the now-famous art of miniature paintings to the land. Plant motifs and realistic easel paintings paved the way for illustrative art of the 1920s, which was followed by works of "severe realism" necessitated by the harsh lifestyle endured by many in the mid-20th century. With the collapse of the Soviet Union, local artists gained access to the international art scene, and today Azerbaijani artists display their works both nationally and abroad, while Baku and other large cities regularly host art festivals.
Azerbaijani Architecture
Remnants of a pre-Acheulean culture found in Azykh Cave have been dated by some researchers as more than 700,000 years old, while the ruins of Nakhchivan, Gabala, and Ateshgah Fire Temple serve as lucid reminders of the land's ancient roots. Yet the real gems of Azerbaijani architecture are hidden in enclaves such as Baku's Icheri Sheher (Inner City), within whose walls travelers can discover treasures such as the medieval Shirvanshahs' Palace. The charming aesthetics of Icheri Sheher stand in symbolic contrast with the ultra-modern Flame Towers which now stand guard over its walls. Soviet rule in Azerbaijan ushered in an era of rapid city development, and along with this came sprawling housing complexes and a harsh brutalism displayed through cumbersome cement structures which invaded city streets once lined with graceful, subtle forms. Fortunately, Azerbaijan is still abundant with Old World and medieval masterpieces which continue to attract visitors from around the world.  
Azerbaijani Theatre
Azerbaijani theatre found one of its earliest expressions in a classic Navruz comedic act consisting of two characters called Kos-Kosa and Kechel, while modern theatre began to take shape in the 19th century. The first professional performances in the Azerbaijani language were staged in Baku in spring of 1873, and their success prompted many aspiring playwrights to follow suit. Before long, local theatre became a platform for speaking out against religious fanaticism and injustice. Although the Soviets placed local theatres under strict censorship, in its post-independent years Azerbaijani theatre has welcomed both traditional and cutting-edge performances, as exemplified by Vagif Ibrahimoglu's YUĞ Theatre. At present, there are dozens of state and private theatres in Azerbaijan, including State Puppet Theatre, Pantomime Theatre and Marionette Theatre.
Azerbaijani Cinema
Azerbaijani cinema is historically significant, for the country was one of the first to dive into the film industry with its 1898 production of a 30-second silent film about oil fires. The clip was succeeded in the coming decades by a long line of successful silent films produced in Azerbaijan. When local cinema was nationalized in the 1920s under Soviet rule, the focus of films shifted to the war efforts and the toils of the working class. After gaining independence, Azerbaijan established its place in the world cinema by hosting the first Baku International Film Festival, and in 1995, Azerbaijani director Rustam Ibrahimbeyov won an Academy Award for his production Burnt by the Sun, an event regarded as one of the proudest moments in Azerbaijani cinematic history.
Azerbaijani Museums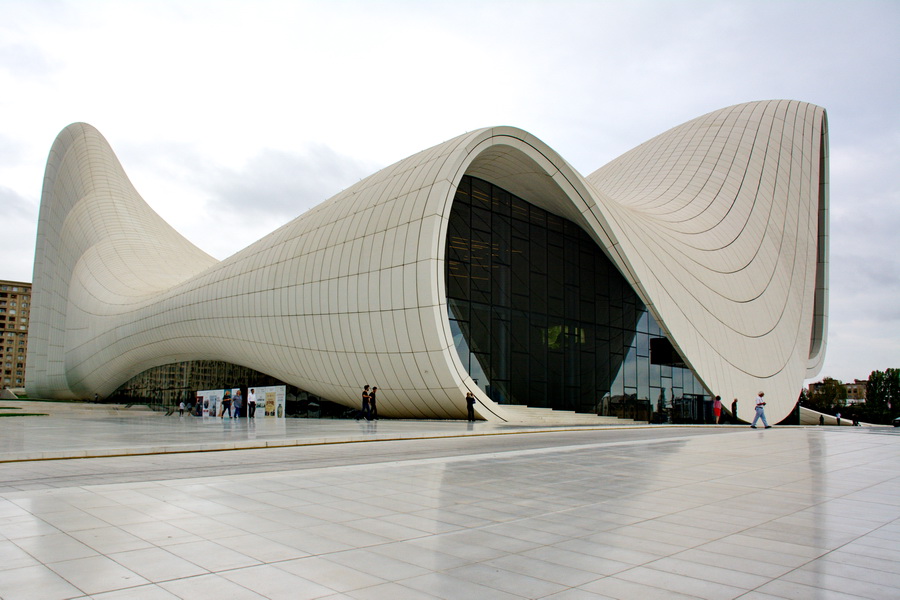 Azerbaijan has more than 50 museums, each of which holds diverse and tangible reminders of Azerbaijani culture and history. Most of these museums are found in the capital city Baku, and while too numerous to list in full, include the following highlights:
Azerbaijan Carpet Museum
State Museum of Musical Culture of Azerbaijan
Independence Museum of Azerbaijan
National Museum of History of Azerbaijan
Azerbaijan National Museum of Art
Nizami Museum of Azerbaijani Literature
For visitors looking for something a little more unique, Azerbaijan also boasts of a wide range of small, quirky museums dedicated to a very specific topic or person, including:
Baku Museum of Miniature Books
House Museum of Nobel Brothers at Villa Petrolea
Historical-Ethnographic Museum of Khinalig Village
Gobustan Rock Art Cultural Landscape
Stone Chronicle Museum
Museum of Crutches in Naftalan
Some museums in Azerbaijan also have websites where you can check their working hours, entrance fees and information on temporary exhibitions.