Azerbaijani Applied Arts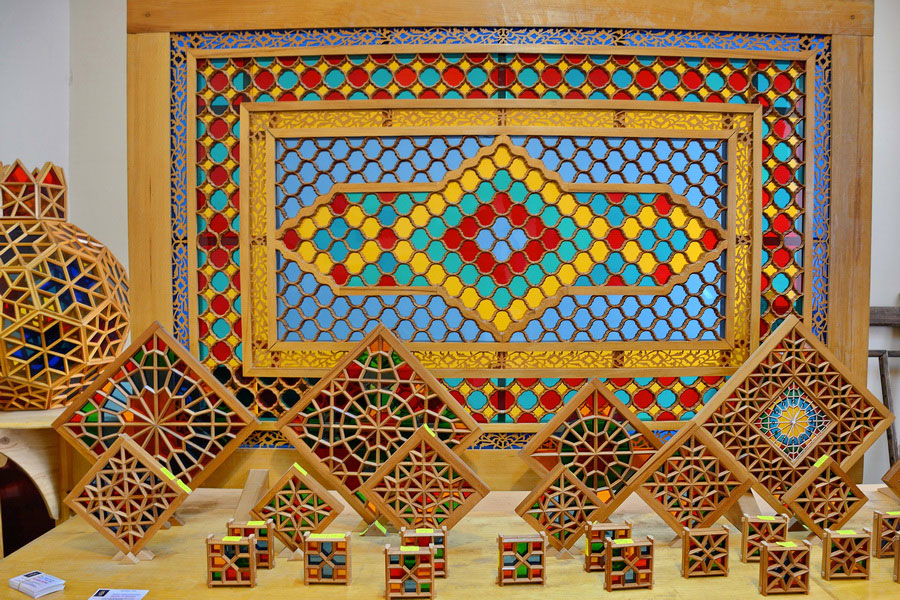 Azerbaijani applied arts have played an integral role in culture of Azerbaijan since its inception. Archaeological research in the cities of Gadabay, Mingachevir and Nakhichevan has uncovered metal and copper artwork no less than 5000 years old. During the Middle Ages, Azerbaijani artisans from Ganja, Guba, Shirvan, Sheki, Baku and Karabakh gained renown along the Silk Road as their products were sold to traveling merchants and dispersed around the world. One of the most precious artifacts of the Kremlin Armory, for example, is a spectacular shield made of Damascus steel by 16th-century Azerbaijani artisan Mouhammed Momin. The piece was of such high quality that it was once a part of the armory of Russian Tsar Mikhail Fyodorovich.
While local fabrics, handicrafts and metalworks were in high demand among traders, it was Azerbaijani rugs which especially captured their attention. These intricately woven masterpieces have long formed the heart of Azerbaijani applied arts, as demonstrated by the remains of rugs discovered in a burial site near Mingachevir which have been dated to the Bronze Age.
Over the years, carpet weaving became an essential practical skill in every household, as rugs were used to adorn the floors, walls and furniture of nearly every home. Women transferred secret family weaving techniques through oral instruction and supervised practice. Every young girl was expected to learn the art of carpet weaving, and her first successfully completed rug was cause for a family celebration.
With time, the variety of patterns and colors used to create antique Azerbaijani rugs immensely expanded. Modern specialists have now identified over 140 different carpet ornamentations in Azerbaijan, many examples of which can be seen in the Azerbaijan National Carpet Museum in Baku. Technological advances brought large-scale carpet factories onto the scene, although the beloved tradition of creating a handwoven carpet survives to this day as a highly valued art form. In appreciation of its role in local society and Azerbaijani culture, in 2010 UNESCO enlisted the Azerbaijani carpet as a Masterpiece of Intangible Heritage.
Tourists will be delighted to know that Azerbaijani artisans and weavers have not lost their tough over time: high-quality handicrafts are still pervasive in Azerbaijan, and visitors will be able to select from an excellent choice of souvenirs during their travels.