Azerbaijani Fine Arts and Architecture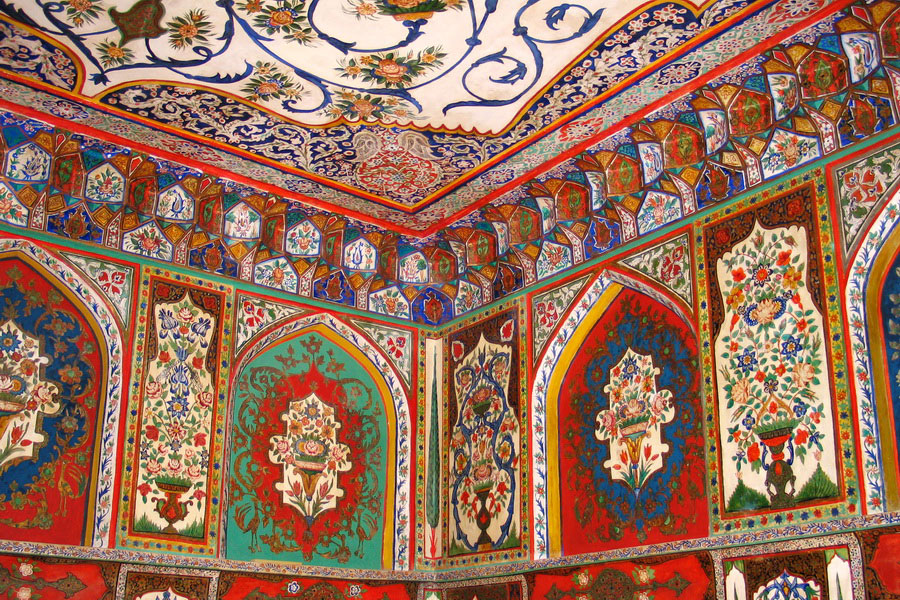 Azerbaijani fine arts were already developed in primitive form by the Paleolithic period, as evidenced by the collection of petroglyphs known as Gobustan Rock Art which are dated to this era. The prevalence of diverse motifs incorporated into historic art and architecture is seen everywhere, from ceramic items now on display in the National Art Museum of Azerbaijan to decorative column foundations unearthed by archeologists in Nakhchivan and Gabala. The growth of local cities was both an impetus and a result of increased caravan trade along the Great Silk Road, whose influence accelerated Azerbaijani carpet weaving, fine art forms, pottery production, jewelry making and even weapons manufacture.
With the arrival of the Arabs in the 7th century, Islamic influence began to seep into the traditions and culture of Azerbaijan. Islam's restriction on the replication of images of living beings proved a stimulus for the development of local ornamental art forms. Yet after Persian influence inspired the development of miniature paintings in Azerbaijan in the 14th-15th centuries, manuscripts containing intricate and miniscule depictions of people, animals and landscapes became wildly popular.
Although local skirmishes and wars between Turkey and Iran impeded the development of the fine arts in Azerbaijan in the 17th -18th centuries, developments were still made in stride. Wall paintings, mainly plant motifs, began to appear in the homes of wealthy townsmen, and in 1797 Persian architect Khadali Zeynalabdin built Sheki Khans' Palace, an architectural masterpiece adorned with vivid paintings created by local masters.
The 19th century ushered in easel painting and other fresh ideas, yet save in the realm of traditional miniature paintings, artistic progress was generally slow. Nonetheless, the masterpieces of artists such as Mirza Gadim Iravani served to pioneer the field of realistic easel painting, which reached its peak in the late 1920s.
The Soviet period in Azerbaijan saw the development of realistic paintings, placards and illustrative art. In 1928, the Azerbaijani Union of Young Artists held its first exhibition, although much of the art served as political propaganda. By the mid-1950s, local artists were toying with ideas such as Tahir Salahov's "severe realism," a truthful depiction of the grim reality of the working class.
The collapse of the Soviet Union brought further progress to Azerbaijani fine arts as the population gained access to the international art scene. Today, successful Azerbaijani artists display their works both in the country and outside of its borders, while Baku and other large cities regularly host art festivals. Many of these exhibitions are held in the shadow of Azerbaijani architectural wonders such as Baku's famous Flame Towers and Heydar Aliyev Cultural Center.