Bakuriani Ski Resort, Georgia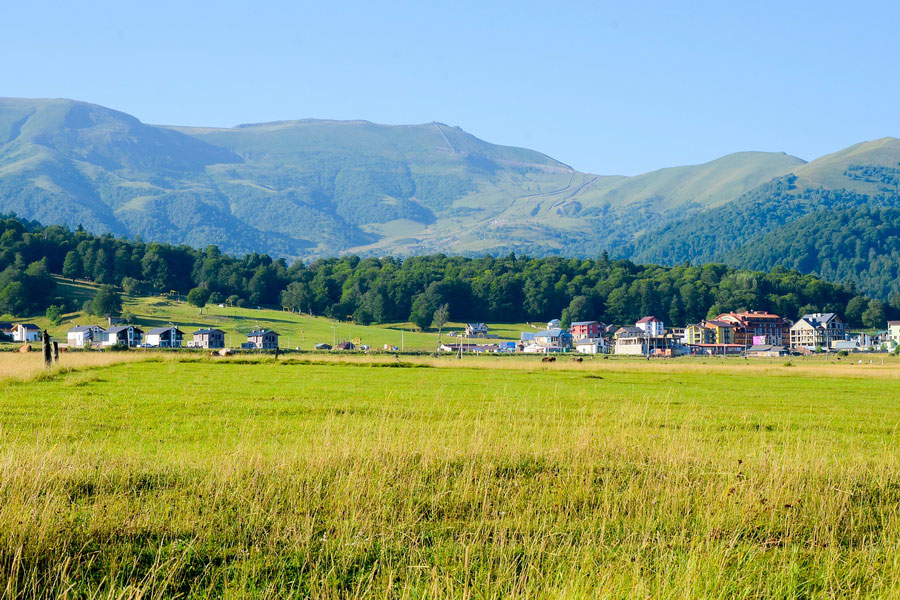 Tours, Attractions and Things To Do in Bakuriani
Bakuriani Travel Guide
BAKURIANI OVERVIEW
Bakuriani is a resort town in Georgia's southern region of Samskhe-Javakheti, popular for winter sports activities, spa hotels, and as a summer retreat. Bakuriani has a population of roughly 2,400 and maintains a rustic alpine charm. The town is situated in a caldera at an altitude of 1,700 m with ample snow in winter and pleasant mild summers. Weather in Bakuriani is generally favorable with most precipitation occurring during the ski season. Temperatures in summer can reach highs of 25 degrees with lows of around 15 degrees. Highs in winter may vary but are usually between 0 and 5 degrees.
Bakuriani was first established in the late 19thcentury and was a popular resort during the soviet era. Winter Olympics trainings took place during the late 20th century when the resort town was a still somewhat of a hidden jewel. As a result of substantial modernization and infrastructural refurbishing, Bakuriani has grown in popularity as an international holiday destination and a contemporary training ground for professional skiers.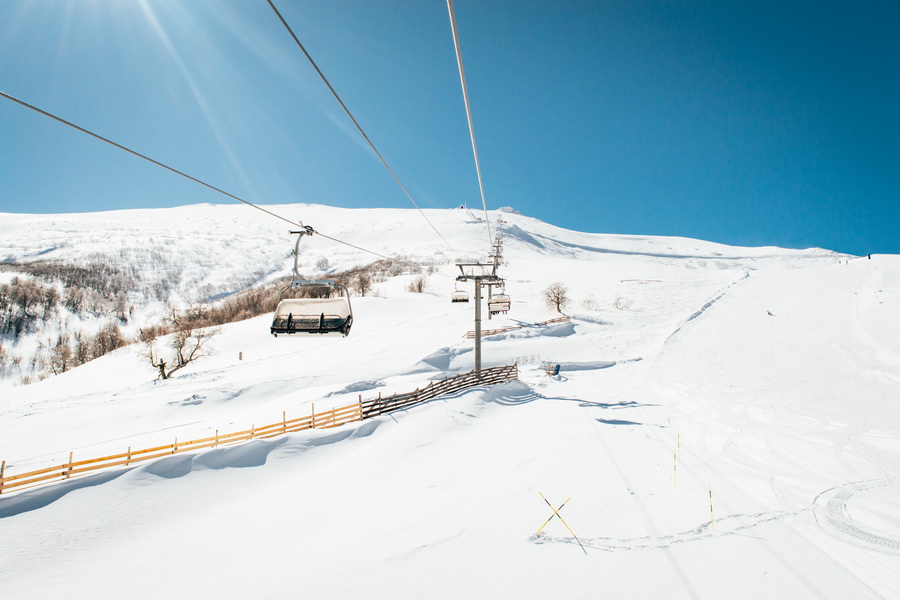 Bakuriani is nestled high in the mountains at the intersection of the Lesser Caucasus and the Trialeti Range. The surrounding nature is among the most splendid in Georgia.
There are several hiking trails in the forested lowlands surrounding Bakuriani. The area is strewn with creeks and springs ideal for fishing.
Bakuriani's main thoroughfare cuts through the heart of the village with cafes, Georgian restaurants, pubs and most modern conveniences.
Accommodation options range from higher end spa hotels to family owned bed and breakfasts, private guesthouses to traditional home stays. Back country camping is also popular.
MUST SEE ATTRACTIONS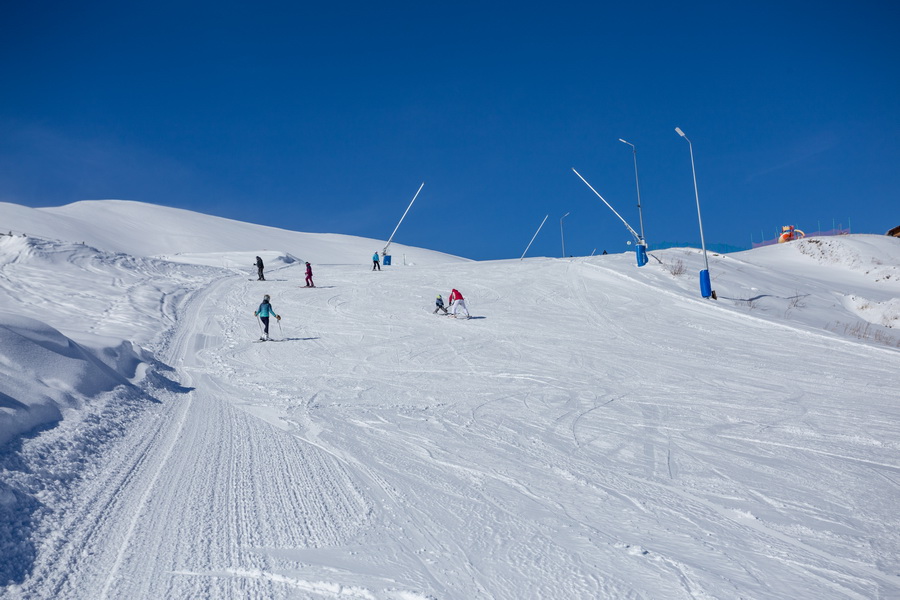 WINTER
Bakuriani is one of Georgia's top winter sports havens. The resort town attracts families and professional sportsmen, with slopes appropriate from beginner to advanced level skiing and snowboarding. Other activities include tobogganing, ice skating, and snowmobile rental. The snow season usually lasts from November until March.
Today Bakuriani offers 23 ski trails and pistes with a total length of 29.1 km. There are two ski areas – Didveli and Kokhta Mitarbi.
Didveli is centrally located in Bakuriani with a summit of 1850 m. The mountain features 3 lifts and a funicular. Snow machines ensure ideal powder and some trails are lit with LED strips. A cable car leads up to the top of Mount Sakvelo, the longest piste being 4 km in length.
Kokhta Mitarbi is the main area for skiing in Bakuriani. Dormant for many years, facilities have been fully renovated to modern standards to include 5 lifts. The summit reaches 2,150 m, making the area a favorite for advanced and intermediate skiers.
SUMMER
Bakuriani is an annual pilgrimage destination for those seeking refuge from intense Caucasian summer weather. The dense coniferous forest surrounding the resort is home to spruce and other species of trees which emit therapeutic particulates known for healing respiratory ailments and boosting immunity. Tourist activities include horse riding, mountain biking, hiking, and fishing.
Bakuriani attracts lovers of hiking, trekking and climbing in late summer and autumn. Easier single day routes include Mount Kokhta (2,155 m), and the climb up to Sekvelomta towards Lake Tabastkuri. Attractions along the way such as the 11th century Timotesubani monastic complex, and mineral springs at Mitabari.
Lake Tabastkuri is an ideal fishing spot just outside Bakuriani between Borjomi and Akhaltsikhe. The volcanic lake's deep blue waters are stocked with trout, carp and barbell. The surrounding lunar landscape is equally impressive and is a favorite day camping spot in warm summer months.
Longer routes move down along the Borjomi Gorge where you can find the village of Daba with a mysterious chapel hidden inside a large cave. Nearby is an ancient yew said to be over 2000 years old. Mineral springs with healing properties in the small village of Tsagver are in close proximity.
Tatra is a favorite hike for those in the know. The trek up the hill provides some of the best vantages for photography in Bakuriani. The panorama is unique and the diverse morphology of the area is apparent when viewed from several scenic overlooks. Hikers also enjoy exploring the abandoned ruins of a soviet spa camp at the top of the bluff where it is rumored that mystical voices of the past are heard in the wind late in the day. Some visitors skip the hike altogether and rent an ATV from a kiosk next to Joyland Park.
Joyland Park is perfect for family fun. The park has entertainment and amusement rides appropriate for small children.
GETTING IN & AROUND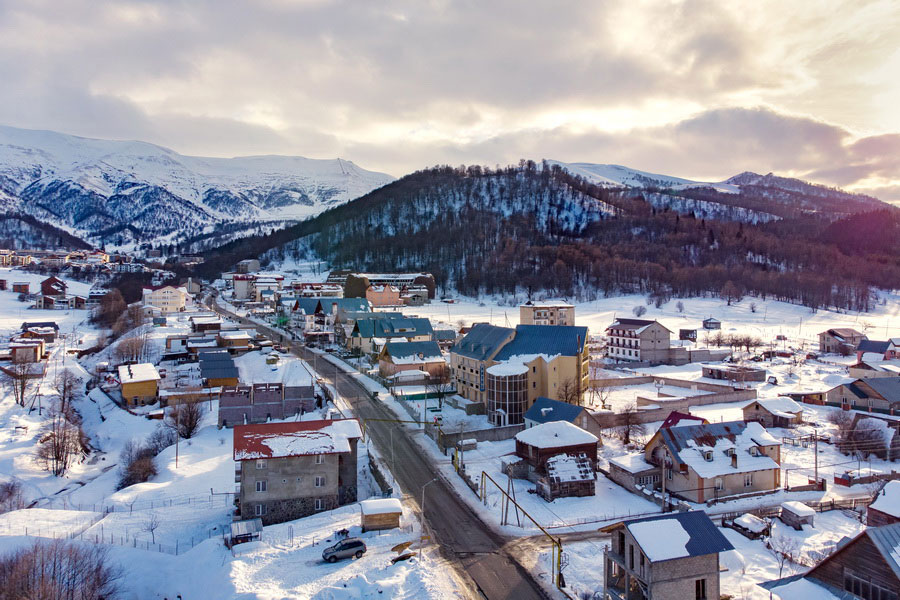 Transport in and around Bakuriani is as convenient as in the rest of Georgia. Bakuriani is a small resort village and travel by foot is the most popular means. Bicycle and ATV rental is affordable and easy to find in the town center.
Taxis are less frequently hailed but easily ordered by phone for slightly cheaper.
Marshrutakas in Bakuriani usually run from 7 am until 10 pm on routes accessing most of the area.
Coaches arrive from all major hubs (Tbilisi, Gori, Batumi, Kutaisi, Borjomi, and Zugdidi) usually twice daily. Bus routes run from 6 am until 12 am daily providing access into town on the main streets.
The Kukushka tramway, often jokingly referred to as the "Cuckoo Train", travels a scenic mountain route which departs from Borjomi once daily.
Tbilisi, Batumi and Kutaisi airports are the closest ports of entry for air travel when visiting Bakuriani. The fastest means of ground transfer is via taxi. Marshrutka shuttle is the most affordable but service directly from these airports varies seasonally and should be verified before flight arrival.