Georgian National Cuisine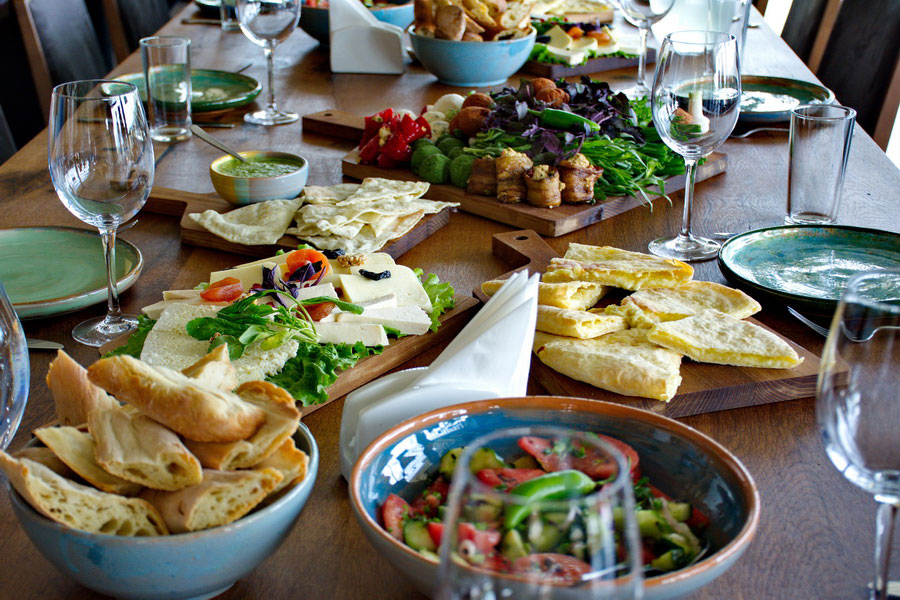 Georgian national cuisine is a highlight for tourists in Georgia, many of whom discover that legends of noisy feasts overflowing with food are no exaggeration. No guest will go hungry in this country, where the rich seasonings and sheer variety of dishes cause many to fall in love with traditional Georgian cuisine from the very first bite.
The origins of Georgian food are ancient. Khachapuri, for example, was first baked in the Middle Ages. Based on historical records we know that this cheese bread recipe has changed little since that time, save regional variations now prevalent in the country.
Cuisine in Georgia today may be divided into three subgroups: Georgian, European and Asian dishes.
Traditional Georgian Cuisine
Georgian national cuisine is known around the world for its rich and diverse menu, making it difficult to single out any one dish. Everything here simply tastes delicious! Elegant Georgian restaurants and tiny mom-and-pop outlets alike will equally please, for while recipes may differ, their tastes and the unique atmosphere in which they are served never cease to satisfy.
In Georgia, everyone can find a variety of foods suited to their taste. Georgians love meat and fish dishes, although vegetarian and kid-friendly options are also common. Favorite national dishes among Georgians themselves include cheesy khachapuri bread, juicy khinkali dumplings, large kebabs, tapaka chicken, chakhokhbili stewed chicken, flavorful chikhirtma chicken soup, chakapuli lamb stew, lobio beans, shkmeruli garlic chicken, satsivi walnut sauce, buglama stewed lamb and kharcho beef soup.
Georgian cuisine is replete with delicious wine and cheese, with each region of the country laying claim to its own special recipes. Rather than provide you with an endless list, we recommend that you make it a point to try Georgian food, wine and cheese in every province that you visit.Georgians eat many nuts and add them to famous dishes like pkhali salads, eggplant appetizers and churchkhela candies. Nuts are also served by themselves as a snack, so if you notice them on the tables of any eatery, be sure that it is a Georgian restaurant.
Georgian cuisine is also rich in vegetables, with meat dishes nearly always balanced with eggplants, tomatoes, potatoes and other healthy produce.
International Cuisine in Georgia
European Cuisine
European cuisine in Georgia can include British, Irish, Italian, Spanish, Russian, French, Polish and German dishes and even American and Mexican foods.
American cuisine in Georgia is nearly synonymous with fast food chains offering burgers, french fries, chicken wings, donuts and the like. You can find a wider selection of American foods in European restaurants, including steaks and barbecue.
In Georgia there are few Mexican restaurants, but tacos, nachos, burritos, fajitas, tortillas and guacamole can be tasted in some restaurants alongside American food and even in the occasional Georgian cafe.
Irish and British dishes are offered in specialized pubs and bars. Options can include roast beef, jerky, fish and chips, shepherd's pie, Irish meat, Wellington beef and whiskey.
There are many Italian restaurants in Georgia, and curiously in select national cafes Italian dishes have blended on the menu with Georgian recipes. Georgians love pizza, pasta, bruschetta, minestrone soup, ravioli and frittata. Italian caprese salad and tiramisu dessert are standard fare in nearly all restaurants serving European cuisine.
There are no Spanish restaurants in Georgia, but Spanish cuisine served in European cafes includes chorizo sausage, jamon cured ham and gazpacho soup.
Russian cuisine is prevalent in most "European" restaurants, where borscht beetroot soup, sweet and savory pies, herring and various dumplings will tantalize hungry travelers.
French, German and Polish cuisines in Georgia are mostly limited to French croissants, quiche, Munich sausages, Bavarian pretzels and Polish bigos stew and zhurek soup.
Asian Cuisine
Asian cuisine in Georgia includes the full spectrum of Arabic, Turkish, Lebanese, Thai, Japanese, Chinese, Indian and Uzbek foods.
Turkish cuisine is loved in Georgia. There are many Turkish restaurants where you will be treated to huge Turkish breakfasts, pogaca buns, menemen scrambled eggs, delicious soups, juicy kebabs, doner wraps, pide bread and more.
At the handful of Uzbek restaurants in Georgia guests can taste authentic pilaf, kebabs, savory samsa pastries, manty dumplings, shurpa soup and laghman noodles.
Although both Japanese and Chinese restaurants exist in Georgia, Japanese sushi, miso soup and delicate sashimi are more popular than Chinese salads and udon noodles. Thai dishes can only be tasted in Japanese or Chinese restaurants, save tom yum soup, which is also served in European eateries.
There are many Indian restaurants in Georgia where you will be served thali platters, chapati bread, palak paneer and other curries, dhal lentils, dahi vada fritters and other Indian favorites.
Mediterranean cuisine includes meat and vegetarian dishes offered in select cafes. Enjoy Arabic specialties such as Maghreb tomato soup, hummus, falafel and couscous and Lebanese fattoush and tabouleh salads, spiced kibbeh meatballs and baba ghanoush eggplant dip.
Georgian national cuisine and international foods now available in the country are such a delight that on your tour to Georgia you can expect to bring wine, souvenirs and a couple of extra pounds home with you!