Georgian Food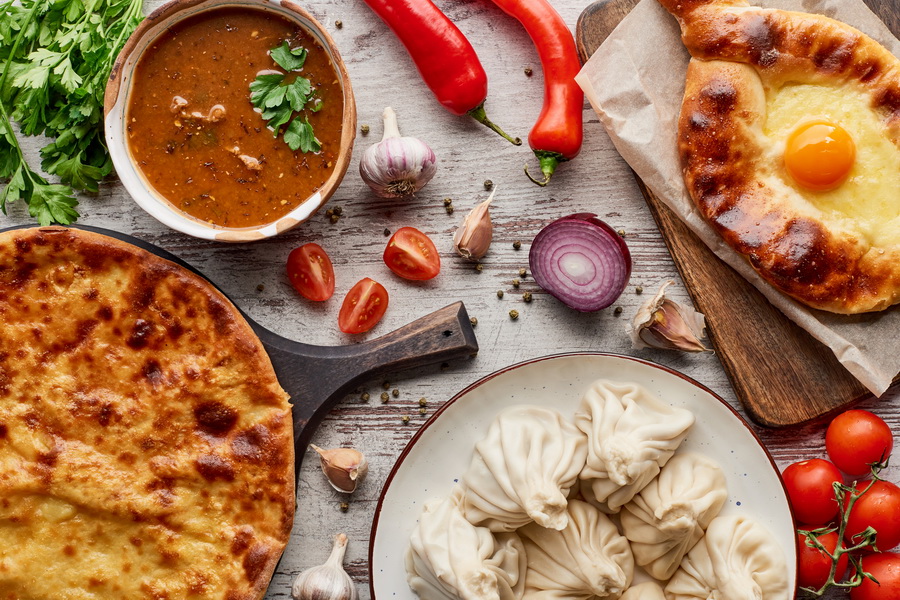 Georgian food has a reputation for stealing the heart of anyone who tries at least one of its many traditional dishes. In Georgia you can find hearty meat-based meals, savory vegetarian plates and mouthwatering breads which prove irresistible for many. Food in Georgia is also known to be very colorful due to the use of fresh fruits and vegetables, the methods of serving and the use of individual plates.
To eat baked Adjarian khachapuri bread, the ruddy crust is torn off by hand and dipped in a steaming mass of melted cheese, butter and egg yolk. For hot khinkali dumplings, grab them by the tail, bite into the dough and slurp out the rich meat broth before savoring the seasoned minced meat inside. Even a seemingly ordinary salad of tomatoes and cucumbers in Georgia is lovingly sprinkled with chopped walnuts and garnished with fresh onion slices and juicy chopped greens.
Georgian food is a mix of history, traditions and legends. Read on to find out what kinds of food are common in Georgia; learn the unique features of each dish and the subtle differences that set each one apart. You may even be inspired to take a food tour through one of the most interesting countries in the Caucasus!
Georgian Meat Dishes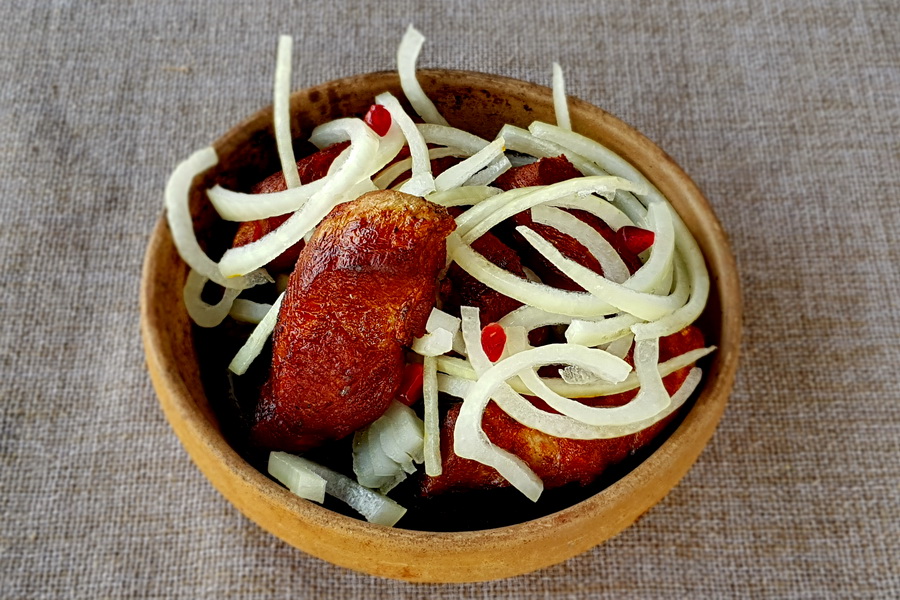 The most famous Georgian meat dish is mtsvadi, or shish kebab. Mtsvadi is usually made from marinated pieces of beef which are grilled until juicy and fragrant. Often the meat is interspersed on the skewer with vegetable slices and is served with hot bread, fresh herbs, tomatoes and cucumbers.
When traveling in Georgia be sure to try an original dish called chicken tapaka, a gutted and lightly salted whole chicken which is cooked on a heated surface under a press.
Try the unique Georgian dish chanakhi, made from vegetables and fatty lamb. What makes chanakhi so good is that it is cooked and served in individual clay pots. The meat is cut into pieces and layered in the pots with eggplants, tomatoes, potatoes and onions before being cooked in the oven. As the dish cooks at a high temperature, the juices and flavors of each ingredient blend together. The meal is lightly sprinkled with chopped herbs and served with hot Georgian shoti bread.
Last but not least is khinkali, the signature Georgian meat dish. Today in many national restaurants you can find vegetarian varieties with potatoes, mushrooms or cheese, yet historically khinkali was prepared exclusively with beef or pork.
Georgian Vegetarian Food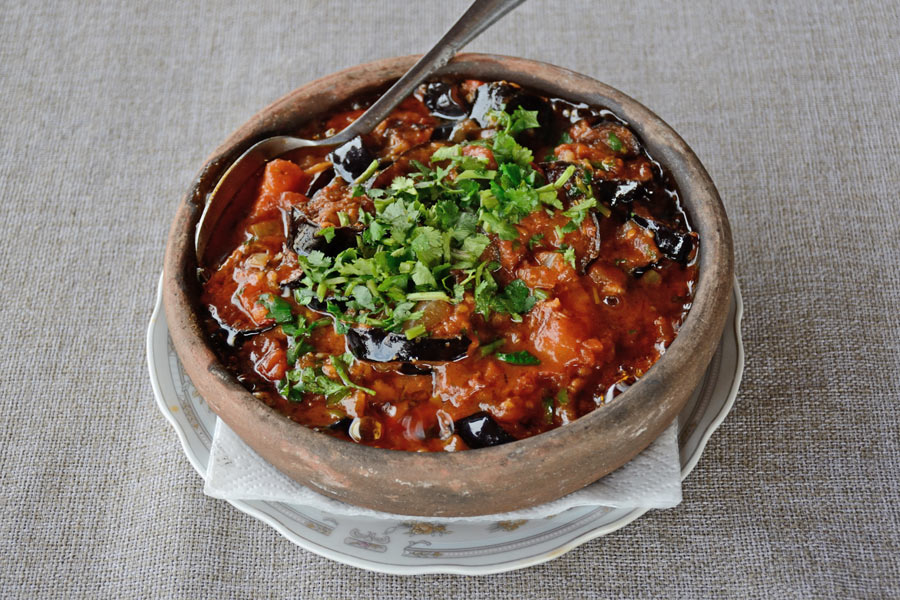 At first glance Georgia may appear to be a country of avid meat-eaters, yet there are many vegetarian food and dishes in Georgian cuisine thanks to a centuries-long practice of including root crops, legumes, herbs and other vegetarian products into the local diet. In fact, some of the dishes counted among the best Georgian foods are actually vegetarian. These include:
Ajapsandal, a delicious vegetable stew made with potatoes, tomatoes, eggplant, and onions.
Pkhali, salad balls made from chopped beets, spinach or beans. They are traditionally served for holidays and special occasions.
Lobio, beans stewed with onions, tomatoes, sweet peppers and spices and served with fresh bread.
Mushrooms on ketsi, a dish of champignons which uses only the mushroom caps. A dab of butter and grated suluguni cheese is placed in each mushroom before baking. The tops are sprinkled with ground black pepper and cooked in the oven until an appetizing golden crust appears on the surface of the cheese.
Eggplant rolls, thinly sliced eggplant pieces which are fried in oil, covered with a layer of walnut-garlic sauce and folded into neat rolls.
Georgian Breads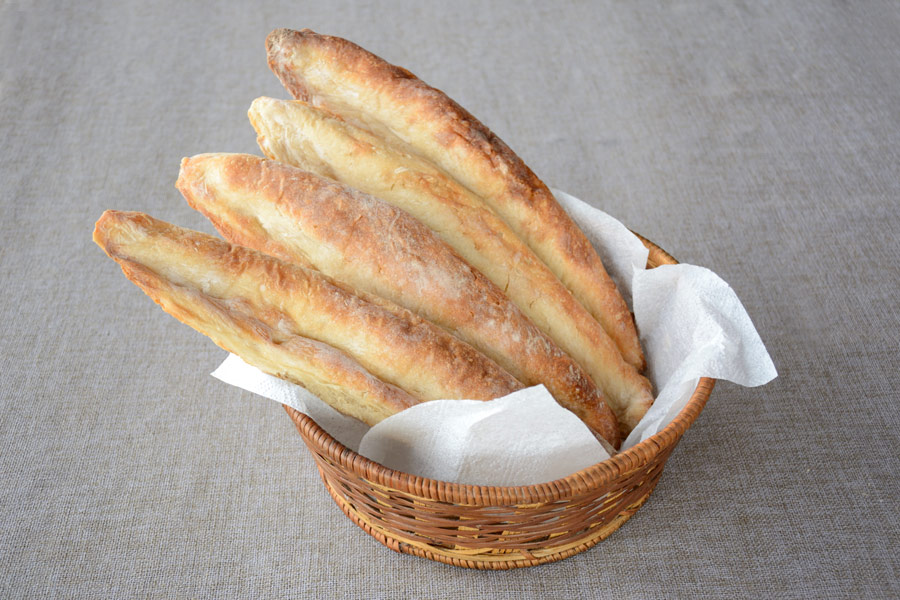 Bread occupies a significant place in Georgian cuisine. The classic tonis puri (Georgian bread baked in a traditional tone oven) is an integral part of any meal. Its ingredients are simple: water, flour, salt and yeast. Puri may be oval, narrow and elongated or boat-shaped. Each loaf is molded from the prepared dough just before being slapped onto the inner walls of the heated oven.
Georgian bread is usually not cut, but broken by hand. Few people manage to resist indulging in a piece of fresh hot puri that has just been removed from the oven. Be sure to try traditional Georgian bread in small local bakeries, which is a real treat!
A signature Georgian food is khachapuri cheese bread. Although many are familiar with this dish, few realize how many varieties actually exist. Each region of Georgia has its own specialty khachapuri which is shaped and prepared in a unique way.
Georgian Wine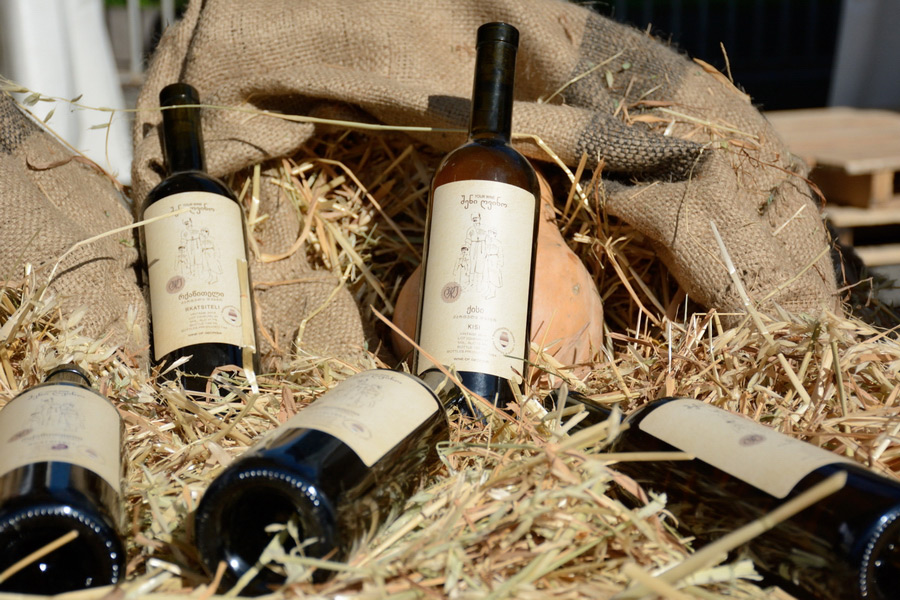 Wine has long been synonymous with Georgia, where it is produced from local grapes. The sheer number of vineyards and grape varieties in the country is astounding. Even a given grape variety, when grown in different regions of the country, will develop unique properties due to differences in heat, humidity and altitude in each sub-climate. As a result, Georgian wines acquire characteristic features which make them truly unique.
High-quality table wines produced from Kisi grapes have the aroma and aftertaste of ripe, juicy fruit. The Saperavi grape is used to create dry and semi-sweet wines such as Saperavi, Kindzmarauli and Khvanchkara. Red wines are obtained from Ojaleshi grapes grown in Samegrelo Region. Rkatsiteli and Goruli Mtsvane wines are light white wines which are served with meat or fish dishes.
Georgian Dairy Products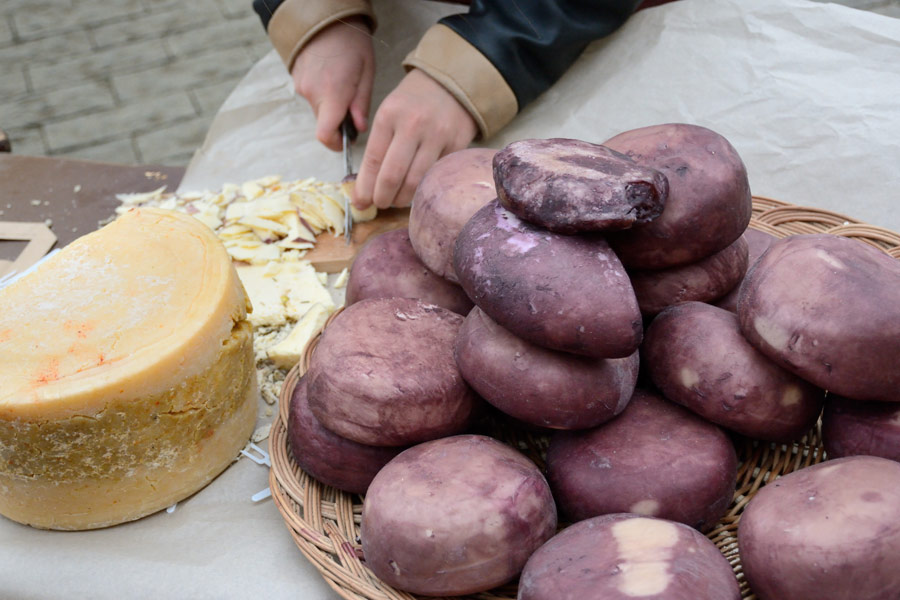 Georgian dairy products are typically very high quality and are used in the preparation of many dishes. For example, matsvnis shechamandi (yogurt soup) is made from matsoni, a traditional yogurt originating in the Caucasus. Grains (usually barley) are usually added to the liquid for satiety. Yet the real highlight of matsvnis shechamandi is the fresh cilantro and mint, which add a pleasant bite.
Adored by many in Georgia is sour cream, called arazhani, which makes an excellent addition to the famous chicken dish shkmeruli and many other meals. Arazhani is often also used as a mild sauce.
Milk is regularly consumed in Georgia. You can find fresh, fatty homemade milk in both urban supermarkets and in villages.
Yet the undoubted winner among all Georgian dairy products is cheese. So extensive are local cheeses that we have dedicated a special section just for them!
Georgian Cheese
The following types of cheese are officially registered in Georgia:
Classic Sulguni
Megrelian Sulguni
Svan Sulguni
Classic Guda
Tusheti Guda
Imeretian
Tenili
Dambal Hacho
Kobi
Kalti
Meskhur Chechil
Adjarian Chechil
The list above includes only traditional varieties. Small family businesses often make adjustments to historical Georgian recipes and experiment with ingredients to produce some truly unique cheeses. In Georgia you can even find blue cheese or cheese with added herbs.
When in Georgia, be sure to try an assortment of cheeses. Cheese plates are usually served with dried fruits, nuts and sweets - the perfect addition to gatherings over Georgian food and wine!
Georgian Sweets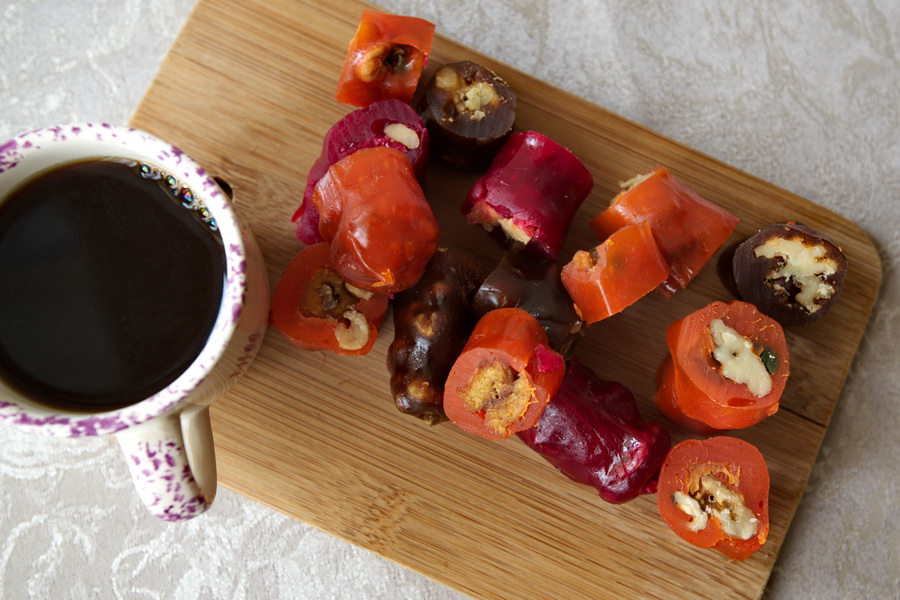 There are not many sweets in traditional Georgian cuisine, yet those curious as to what is eaten in Georgia for dessert should be sure to taste these natural and healthy snacks which are common across the country.
Churchkhela is as well known to the traveler as Georgian wine. This filling snack is prepared from various fruit juices which are cooked into a thick substance. Walnuts or hazelnuts are then placed on a string, dipped into the juice and left to dry.
Felamushi is another common dessert on the Georgian table. This thick mousse is usually served with tea.
Kozinaki is a delicacy of roasted, crushed walnuts coated in a thick mass of honey.
Georgian Pickled Products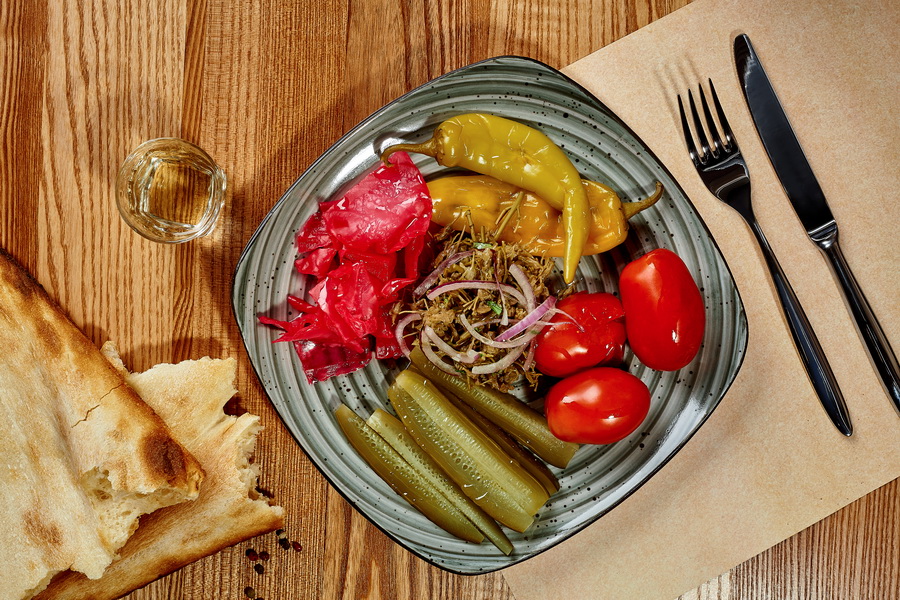 Georgian pickled products are very well prepared and provide the perfect complement to many meals. Salted and pickled vegetables and herbs were traditionally reserved for holidays, yet today these appetizing snacks can be found everywhere and eaten daily if desired. Georgians will salt and marinate anything! Hot green peppers, beets, cauliflower, cucumbers, green tomatoes, vine leaves, eggplants, garlic…
In Georgia, even flowers are pickled! At some tables you may notice pickled light green twigs hung with small flowers. This is dzhondzholi, or Colchis cleaver, a common shrub in Georgia that blooms in late April. The flowers are harvested, salted and seasoned with spices and vegetable oil. Salty and slightly spicy pickled jonjoli flowers are another true delight.
Georgian Drinks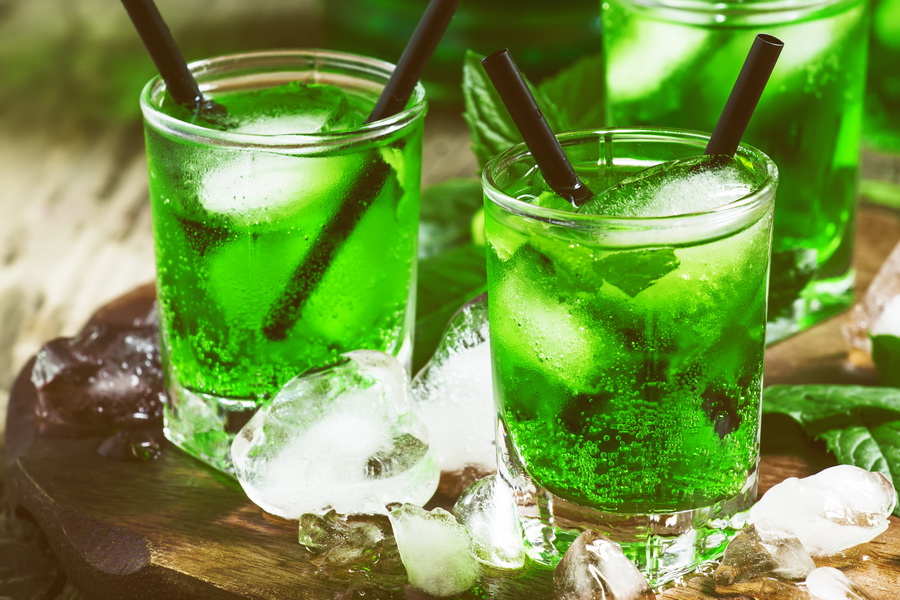 Locally produced lemonades are widely enjoyed in Georgia. Their diversity is truly amazing and can include classic tarragon, pear, grape and orange with vanilla. Georgians like to order lemonade in restaurants to pass the time while waiting for their khinkali and other traditional Georgian food.
Coffee (especially Turkish coffee) is also very popular in Georgia. Among alcoholic beverages beer, wine and chacha are widespread.
Georgian Dough Dishes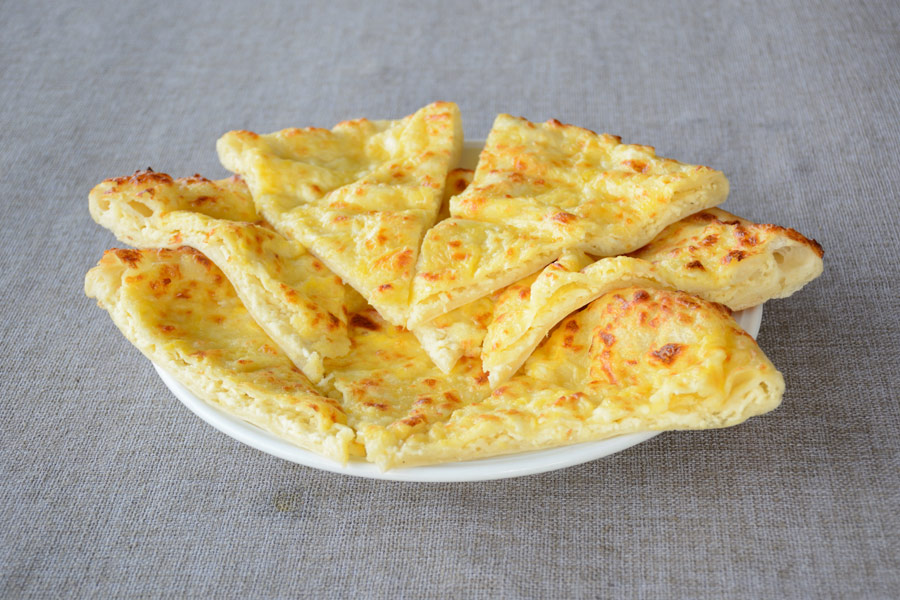 Georgian cuisine features a variety of dough-based dishes. Georgian cooks have special care for corn meal and corn oil, that is why many Georgian dishes are cooked based on these ingredients. Perhaps, the best-known Georgian national dish is khachapuri, a flat cake (pie) with cheese, meat or steamed fish. Georgian cuisine is famous not only for its pies with meat and cheese, but also for various sweet pastries. A very delicious laminated dough-based biscuit – kada, Caucasian national dish can be mentioned there.
Nuts in Georgia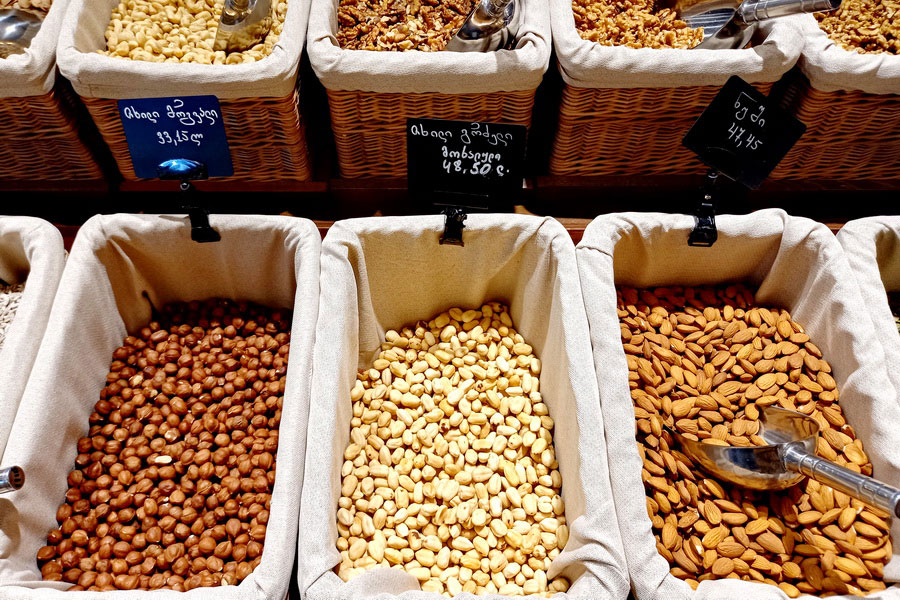 It is impossible to imagine Georgian national cuisine without nuts, especially walnuts. They are permanent components of various sauces and seasonings, and also widely used in cooking of various dished from fish, meat and chicken; they are good for vegetable dishes. Nuts are an essential component for various soups and confectionery. It is impossible to imagine the Georgian table without them.
Georgian Sauces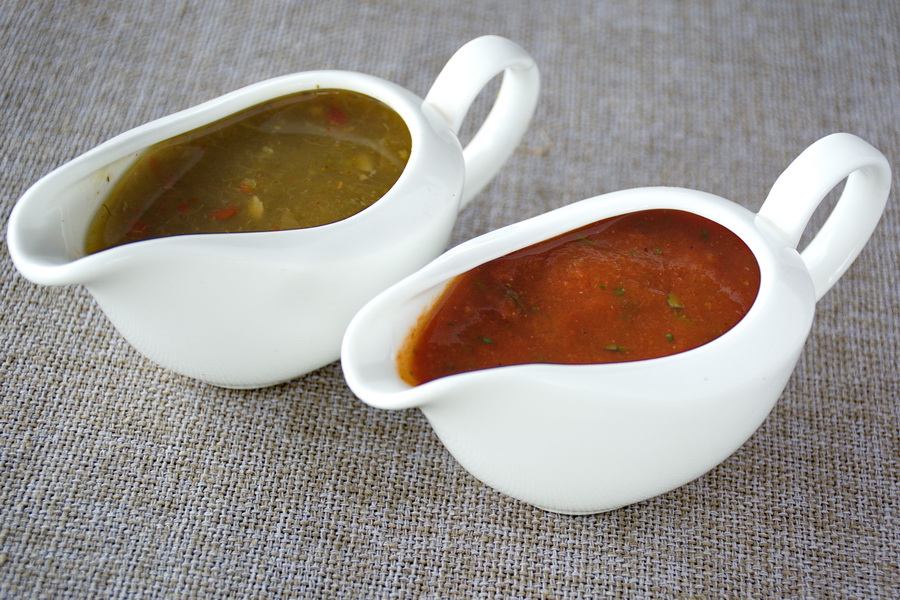 All the Georgian sauces are cooked from natural components: fresh vegetables, spices as well as berry and fruit juices. Tomatoes, pepperidge, pomegranate, sloeberry, tkemali are also often used. The sauces are enriched with garlic, nuts and grape vinegar to enhance flavor and zest . It is impossible to imagine a Georgian dish without greens. They are enhanced by cilantro , sweet basil, tarragon, parsley, mother-of-thyme, dill and peppermint, cinnamon, coriander, cloves and all kinds of pepper loved by all Georgians.
Georgian Soups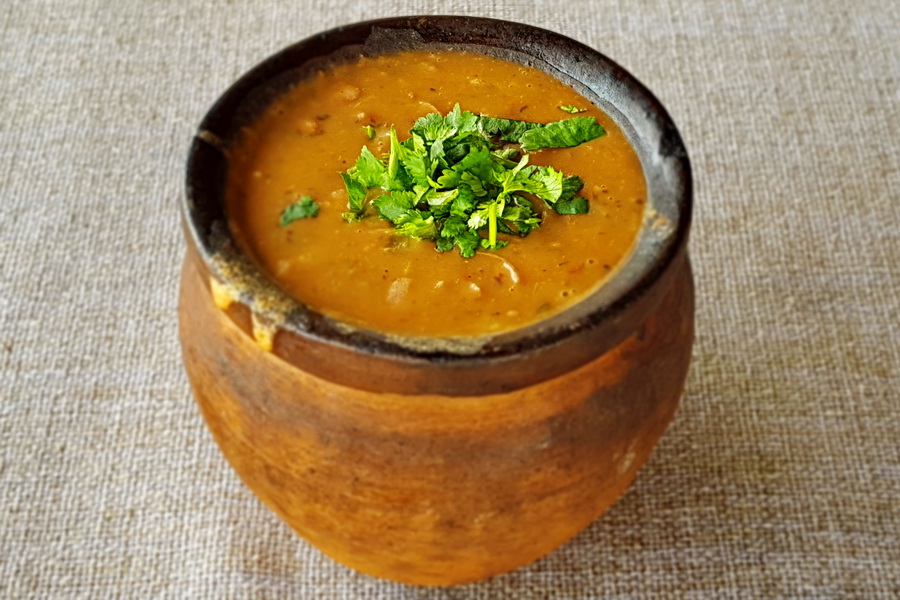 Soups are very popular in Georgia too. They are categorized as meat, vegetarian, dairy. Almost all soups are cooked without vegetables but seasoned with flour sauce or raw eggs. The use of tasty sourish matsoni, wine vinegar, fruit juices give Georgian soups their special flavor.
Georgian Spices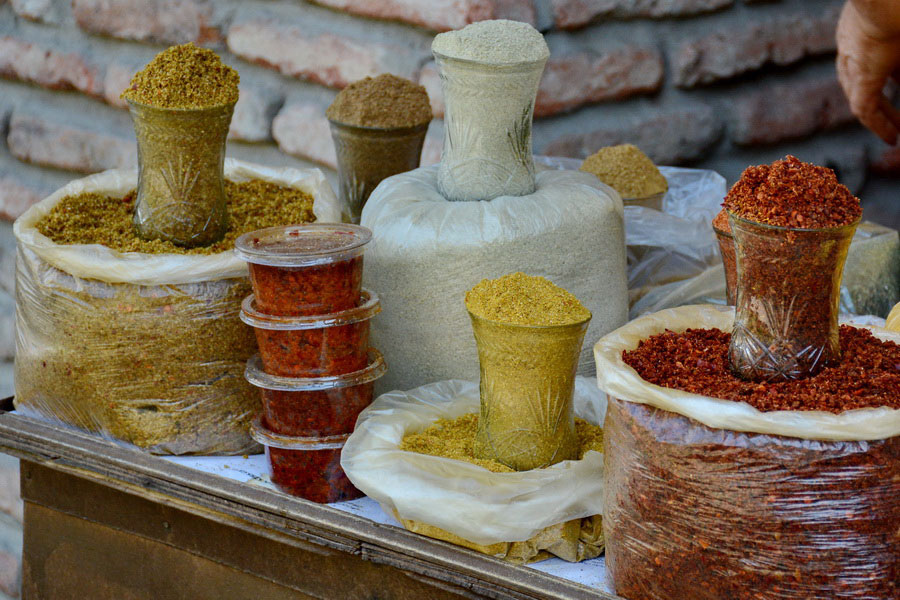 Spices are very important in Georgian cuisine. They are used all year round be it breakfast, lunch or dinner. Depending on a season it can be parsley, fennel, ramson, mint, basil, savory, estragon and other greens.
Vegetables and Greens in Georgia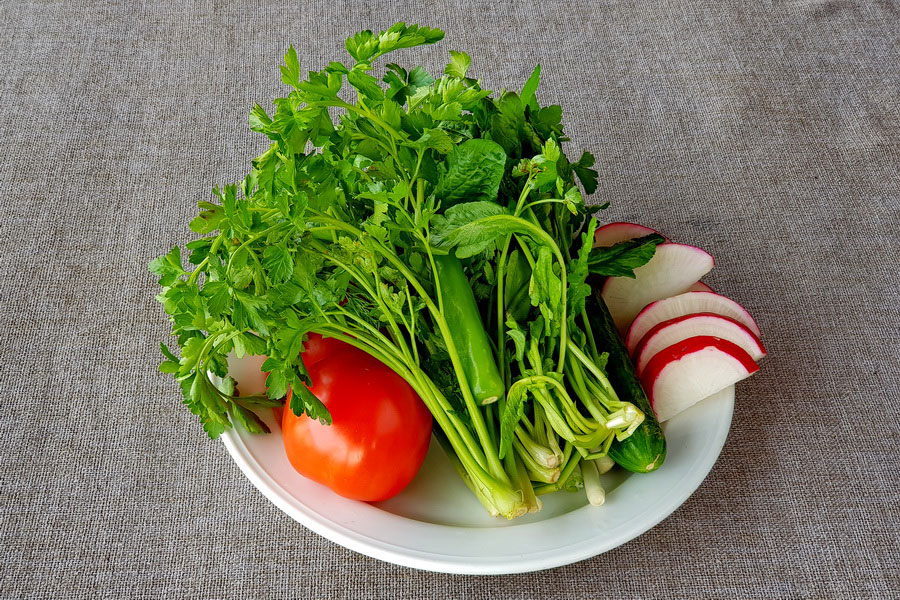 Georgia is a fertile country in which vegetables were widely used as food. The abundance of meats on a Georgian table is always accompanied by considerable quantity of Georgian vegetables and greens. The majority of vegetable dishes is cooked with string beans, eggplants, cabbage, beets, tomatoes. They can be raw, boiled, baked, fried, stewed, salted and marinated.