Outstanding Women in Georgian History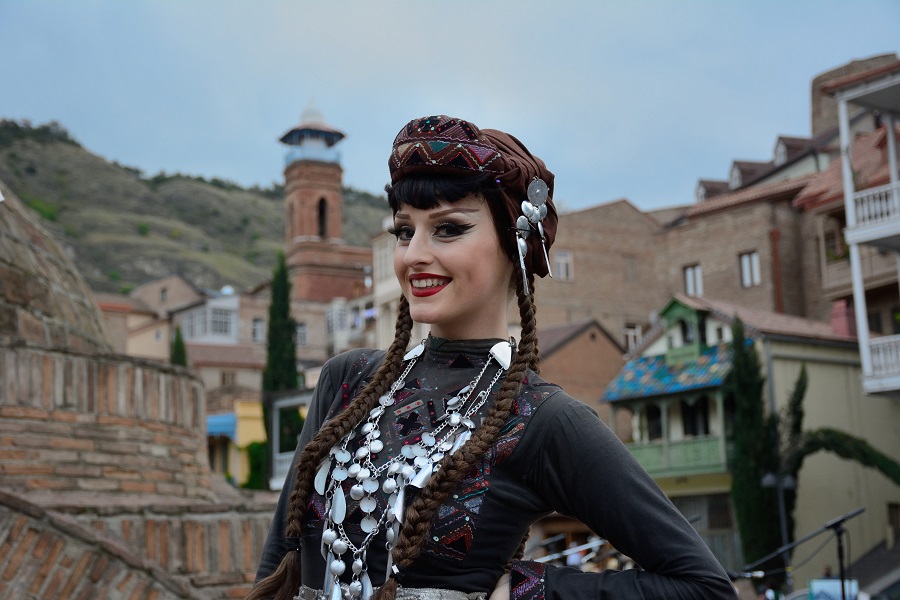 "There's power in allowing yourself to be known and heard, in owning your unique story, in using your authentic voice." Michelle Obama
Georgia boasts of a long line of influential women. The legacy of these outstanding women in Georgian history began as early as the 4th century AD when Christianity was spread throughout the country and continues today through politicians, musicians and social activists. All along the way are women who have preached and propagated their faith, ruled the country and participated in revolutions, each one a living example that failure should never be an obstacle in achieving your goals.
Georgian Women's Role in the Spread of Christianity
Saint Nino, converted Georgia to Christianity (296 – 335 AD)
In the 4th century, Christianity was first introduced to modern-day Georgia by Saint Nino. Born in Cappadocia to a religious family, according to legend Nino had a vision in which Saint Mary handed her a grapevine cross and instructed her to carry the message of the Gospel to the land of Georgia (then called Iberia). In obedience, St. Nino traveled to the land and proceeded to preach the Gospel. After a miraculous healing, Iberia's Queen Nana converted from paganism to Christianity. After King Mirian III's conversion in 327, Christianity was declared the official state religion.
Nino spent many years serving the poor and performing miracles. She is buried in Bodbe Monastery near Sighnaghi. Today her name is closely associated with the country of Georgia, where she is highly revered.
Saint Shushanik, Christian martyr (440 – 475 AD)
Saint Shushanik was the wife of Georgian Prince Varsken, the ruler of a Georgian province called Hereti. Varsken adopted Zoroastrianism when Hereti fell under Persian control in the 5th century, but Shushanik refused to deny her faith. After years of imprisonment and torture at the hand of her husband, she died a martyr and was canonized by the Georgian Orthodox Church. Her death is memorialized in the earliest known Georgian narrative, The Martyrdom of the Holy Queen Shushanik by Jacob of Tsurtavi.
Ketevan Tsamebuli, (Ketevan the Martyr), Kakhetian ruler (1560 – 1624)
Ketevan the Martyr reigned in Kakheti in eastern Georgia in the early 17th century. In 1614 she traveled to Iran as an ambassador and was imprisoned after a failed attempt to avert an impending attack on her homeland.
A devout Christian, she refused to renounce her faith and convert to Islam and as a result was repeatedly tortured before being killed. Ketevan was posthumously bequeathed the title tsamebuli, which means 'tortured' in Georgian.
Georgian Women in Politics and Social Activism
Queen Tamar, first female ruler of Georgia (1166 – 1213)
Queen Tamar (known locally as King Tamar) ruled during the Georgian Golden Age of the 12th – 13th centuries. Tamar was 18 years old when her father, Giorgi III, declared her a joint ruler alongside him. Upon the death of the king six years later, Tamar officially became the first queen of Georgia. During her reign she continued the reforms initiated by David the Builder, extended the country's borders and encouraged the development of Georgian culture. Consequently, the period of Queen Tamar's reign is regarded as the heyday of the Georgian Kingdom.
Kravai Jakeli and Khvashak Tsokali, Georgian political figures (12th century)
Kravai Jakeli and Khvashak Tsokali, Georgian political figures who worked during the reign of Queen Tamar, were sent as diplomats to errant feudalists. The women successfully completed their mission, ushering in a peaceful ending to of one of the most infamous revolts in Georgian history.
Maro Makashvili, war hero (1901 – 1921)
In 1921, when the Red Army invaded Georgia, 19-year-old Maro volunteered as a nurse in the Red Cross and was sent to the battlegrounds alongside the troops . Unfortunately, four days after the invasion she was wounded by a grenade and died from her injuries. In the following years, Makashvili's memory was immortalized throughout the nation, perhaps most notably through the 1923 opera Daisi , in which Georgian composer Zakaria Paliashvili named the protagonist after Maro herself. In 2015, Maro Makashvili became the first woman to be awarded Georgia's prestigious Order of National Hero.
Georgian Women in the Arts
Barbare Eristavi-Jorjadze, first scholarly defender of women's rights (1833 – 1895)
Barbare Eristavi-Jorjadze is considered the first female writer to speak openly regarding the rights of women. Her literary career commenced in 1858 when several of her poems were published in a national magazine. In spite of society's initial poor reception to an outspoken female author, she refused to let her voice be silenced and continued to pursue her goals. In 1867, Jorjadze's play entitled What I Looked For and What I Found saw the first of many performances on stage. Her 1874 compilation, Complete Cuisine, is regarded even today as a benchmark for preparing traditional Georgian foods.
Anastasia Tumanishvili, author and social activist (1849 – 1932)
Anastasia Tumanishvili-Tsereteli was a socially active author who sought to make a lasting contribution to Georgian society. She founded several organizations, including the Georgian Society of Women Teachers, Georgian Women's Society and the Ganatleba educational institute. Furthermore, the tireless Tumanishvili co-founded Jejili, a popular children's magazine, and a widely circulated newspaper called Kvali, both of which she edited for many years.
Ekaterine Gabashvili, Georgian author and feminist (1851 – 1938)
Ekaterine Gabashvili is one of Georgia's founding feminists. She first made her debut on the public scene through novels and short stories which highlighted the realities of peasant life, and later went on to write her autobiography. Her work is perhaps best commemorated in the 1958 film Magdana's Donkey, an award-winning production that depicts the plight of an impoverished Georgian family. During her life, Gabashvili remained active in social change through her work with the Society for the Advancement of Learning Among Georgians.
Elene Akhvlediani, female painter (1901 – 1975)
Elene Akhvlediani was the first Georgian painter to be presented with the prestigious Shota Rustaveli State Prize. The fruit of her work is appreciated daily by tourists to Georgia's capital, where architects used her paintings of Old Tbilisi as a framework for the historic quarter's reconstruction. Elene Akhvlediani's colorful landscape paintings captured true Georgian beauty and were displayed in European exhibitions, where they even attracted the attention of Pablo Picasso. Aside from her paintings, she was involved in local theater productions, book illustrations and an all-female artists' club.
Nutsa (Nino) Gogoberidze, film director (1902 – 1966)
Nutsa Gogoberidze became the first female film director in Georgia when she co-produced a documentary at the age of 25. When her first official film, Ujmuri, reached theaters in 1934, it was the first Soviet movie directed by a woman. Gogoberidze was arrested in 1937 during the Great Purge and exiled for a decade, at which time her works were banned across the USSR. Upon returning from exile, Nutsa relinquished her theatrical work and instead accepted a position at a linguistics center.
Nino Ramishvili, Georgian folk dancer (1910 – 2000)
Nino Ramishvili was a ballet dancer and professional choreographer who co-founded the Georgian State Dance Company (now the Sukhishvili Georgian National Ballet) with her husband. The couple dedicated their lives to promoting Georgian national dance on the international stage.
Ana Kalandadze, Georgian poet (1924 – 2008)
Ana Kalandadze is one of the most beloved Georgian poets in recent history. An active participant in the Georgian Language Permanent Commission, she also took on leadership roles at the Georgian Writers' Union and the Academic Council of the Institute of Linguistics. Ana championed poetry in Georgian society by translating numerous Russian and Western works into her native tongue. Throughout the years, her poems have likewise been translated into multiple languages and circulated around the world.
Lana Gogoberidze, screenwriter and director (born 1928)
Lana Gogoberidze is one of Georgia's most outstanding and well-known directors whose award-winning films capture the essence of life through fictitious and documentary scripts. For many years Gogoberidze also took on an active role in Georgian politics, serving in the Georgian Parliament and as an ambassador to France.
Sofiko Chiaureli, actress (1937 – 2008)
Sofiko Chiaureli was a popular 20th-century Georgian actress. Her entire family was heavily involved in the film industry, and Sofiko herself took on over 100 theatrical and cinematic roles in her lifetime. She performed internationally and was the recipient of numerous awards. Chiaureli can be considered one of the most famous people from Georgia's Soviet era.
Famous Modern-Day Georgian Women
Nona Gafrindashvili, chess player (born 1941)
Nona Gafrindashvili is a world champion chess player best known for being the first female to win the International Chess Federation (FIDE) and one of the first to win the Women's World Chess Championship. In 1978, Gafrindashvili went on to become the first woman to receive the title of Grandmaster by FIDE, one of the most prestigious titles that a player can earn.
Rusudan Petviashvili, artist (born 1968)
Rusudan Petviashvili was a child prodigy from Tbilisi whose artwork has captured the public eye for decades. She was not yet a teenager when her works were first exhibited in international forums, and to this day her drawings continue to receive worldwide acclaim. In particular, Petviashvili is known for her unusual one-touch technique in which an entire drawing is completed without ever lifting the instrument from the paper.
Nino Katamadze, jazz singer (born 1972)
Nino Katamadze began her singing career in Georgia before rising to fame on the international scene in the early 21st century. Today she is counted among Georgia's most celebrated artists and is known for her unique blend of musical styles and her improvisation at concerts.
Nana Ekvtimishvili, playwright and director (born 1978)
Nana Ekvtimshvili is an award-winning director who has brought the Georgian film industry into the international spotlight. This talented screenwriter, playwright and author has been hailed as a catalyst for the birth of a new era in the Georgian film industry.
Anita Rachvelishvili, opera singer (born 1984)
Anita Rachvelishvili, considered one of the greatest opera singers in the world today, is counted among the many outstanding women in Georgian history. She has performed on countless stages internationally and has been highly praised by contemporaries and critics alike.
Katie Melua, singer-songwriter (born 1984)
Katie Melua was born in Georgia and moved to the United Kingdom as a child. After honing her musical skills as a teenager, her natural talent quickly became apparent and she released her first album before her 20th birthday. Melua went on to become one of Europe's most beloved female artists and one of the most famous singers from Georgia.
Khatia Buniatishvili, concert pianist (born 1987)
Khatia Buniatishvili is an internationally acclaimed pianist who was born in Georgia. She began performing locally while still a child and has since risen to international fame through her emotional, creative renditions of classical pieces.