Martvili Canyon near Kutaisi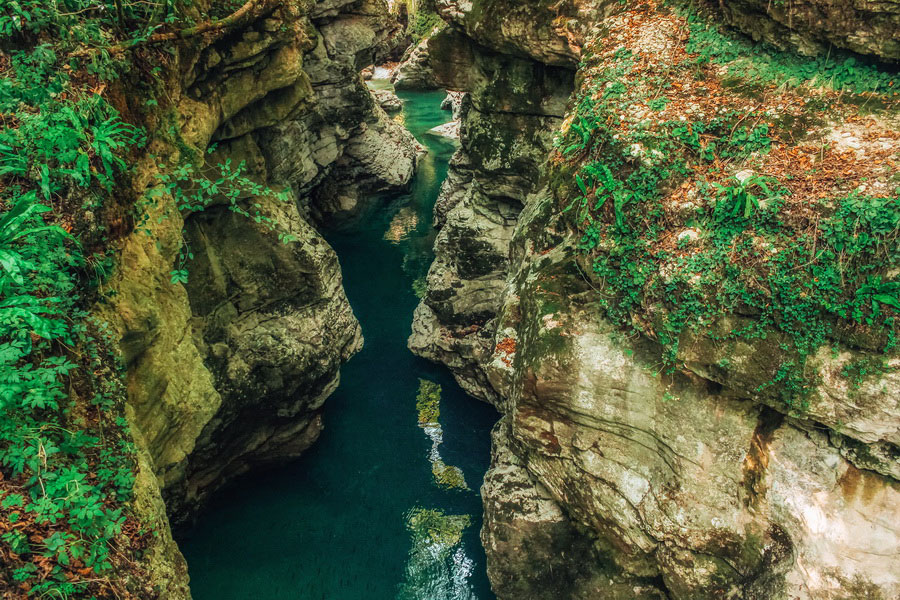 Opening hours: 10:00-17:30
Day off: Monday
Martvili Canyon is a picturesque landmark of water and rocks, located 50km west of Kutaisi. It is 5 km from the town of Martvili, and 2 km from the village of Gachedili (which gave the canyon its other name, Gachedili Canyon). In 2016, the canyon's tourist infrastructure was improved: new paths and bridges were built, and the boats that take tourists down the river were upgraded.
The canyon was formed by the waters of the Abasha (Abashi) River. It is 2.4 km long, and the height of the canyon walls reaches 40 m in some places. This natural landmark attracts many tourists who want to experience the contrast between the tranquil river and the dynamic waterfalls. At the beginning, Martvili Canyon is a very quiet, deep gorge with high humidity, where the rocks are covered with moss and the flow of the river is so slow that it seems as if time has stopped. In the middle of the canyon suddenly appears a large 12 m waterfall, from which tons of water fall every second.
The main highlight of the Martvili Canyon is boating to the waterfalls. Inflatable boats, life jackets and helmets at the pier hint at white water rafting, but boating the canyon is a pleasant, easy trip, and the equipment is just a safety precaution. The length of the route the boats take along the river is about 1 km, and the trip takes about 30 minutes (including photo stops). Children under 5 years old are not allowed on the boats.
After a tranquil journey through the picturesque canyon, you'll be excited to see a group of beautiful waterfalls and hear the dramatic sound they make. Around the waterfalls are several walkways, bridges, and observation platforms that allow you to take excellent photographs.
You can get to Martvili Canyon in about 1 hour from Kutaisi (50 km), 1.5 hours from Zugdidi (65 km), or 2.5 hours from Batumi (150 km). There are several guest houses close to the canyon, but tourists usually make a day trip from Kutaisi, combining Martvili Canyon with a visit to the Okatse Canyon or Prometheus Cave.