Kutaisi, Georgia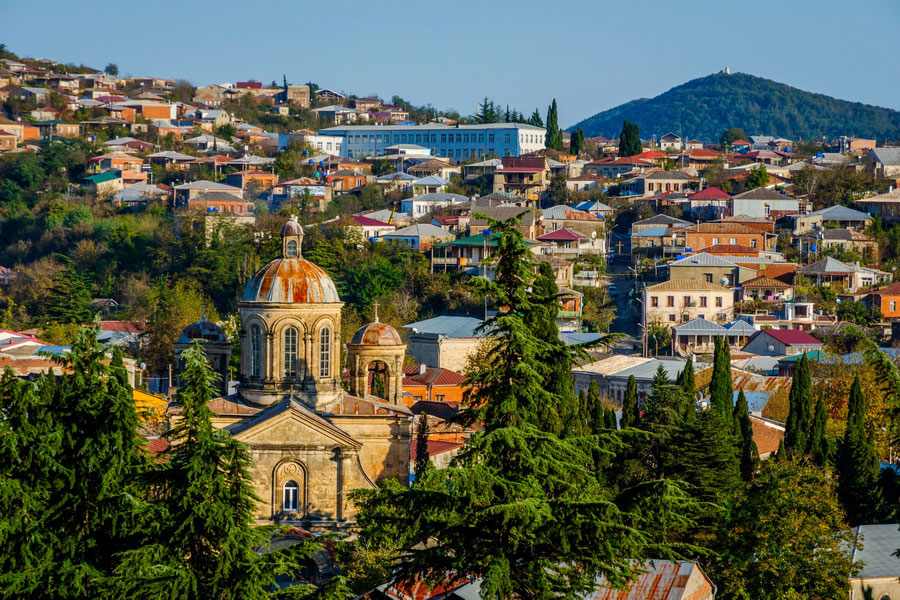 Tours, Attractions and Things To Do in Kutaisi
Kutaisi Travel Guide
Kutaisi is Georgia's second largest metropolitan area and currently serves as the parliamentary legislative capital. It is located in the central western region of Imereti on the banks of the Rioni River. Kutaisi was the capital of the fabled Kingdom of Colchis. The myth of the Golden Fleece originates here as the waters of the Rioni were once panned for gold using sheep skin.
Kutaisi's appeal lies in both its natural scenery and its historic and architectural monuments, particularly its unique river bridges, sacred cathedrals and monastic structures. The city is rich with regional Georgian cuisine, museums and shopping. Kutaisi also serves as a transportation hub for domestic and trans-European air travel, lending a cosmopolitan vibrancy to its small-town charm.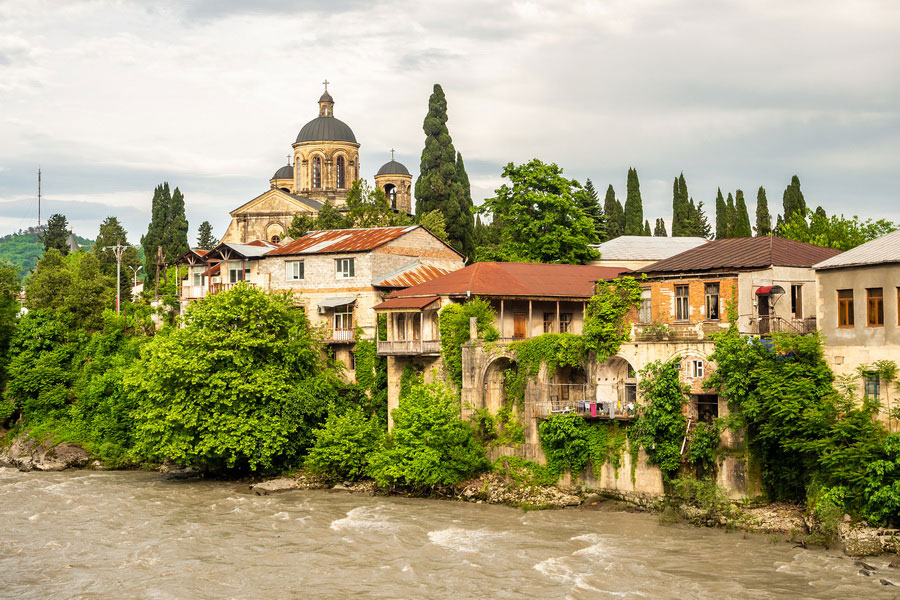 Kutaisi was once the cultural and intellectual center of Georgia. Kutaisi residents adhere to this ideal and most can tell you the history of the city in detail. Kutaisi Garden Park near central David Agmashenabeli Square is a forum of discussion for locals who converse ritually pertaining to everything from weather to politics to football. Visitors to the park are sometimes taken aback as Kutaisians are known for their sharp yet subtle humor.
The diminutive Old City Center and its White Bridge are a must see. Although not for the faint of heart, a ride on the old soviet cable cars from White Bridge to the park above, which overlooks the city, provides stunning views.
Must See Cultural Attractions in and around Kutaisi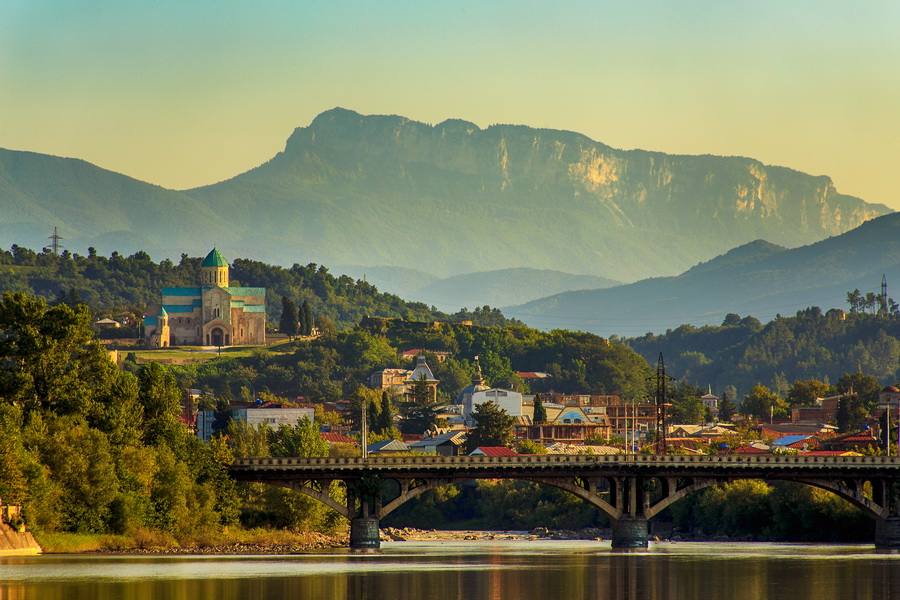 Kutaisi and its surrounding vicinities offer several attractions. If you want to make the most of your stay in Kutaisi, don't miss these natural and architectural highlights:
Bagrati Cathedral, considered by many to be one of Georgia's most impressive and significant examples of cultural heritage and medieval architecture. Its enormous presence can be seen from almost anywhere in Kutaisi. It was built between the 10th and 11th centuries under the rule of Bagrat III, of the famous royal Bagrationi family.
Motsameta Monastery, located along the banks of the Rioni River just 6 kilometers from Kutaisi. Steeped in history, it's tucked away in pristine foliage during the warmer months.
Gelati Monastery, a grand cathedral with a surrounding complex which used to house the renowned Gelati Academy. It is also the burial site of revered King David Agmashenabeli, also known as "David the Builder". The monastery is recognized by UNESCO as a World Heritage Site.
No trip to Kutaisi is authentic without a visit to the open Green Bazaar, where an unbelievably eclectic array of goods is available at negotiable prices.
Prometheus Cave, or Kumistavi Cave, is among the largest karst formations in Georgia. The cave is only a 30 minute drive from Kutaisi and offers visitors amazing walking tours year-round.
Okatse Canyon Park and its pedestrian pathway, which winds along its precipice, is a favorite spot for those seeking respite or an easy hike with marvelous views. Be sure to check out nearby Kiinchkha Waterfall.
Sataplia Cave Park features foreboding massive dinosaur footprints amidst botanical seclusion.
Martvili Canyon is located in the adjacent region of Samegrelo, just a couple of hours outside the city. Boat rides on the bright blue waters of the winding canyon are a must. The 7th century Martvili Monastery is located here. The ancient monastery was a pagan site of worship of the pre-Christian era dedicated to the fertility goddess Adgilis Deda.
Nokalakevi Fortress (Kuji Fortress), an imposing castle where the Colchian ruler Kuji once held sway, defending the kingdom from foreign

invasion

.
Imeretian cuisine is widely esteemed as some of the finest in Georgia. Imeretian katchapuri pastry stuffed with Imeruli cheese, sometimes cooked on a skewer, is a symbolic example.
Western and European food can be found near the city centre. The selection includes fast food as well as upscale dining.
As in all metropolitan areas of Georgia, quaint cafes and trendy wine houses are found in Kutaisi.
Your Kutaisi trip would not be complete without trying the following IMERETIAN WINES:
Tsitska is a singular varietal dry white wine produced in the region of Imereti. It is noted for its sorted nose and is best enjoyed with salty cheeses.
Tsolikouri is a singular varietal of light golden hue with a greenish tint. Its nose implies light colored fruits to reveal an acidic, vivacious palate. Its extended finish gives hints of cinnamon.
Krakhuna is another singular white varietal produced extensively in the Kvirila River Valley of Imereti. This dry white wine is reputed to be of extremely high quality but is also quite

affordable

.
Getting around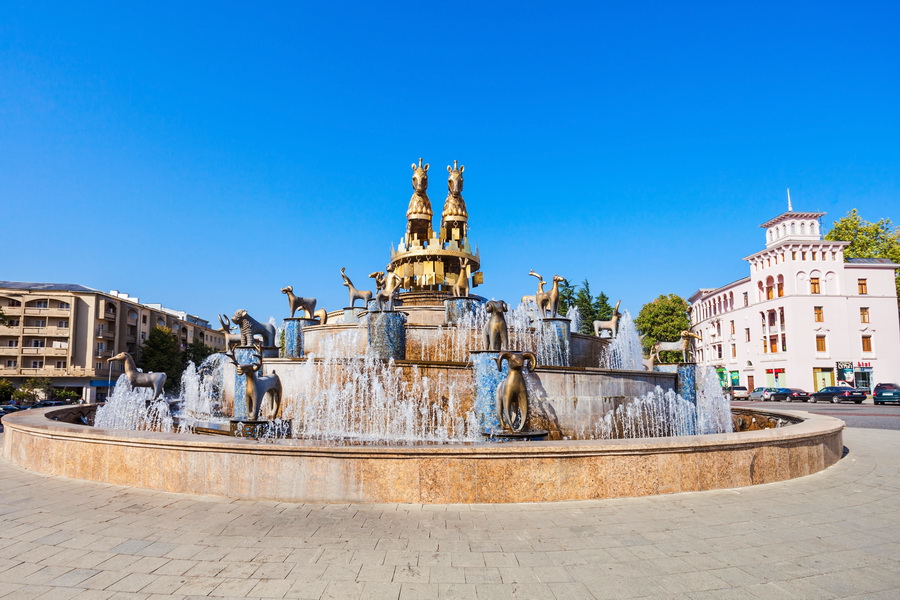 Getting around Kutaisi is safe, convenient and painless.
As in all of Georgia, tourism in Kutaisi is welcomed and encouraged. The city is safe with a low crime rate.
As in Tbilisi, taxis are cheap and easy to find day or night in Kutaisi. Drivers in the city center usually speak enough English to facilitate short distance travel, yet using a phone app to call a taxi is still an advisable and reliable option.
Buses in Kutaisi are inexpensive and cover an extensive route. Minibuses, or marshrutkas, can take you just about anywhere, are almost as cheap as buses and are slightly more comfortable.
Georgian Railways offers trips to both Batumi and Tbilisi twice a day on a daily basis via an express or overnight service.
Kutaisi International Airport (David the Builder) offers domestic flights to Mestia and Natakhtari. Wizz Air, Ural Airlines, Scat and Flydubai offer international flights to several destinations - such as Aktau, Athens, Barcelona,, Berlin-Schönefeld, Brussels, Budapest, Dortmund, Dubai, Kavala, Katowice, Larnaca, London-Luton, Madrid, Milan-Malpensa, Moscow-Domodedovo, Thessaloniki, Paris-Beauvois, Prague, Riga, Rome-Fiumicino, Venice, Vienna, Vilnius, Warsaw-Chopin and Wrocław.