Okatse Canyon near Kutaisi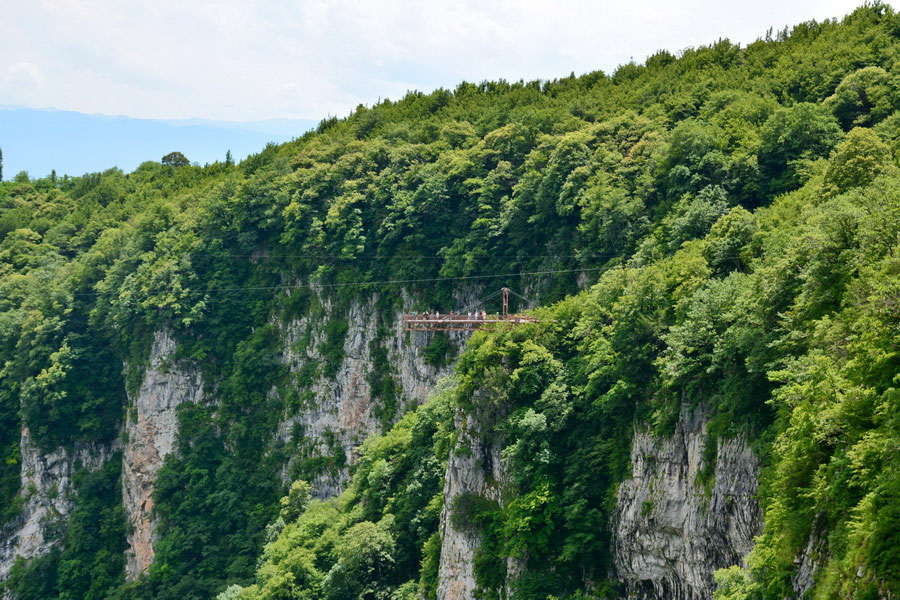 Opening hours: 10:00-17:30
Day off: Monday
Okatse Canyon is one of the most picturesque sights in the Kutaisi area. Previously, it was a little-known, hard-to-reach, place, but the site has recently been developed and a suspension bridge was built over the gorge. Today, it is one of the most popular destinations for day-trips from Kutaisi, along with Sataplia and the Prometheus Cave. The canyon gets its name from the river Okatse. It is made of limestone rocks and is 3km long and about 50m deep. The highlight of the canyon is a narrow suspension bridge/walkway about 1km long, which ends at a viewing platform that offers a breathtaking view of the surrounding nature.
To get to Okatse Canyon, you first need to drive 50km from Kutaisi to the village of Zeda-Gordy. The canyon's visitor centre is located on the outskirts of this village. There, you can buy tickets and see a large model of the canyon. From the visitor centre, you need to walk 2.5km to get to the beginning of the suspension bridge, or travel for about 3km by jeep on a broken dirt road.
The footpath to the canyon passes through a beautiful forest area where you can see the ruins of the 18th century palace of the Dadiani princes. The walk is very pleasant, as the path is mainly descending – but on the way back, you should be prepared for a constant ascent. Alternatively, you can take a taxi (jeep) between the visitor center and the canyon. Taxis are available in both locations.
Finally, the Okatse Canyon itself begins: first there is a long staircase down, followed by a narrow steel walkway that runs along the walls of the canyon and hangs many meters above the ground. If you are scared of heights, you may find this quite intimidating! The walkway is only wide enough for two people to walk side-by-side, and travel is only permitted in one direction. At the end of the walkway, you will find a viewing platform in the form of a jib crane hanging directly above the centre of the gorge. This platform offers the best view of the surrounding nature and the Okatse River below, which flows along the bottom of the canyon.
The total length of the route from the visitor center to the canyon and back is about 7km. You can reduce the walking distance to 2km by taking a taxi part of the way in each direction. The return journey from the canyon to the visitor center (where the road begins) is a constant and demanding climb, so you may prefer to take a taxi in this direction. When visiting the canyon, you should wear comfortable walking shoes and take drinking water. If you have free time after visiting the canyon, you can travel north for 4-5km to another of the area's natural attractions, the 100m high Kinchkha waterfall.