Racha, Georgia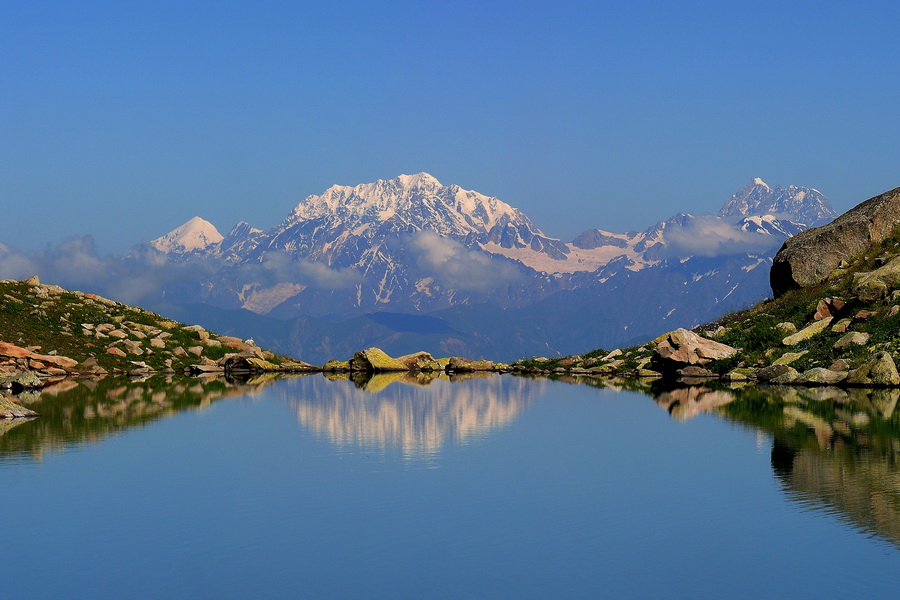 Tours, Attractions and Things To Do in Racha
Racha Travel Guide
Racha, Georgia is a historical area in the country's northwestern corner, a mountain paradise on the slopes of the Greater Caucasus. The region is a combination of magnificent gorges and peaks, forests and alpine lakes, waterfalls and mineral springs, riverside beaches and historical monuments, wineries and local cuisine. Due to its high elevation and temperate climate, Racha is a favorite summer destination among locals yet still remains one of Georgia's lesser-visited areas for tourists.
The region stretches along the Rioni River and is divided into three parts based on its elevation: lower Racha, upper Racha and a mountainous zone. It is bordered by South Ossetia and Lower Svaneti to the north, Imereti to the south, Shida Kartli to the east and Lechkhumi to the west. Book a transfer from Tbilisi to Racha with Advantour and enjoy a comfortable ride to Racha!
History of Racha
Archaeological excavations have found traces of human life in the area that go back ten thousand years. However, most historical records for the province start at the end of the tenth century, when Racha first became a duchy (saeristavo) of the Kingdom of Georgia. The first duke of Racha was Rati of the Baghvashi family, whose descendants ruled the province until its abolishment in 1278. The duchy of Racha was restored under the rule of the Charelidze family in the mid-14th century. It proceeded to be abolished and restored several times until King Solomon II of Imereti subordinated the province to his kingdom in the 18th century.
What To See In Racha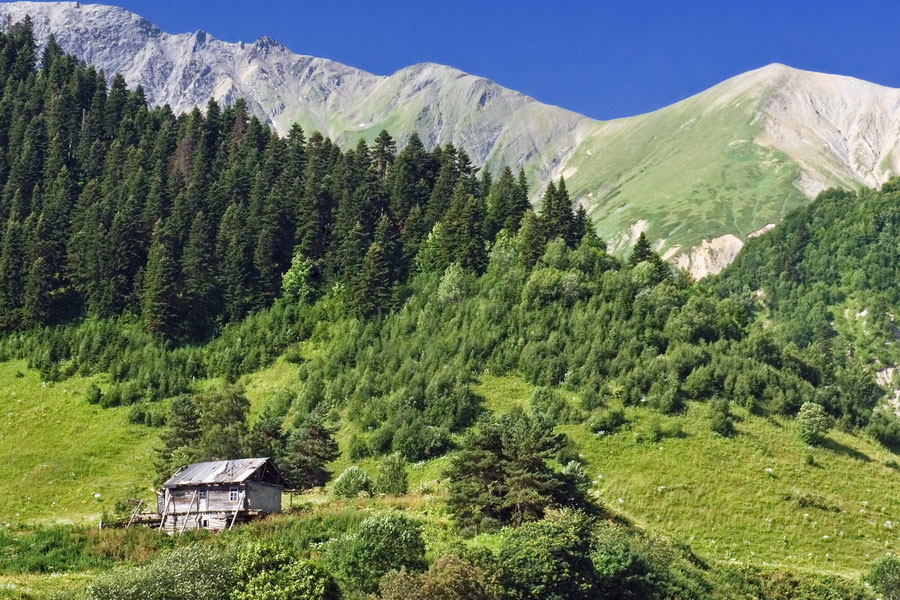 Racha's charm comes from the unique combination of sites and experiences which are packed into this small region, where you can wander through historical churches and fortresses, enjoy trekking in nature, take part in local traditions and taste unique wines and dishes all in a short span of time.
Here are just some of the highlights of a Racha tour:
Nikortsminda Cathedral is a domed church from the 11th century which is famous for the unique stone carving on the whole of its exterior. Inside, beautiful 17th-century frescoes portray Biblical scenes and the lives of saints. Nikortsminda Cathedral has been included on the tentative list of UNESCO World Heritage Sites.
Barakoni Church of the Mother of God, an 18th-century Orthodox church, is best known for its unique wooden iconostasis. Carved and painted with floral ornamentation and religious icons, it has no equivalent in the country. Barakoni Church is hidden in a forested area and overlooks Minda Fortress and the Rioni and Lukhuni Rivers.
Shovi in upper Racha is a balneological mountain resort which is nestled at 1520 meters amid forests and Caucasus peaks. The area is famous for its beautiful nature, pleasant mountain climate and mineral springs. One of the most unique sites in Shovi is a four-story wooden house from the Soviet era which is known as Stalin's summer house (dacha), and the fact that this perfectly symmetrical yet dilapidated building is still standing is nothing short of impressive.
Khotevi Fortress (17th century) is located in the village of Khotevi in Ambrolauri Municipality. The ruins of Khotevi Fortress can be reached via a short and pleasant hiking path up a small, forested hill.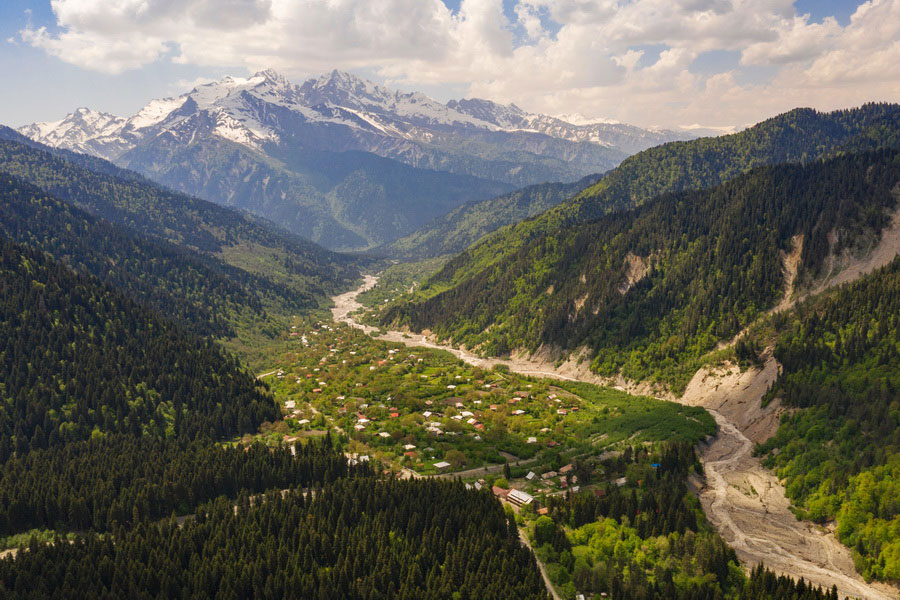 Minda Fortress is the largest citadel in the region, although all that remains today are 3 towers and a fence. Historically it was one the most important fortresses in Racha, connecting the roads from upper Racha to lower Racha and Svaneti. Minda Fortress is located near the village of Tsesi and can be reached on foot.
Shaori Lake (which is actually not a lake but a massive artificial reservoir in the middle of the forest) is one of the most popular attractions of Racha, with beautiful landscapes and opportunities for swimming, hiking, fishing and picnicking. In recent times it has become popular among tourists, especially in autumn when the colourful forests around Shaori Lake create breathtaking scenery.
Udziro Lake, a small alpine lake situated at an altitude of 2800 meters, is known for its unusual-looking cliffs and stunning panoramic views of the Caucasus Mountains. Udziro Lake is located near the village of Shovi and can be reached on a path which is also ideal for a two-day summer camping trip.
A highlight of upper Racha is the oldest functioning synagogue in Georgia, Oni It was built in 1895 to serve the third-largest Jewish community in Georgia, after Tbilisi and Kutaisi. Today, visitors should make an appointment beforehand in order to go inside.
Where to Stay in Racha
The selection of hotels in the region has been growing along with an increase in tours to Racha, with most accommodation options located either in Ambrolauri or Oni, Racha's two main towns. Many hotels also have their own wineries which offer wine tastings and various workshops. In addition to regular guesthouses, luxury glamping tents are also available at several locations.
Racha Region with its wine route promises several unique wines worth trying, most of which are produced using the same qvevri technique common in the whole of Georgia. The most famous wine sort in the region is Khvanchkara, a natural semi-sweet, fruity red wine made by blending two endemic grape varieties. Two more sorts worth mentioning are Usakhelouri, also a semi-sweet red, and Tvishi semi-sweet white wines produced in the micro zones of Lechkhumi. Wine tastings are available both in small family wineries and at larger companies such as Royal Khvanchkara, located in the center of Ambrolauri.
Local cuisine is basically traditional Georgian food with a little sparkle! The most distinctive dishes are Shkmeruli, a chicken dish with milk and garlic sauce, and baked beans with locally produced ham which is served in clay pots.
As restaurants in the region are still limited, the best options for meals are hotel restaurants or wineries. Most family guesthouse and large hotels offer Gerogian cuisine with locally produced wine, while several bungalows open during the summer season offer a light meal and refreshing drinks near the riverside beaches.
Getting In and Around Racha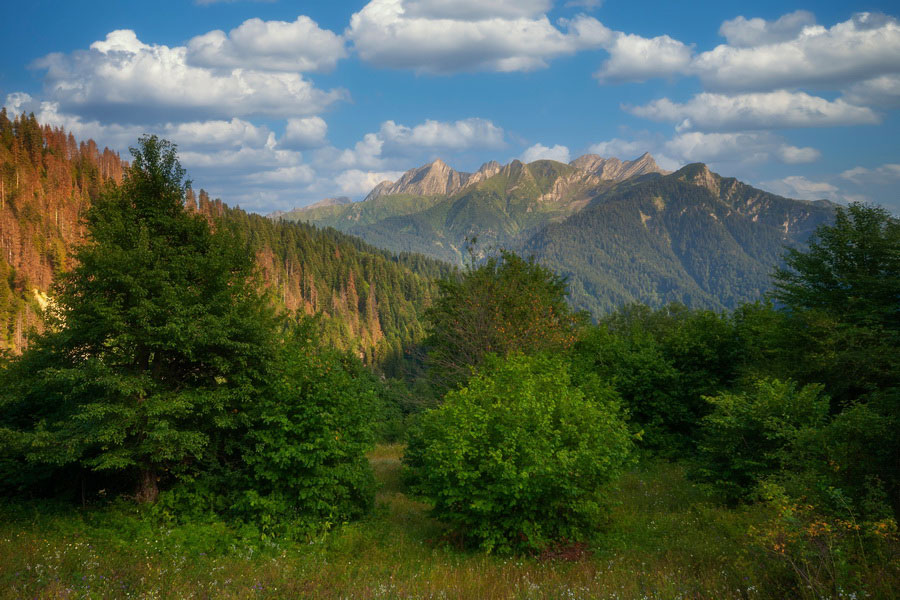 Public transport from Kutaisi and Tbilisi to Racha is limited to daily marshrutka vans which only come and go from the towns of Ambrolauri and Oni. Another option is a flight from Natakhtati to Ambrolauri with local carrier Vanilla Sky. The flight duration is only 30 minutes, but the flight can be cancelled on short notice due to weather conditions.
As public transport between Racha's villages is available only during limited hours and transport to more remote regions is even more unpredictable, your best option for traveling around Racha, Georgia is by private vehicle.
You can book your transfer from Tbilisi to Ambrolauri on sedan, minivan or minibus on our page.