Sighnaghi, Georgia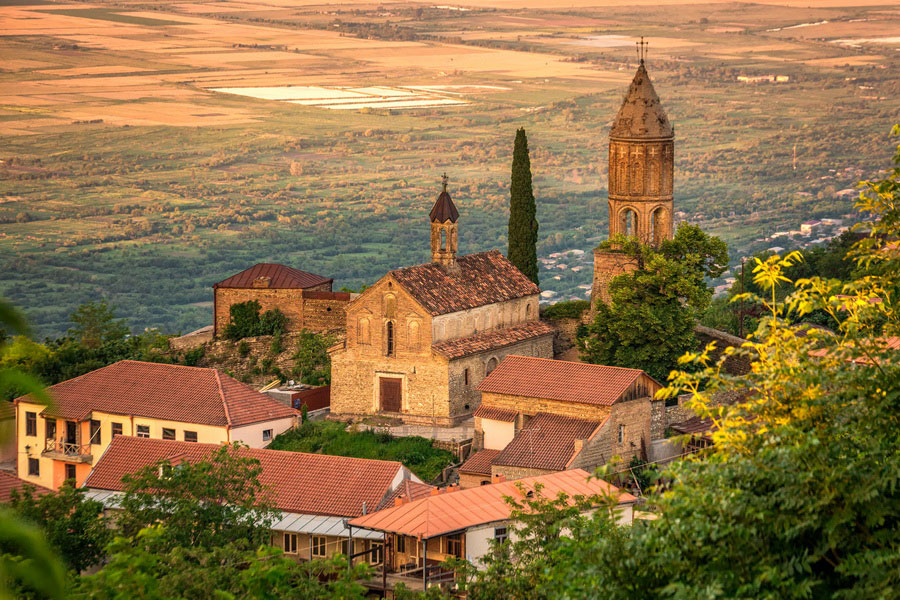 Tours, Attractions and Things To Do in Sighnaghi
Sighnaghi Travel Guide
The Georgian town of Sighnaghi is located in the eastern part of Kakheti, and is known as the City of Love. Sighnaghi was also one of Georgia's many stops along the ancient Silk Road. Sighnaghi is just over an hour away from Tbilisi, which makes it a good escape from the busy life of the city. Many day trips and short excursions travel to Sighnaghi.
The town has recently undergone significant restoration and infrastructural improvement, rendering Sighnaghi a must-see destination in Georgia. Casino gambling, high end hotels and dining, fine wines and a stunning view of the Alazani Valley make Sighnaghi one of Georgia's most attractive small towns.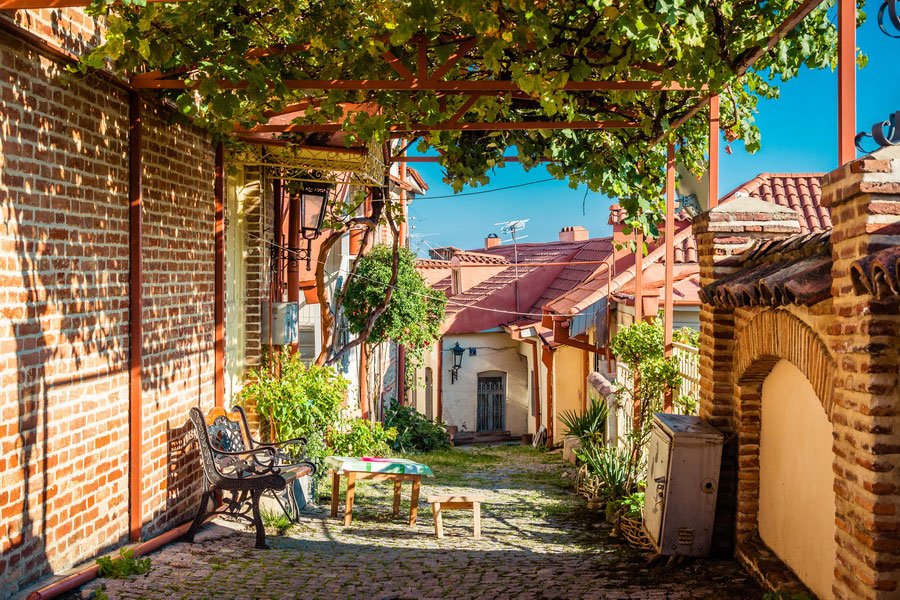 The town sits atop a bluff overlooking the Alazani Valley, which is one of Georgia's most famous wine-producing regions. Sighnaghi is a great place to start a wine tour in Georgia's prime wine country, especially since several vineyards and wineries are just a short drive from the town's center. The surreal views of the Greater Caucasus Mountains add an extra level to the scenery.
As is typical of Georgia, Sighnaghi is endowed with significant historic and cultural heritage sites. Its charming cobblestone streets and alleys, restored original nouveau woodwork, and detailed facades give the town a romantic mystique. Billed the City of Love, Sighnaghi is a popular wedding venue. The wedding chapel here was the first to operate around the clock, and put Sighnaghi on the map as a destination. Its marriage chapel now hosts ceremonies taking place all hours of the day and night. It is also a frequent venue for traditional Georgian dance recitals, music and craft festivals.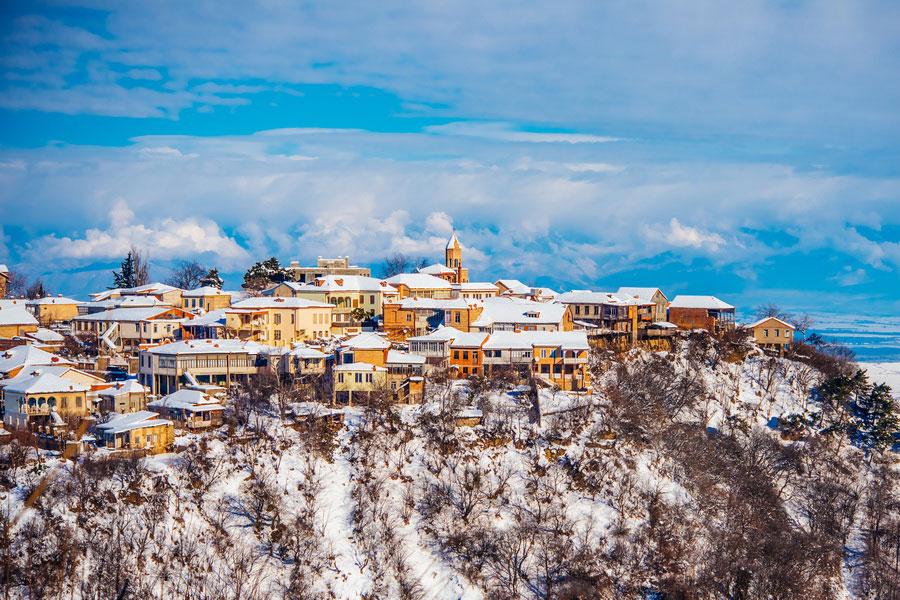 Sighnaghi's location in the Kakheti Region, in eastern Georgia, means that the weather is pleasant year-round, perfect for a trip at any time of the year.
Cultural Attractions
Two Georgian Orthodox houses of worship can be found in Sighnaghi proper. St. George and St. Stephen churches are both fine examples of traditional architecture and religious works. Both are open to visitors and located with a few minutes' walk from each other.
Bodbe Monastery
Any itinerary for Signagi should include a trip to Bodbe Monastery, just 2 km (1.25 miles) outside town. This 9th century monastery houses the grave and relics of St. Nino, who converted Georgia to Christianity in the 4th century. A few km from the main complex, at the site of St. Zebulon's Chapel, is St. Nino's Spring, famous for its healing powers. Bodbe has survived several partial demolitions from outside invaders over the centuries. At one point during the Soviet Union the monastery was retrofitted and was used as a hospital for several decades. The turn of the 20th century of the century brought extensive restoration and a renewed interest in the historic marvel of Orthodox faith. Today the monastic complex is active as convent, and nuns live here. Bodbe receives visitors year-round.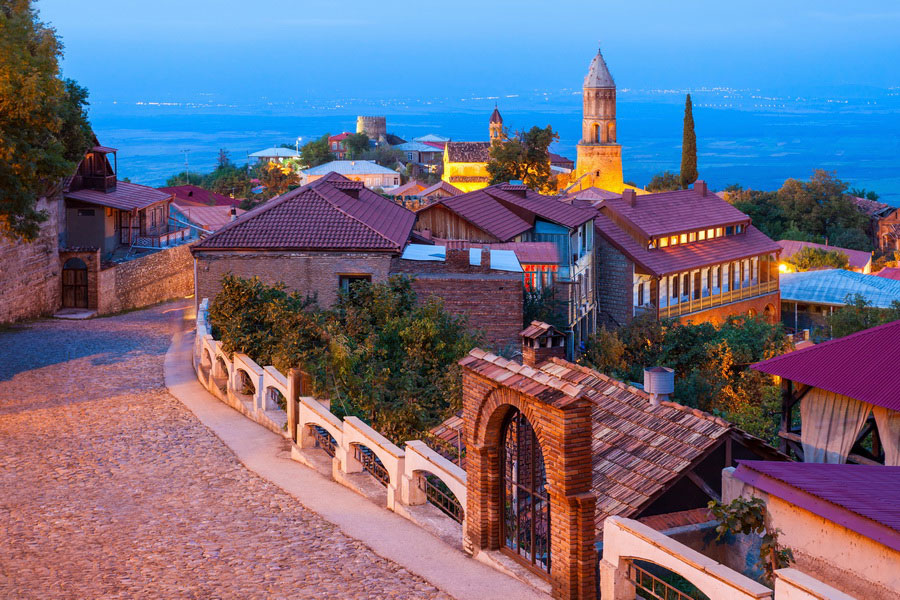 Signagi City Wall
Sighnaghi's City Wall is an impressive remnant of the medieval past (13th century) and definitely worth a visit. The wall has over 20 towers, all of which are named for the town at the end of the road that passes through each gate. Only a small section is open for walking, but the views overlooking the Alazani Valley are not to be missed.
Ethnographic and Archaeological Museum
A museum in the center of Sighnaghi features relics from archaeological excavations, as well as art exhibitions and traveling exhibits. The famous Georgian painter Pirosmani was born in the Kakheti Region and some of his works are on display at the museum. Visiting exhibitions also come to the museum in Sighnaghi, some of which don't even reach museums in Tbilisi.
Sighnaghi has several restaurants serving local, fusion, continental and even Latin cuisine. One of the few wine houses in town, Pheasant's Tears, is a must-visit. This fusion restaurant and local winery is located in the town center and features a wine bar serving original wines and regional varieties plus full selection of Georgian cheeses. The dishes on offer are updated daily according to available ingredients, since all the foods are sourced locally and delivered fresh. There are plenty of options for both vegetarians and meat lovers. For a local meal with excellent organic wines made by traditional methods, and served in a lovely home decorated with qvevris and musical instruments, be sure to stop by Pheasant's Tears.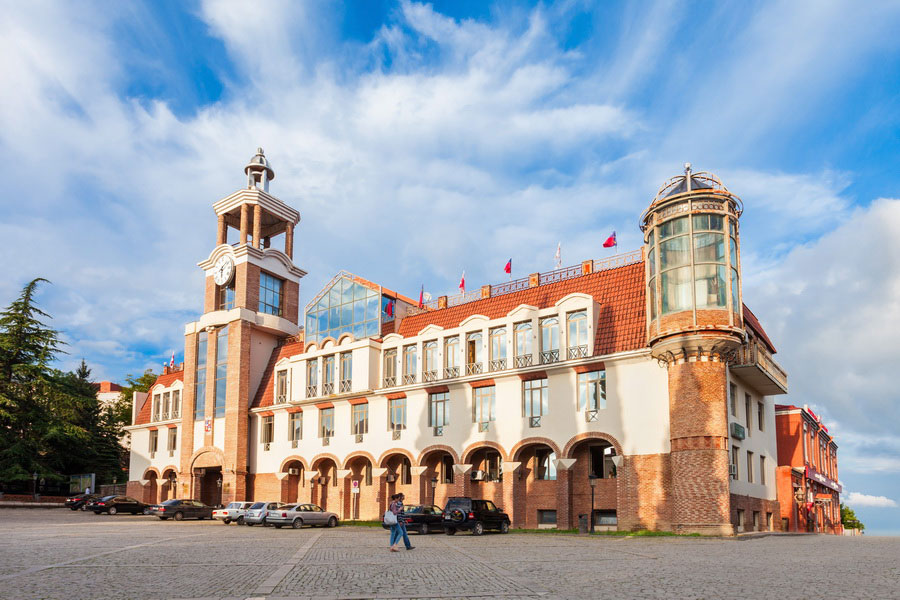 Sighnaghi is the perfect destination for a traditional Georgian homestay. Many guest house options are available at unbelievable affordable rates and reservations are usually optional.
There a few full-service hotels in the center of town. The European offers high-end service and casino gambling.
Getting In and Around
Sighnaghi is a very safe city, and tourists are encouraged to meander its avenues and alleyways at will. Being a small town of less than 3000 permanent inhabitants, closing hours are generally no later than midnight in the high season months of spring and summer. Off season means places even earlier, though exact times may vary depending on the weather and number of customers.
Sighnaghi is easily accessible via daily marshrutka service from Samgori metro station in Tbilisi. The ride takes from 1.5 to 2 hours.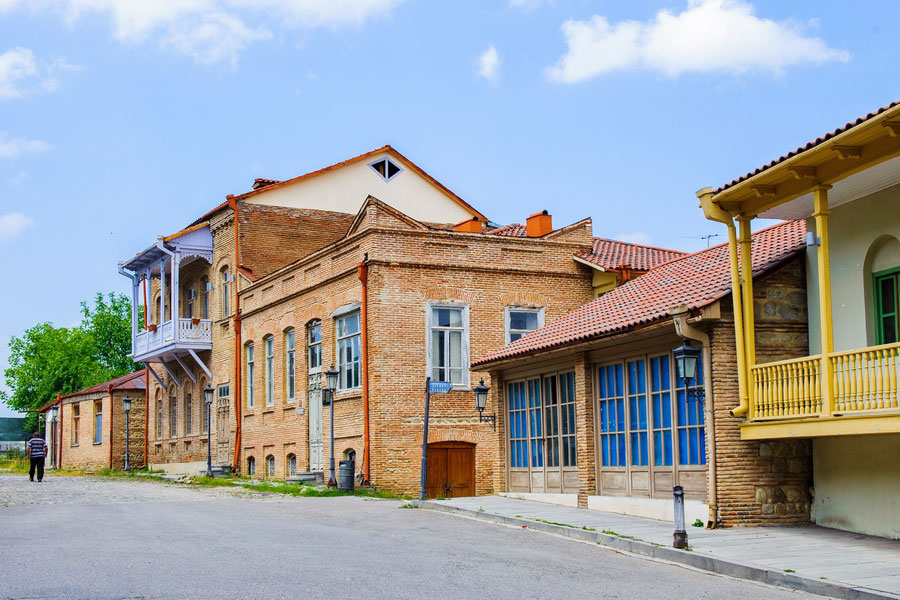 Taxi service to and from Sighnaghi should be reserved privately with one of the many convenient taxi services. Hailing a taxi on the spot will be significantly more expensive regardless of negotiations.
Driving to, in and around Sighnaghi is by far the most recommended means of transport. Tourists are consistently amazed by the scenery and the town's ease of accessibility and proximity to several wineries.