Gergeti Trinity Church near Stepantsminda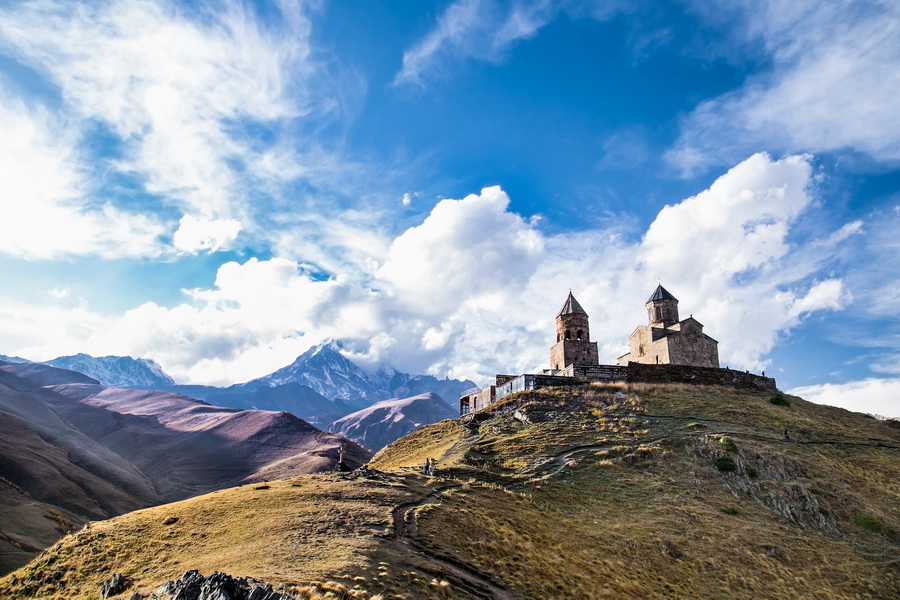 The old Georgian Church is located under the Mount Kazbek, 2170m above the town of Stepantsminda (former Kazbegi) and village of Gergeti whose name she had adopted. The church is widely known as Gergeti trinity Church thought Georgians call it Gergeti Tsminda Sameba.
It was built in the 14th century, but not much is known to us of its history, though it was mentioned in one of the guide books from 1906, that the church was built on the place that used to be pagan idols worshiping. And in 18th century, the church turned into storage for main Georgian relics that were transported here in the time of Persian invasion to Tbilisi. In the beginning of the 20th century, Soviet government had closed the church, and it was returned back to the Georgian Orthodox Church only in the 1990's. But for the long times it had served as a popular waypoint for travelers on the road connecting Russia and Georgia.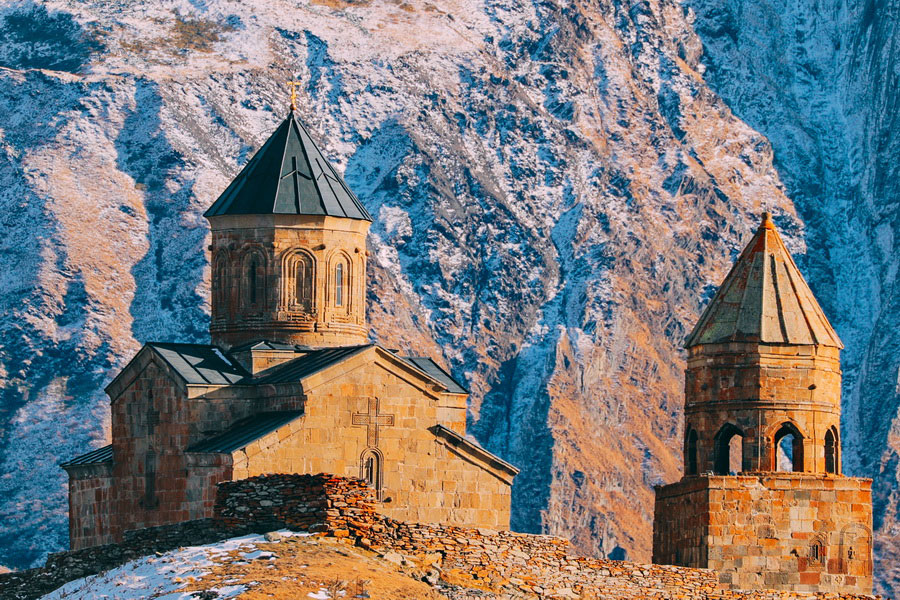 Gergeti Trinity Church is above Stepantsminda and thus it seems an impossible experience to climb up to it, but in fact ascent goes quite easy taking only an hour walk up the serpentine road and a thorny forest. Those who prefer not to walk can rent a car with a driver who will ride you up there in 10 minutes. Very often it happens that alpinists conquering the peak spend the night near the church to become acclimatized to new conditions.
The architecture in the Gergeti Trinity Church is a traditional one for Georgia, although it is the only cupola church in the northern part of Georgia. A small bell tower is situated near the church, decorated with few bas-reliefs. The church itself is quite simple: only bas-reliefs and ordinary patterns decorate the massive stone blocs and the windows almost don't let any light creating mysterious twilight. Unfortunately, it is not allowed to take photographs of the church interior.