Stepantsminda (Kazbegi), Georgia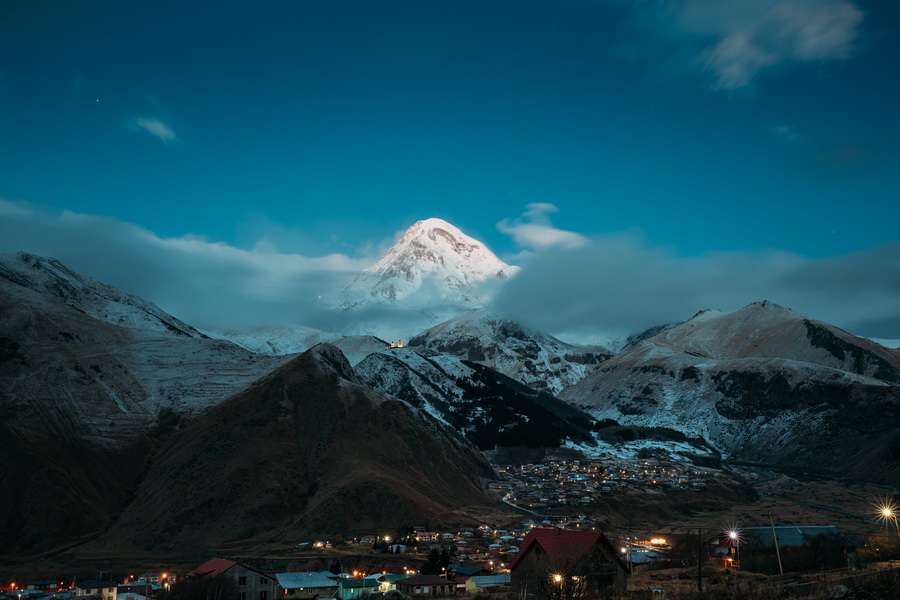 Tours, Attractions and Things To Do in Stepantsminda (Kazbegi)
Stepantsminda (Kazbegi) is a settlement in the north of Georgia, at the foot of Mount Kazbek, at 1740 m above the sea level. Located 160 km north from Tbilisi and only 11 km from the Russian border, it is settled on the Georgian Military Road that connects Russia and Georgia. For about 100 years and until 2007 it was always known as Kazbegi, and only recently received its historic name, Stepantsminda, although most of the people still refer to it as Kazbegi.
The estimated population of Kazbegi is 5000 people; it is the only town in the mountain area of the Moheve region. Terek river runs through Kazbegi town, surrounded by deciduous and coniferous forests. The snowed Caucasus peaks rise behind, where Mount Kazbek stands out with its 5033m height. The climate in Kazbegi is temperate. Winter is mild with average temperatures of -5 °C and summer is relatively warm with temperatures around +15 °C. Precipitation consists of 800 mm a year; it rains in spring and autumn and snows frequently in winter. Cold mountain winds are typical here as well.
Kazbegi is a small but a charming town with cobbled streets, small houses, which give a feeling of a real Georgian village, and the marvelous view of the Mount Kazbek and Gergeti Trinity Church.
Gergeti Trinity Church is Kazbegi's main attraction for tourists and a pilgrimage destination. Standing alone on a mount at 2200 m above the sea level, this 14th century magnificent architectural piece will take your breath away. Whether in summer or early autumn when the church is surrounded by green mountains and alpine flowers, or in winter when it stands out on the white hill surrounded by snowy peaks, the image of the church will stay in your memory forever.
Kazbegi is a starting point for alpinists who want to conquer the Mount Kazbek. Also, for adventure lovers Truso Gorge and Gveleti waterfalls are beautiful places not to be missed, together with Juta, a remote mountain village just 20 km away from Kazbegi. During sunny days it is also possible to ride a horse and enjoy paragliding.
For those with a more relaxed agenda, the fresh mountain air and the mineral springs of Stepantsminda are all you need. The microclimate here is also considered the main therapy for breathing and eating disorders.
Kazbegi has been developing over the years, and nowadays it is possible to find options that range from a luxury hotel to a basic homestay, many restaurants, bars, coffee places, wine tasting room, and shops, all of them without losing the local charm.