Georgian National Gallery (Tbilisi Art Gallery)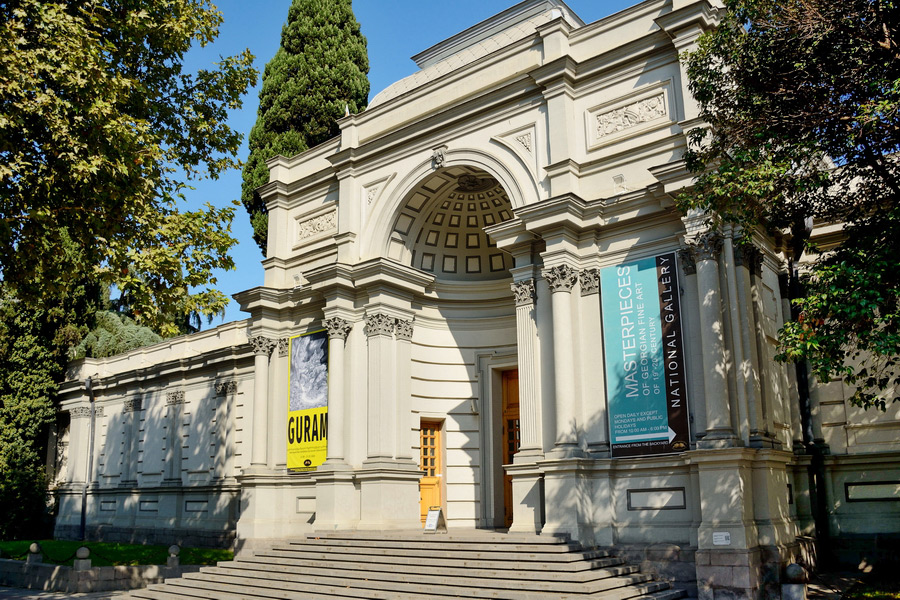 "Everywhere you walk, every place you go to is full of art, explicit or hidden! If you can see it, you will be the richest art collector and your memory will be the richest art gallery!"
― Mehmet Murat Ildan
Georgian National Gallery, also known as Tbilisi Art Gallery, is one of the most renowned museums in Tbilisi, adored by art lovers for its wealth of exhibitions by famous Georgian and international artists.
The gallery building was constructed in 1888 for the Russian Military-Historical Museum. The project was designed by a German architect from Tbilisi, Albert Salzmann. He chose the Palazzo Delle Esposizioni, an exhibition palace in Rome, as the inspiration for the gallery, although its scale was reduced to coincide with the other architecture on Rustaveli Avenue. During World War I, the original museum was closed and the exhibits shipped off to the North Caucasus.
The idea to establish an art gallery in this building came from Dimitri Shevardnadze, a famous Georgian artist and public figure. The first exhibition, organized in October 1920, included Iranian miniature art, European and oriental collections and paintings by Georgian artists which had until then been preserved in other museums and private collections. Dimitri Shevardnadze traveled around the country collecting items for the new art museum of Georgia, which quickly became the nation's leading exhibition hall. The gallery became a part of the Georgian National Museum in 2007 and continues to aid in the development of local culture to this day.
The building was previously painted blue and thus came to be nicknamed "Blue Gallery". During restoration work in 2007, it was repainted in a pearl-grey color. The building was expanded from the garden side and a new exhibition space created, yet the central exterior and parts of the interior were left unchanged. The renovated gallery includes 8 permanent halls, a laboratory, temporary exhibitions halls, a workspace and a gift shop.
Tbilisi National Gallery has long played a central role in the promotion of Georgian art. Today it holds more than 30,000 items of value, including permanent exhibitions from prominent Georgian artists Niko Pirosani, Davit Kakabadze, Lado Gudiashvili and Iakob Nikoladze. In recent years it has hosted many world-famous artists, including Michelangelo, Titian, Botticelli, Lucas Cranach and Michelangelo Pistoletto.
A popular tourist destination in Tbilisi, the Georgian National Gallery (Tbilisi Art Gallery) is sure to add colorful memories to your travels as you discover the country's artistic side.
Location: 11 Shota Rustavelii Avenue, Tbilisi, Georgia