The Government House, Tbilisi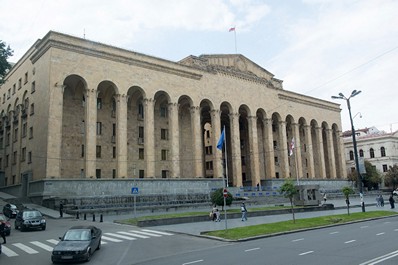 The Georgian parliament building is located on one of Tbilisi's main streets, Rustaveli Avenue. It is the centre of the country's political life and, since being built in 1937, has witnessed many important historical events. These include the deaths of protesters on 9 April 1989, the restoration of Georgia's independence on 9 April 1991, and the Rose Revolution in November 2003. In front of the building is a monument to those killed in the events of April 1989.
Before the parliament building was built the Georgian government sat in the neighbouring Vorontsov Palace, which also played an important role in the city's history.
The Georgian parliament building is an example of Socialist classicism, with tall columns connected by arches and a pastel-coloured façade with a decorative panel and a flagpole on top.
The area next to the building is still a place for citizens to express their opinions on certain political issues, with peaceful rallies and protests held there periodically.
The parliament building is within walking distance of Freedom Square metro station.