St. George Temple (Kashveti)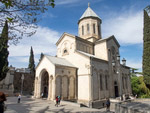 On the Rustaveli Avenue, across the Parliament Building of Georgia, there is St. George's church, one of the newest and the most beautiful churches of Tbilisi that is also called Kashveti (Kashueti). It was built in 1910 on the place of the crumbling church of the same name. Samtavisi cathedral that considered as the masterpiece of the Georgian medieval architecture served as architectural prototype for St. George's church. Today it is famous for miraculous image of St. David and exquisitely painted altar with stone laces.
The first church on this place appeared in the 6th century, and the history of its appearance is partly related to David Gareja, one of the Assyrian fathers preaching Christianity in Georgia. The story started from the group of monks who arrived in Mtskheta from Syria under the supervision of St John of Zedazeni and went apart around the country. David went to Tbilisi and settled on the Mount Mtatsminda. He visited the city every week to preach. Once, a woman slandered him for making her pregnant. David predicted that a liar would give a birth to a stone and left the mundane life to the deserted lands where he founded a famous monastery of David Gareja. On a due date, the woman gave a birth to a stone. Since then the church in Tbilisi where the monk had been preaching was called Kvashveti, which means "kva" – stone and "shva" – giving a birth in Georgian.
Later the church was destroyed and erected several times. The pre-last reconstruction of St. George church was in 1753 on the funds of the old princely family Amilakhvari. During 150 years, the construction had considerably dilapidated and it was decided to erect a new church in the end of the 19th century. Money for construction was collected from charity of wealthy families and businessmen.
Construction lasted 6 years, and was finalized in 1910. The architect of the church is Leopold Bielfeld, a German who lived long in Tbilisi and was the author of many other buildings in the city. The process of construction was supervised by Leonardo Lorinzetti, a talented Italian builder, and the entire ornate design was done by brothers Agladze, local masters. The elder brother, Neophyte Agladze was considered the best stone carver in Georgia.
Moreover, Neophyte became one of the saviors of the Kashveti church. In the 1920's, the Soviet government closed churches, and even wrecked some of them. The stone carving master found out that his work was soon to be demolished and complained to his friend, artist Gigo Gabashvili. The latter asked for help from his friend in Moscow and soon the decision on demolishing of the church was canceled. Thus, friendship saved the church.
Today Kashveti church, the outcome of the German, Italian and a Georgian collaboration, is one of the best architectural monuments of Tbilisi created in classical Georgian style.