Martkopi Monastery near Tbilisi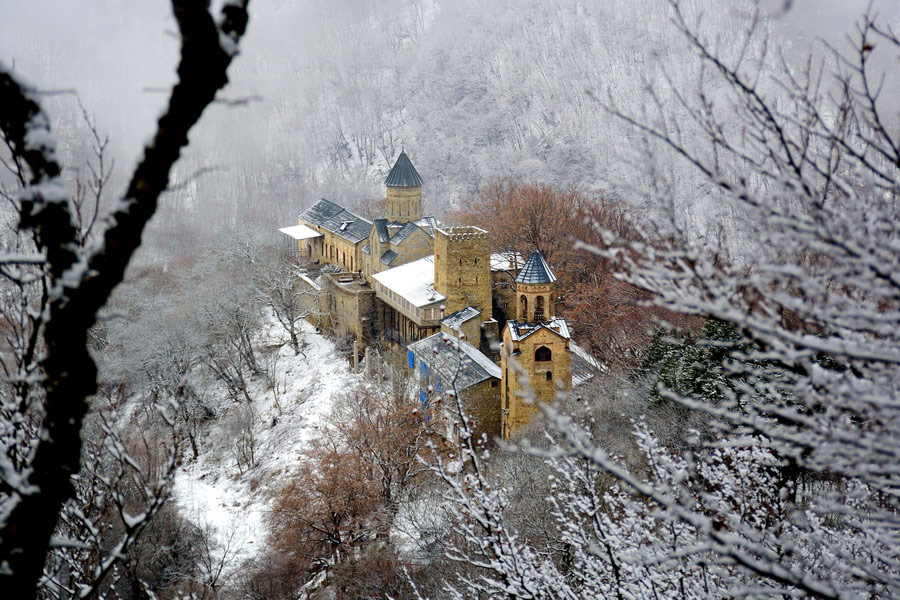 Martkopi Monastery or Martqopi monastery is located 35 kilometers from Tbilisi, Georgia in a resplendant mountain forest of Kvemo Kartli Region. Founded in the 6th century by Assyrian Father Anton Martkopeli, the complex holds cultural significance to Georgians and is the site of one of the country's most infamous unsolved murders.
Martkopi Monastery Complex consists of the Deity, Virgin Mary, St. George and Father Anton Churches, as well as a belltower and living quarters for monks. The icon of St. Anton Martkopeli, the site's most sacred relic which is rumored to possess miraculous powers, is also on display. To the east of Martkopi Monastery is Anton's Pillar, which overlooks dense forest from atop a mountain precipice. The pillar can be reached with a 20-30-minute hike on a well-marked trail up the mountainside. From the top, one can enjoy breathtaking views of the monastic complex year-round.
Historical Overview
Anton Martkopeli was one of the thirteen 6th-century Assyrian missionaries who traveled from Mesopotamia to Georgia to strengthen Christianity in the country. Upon arrival, Father Anton opted to live in a secluded enclave on Mount Akriani, where he would pray fervently day and night. In the coming years he converted many people to Christianity before living out the last 15 years of his life in the place where Anton's Pillar now stands. He lived as a hermit, which is also implied by the name Martkopeli (Martomkopeli), which in Georgian means "one who lives in solitude". The nearby village of Martkopi also adopted this name in the 6th century, having previously been known as Akriani. Father Anton became known in the region as a miracle worker and was soon surrounded by a crowd of followers, which in time led to the revival of Martkopi's monastic life.
Martkopi Monastery has come under attack multiple times over the centuries by various invaders, suffering partiuclarly extensive damage during Tamerlane's conquest in 1395. A century later, Georgia was officially dissolved into smaller kingdoms. Martkopi was annexed to the Kingdom of Kakheti, where it was highly regarded by Kakheti's kings.
In the 17th century, restoration efforts helped to reverse much of the damage which Marktopi had sustained since the Tamerlane era. The monastery went on to serve as an educational center until the mid-18th century. Extensive renovations were carried out in the 19th century, at which time a new builing for Church of the Deity was built to replace its crumbling medieval prededessor. Kirion II, head of the Georgian Orthodox Church from 1917-1918, resided there in his final days after becoming a monk toward the end of his life. In the summer of 1918, he was murdered in his chambers at Martkopi in a senseless killing which remains unsolved to this day.
Martkopi Monastery continued to function as a hermitage until 1934. It served as a shelter for homeless children in the 1950s - 1960s and a recreational home in later years. In 1989, the monastery was again restored to the Georgian Orthodox Church by Patriarch Ilia II.
Currently, Martkopi Monastery Complex remains open for visitors and is a worthwhile stop for travelers passing through Georgia's Kvemo Kartli Region.