Rustaveli Movie Theater, Tbilisi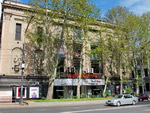 The Rustaveli Cinema is the main film theater of Tbilisi. The cinema building was designed by the famous Georgian architect N.P.Severov in 1938. N. Severov was born in Tbilisi, where he built the most important projects of his life, including the Rustaveli Cinema.
The cinema is a small rectangular building, whose austere facade is decorated with sculptures. This architecture is in perfect harmony with the buildings located next to the cinema, which together make up Rustaveli Avenue.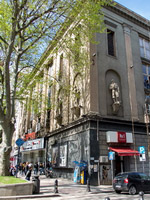 Central Rustaveli Avenue is famous for its historical and cultural monuments, such as the Shota Rustaveli Theater and the building of the Parliament of Georgia. This avenue is the heart of the Georgian capital, because of the government buildings and cultural monuments concentrated in it. For all residents and visitors to Tbilisi it also became a popular place for cultural activities which greatly contributed by the Rustaveli Cinema located in it.
The Rustaveli Cinema is the venue for annual Russian cinema festivals, very popular among the CIS and Caucasian countries. As part of the festivals, you can watch movies of the best Russian film directors and Russian cinema stars. Today the Rustaveli Cinema is a place to host premiere films of both domestic and foreign production.