Rustaveli Cinema, Tbilisi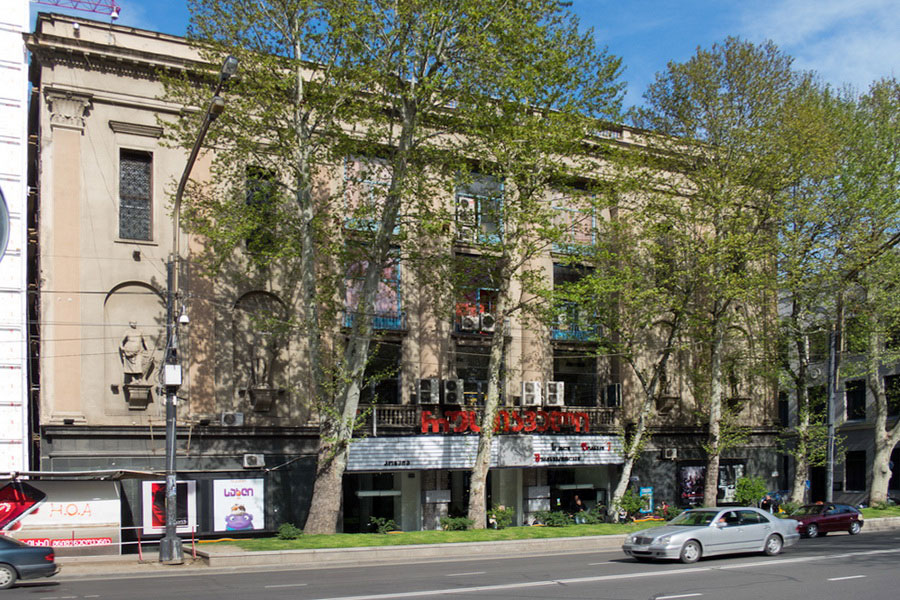 Rustaveli Cinema in Tbilisi was built in 1939 on the site of the former Hauptwacht and Kaloubni Church on Rustaveli Avenue. The thoroughfare is known as the heart of the Georgian capital due to its many cultural and government buildings, including Shota Rustaveli Theater, Parliament of Georgia and Rustaveli Cinema. As one of the first structures in Tbilisi which was originally intended as a cinema, its architecture duly reflects this function. Although numerous other movie theaters were built in Tbilisi during the Soviet era, Rustaveli Cinema is the only one which continues to serve as a theater to this day.
The stately structure was designed by architect Nikoloz Severov, who also constructed the Georgian National Museum. A post-constructivist building, it is decorated with classicist architectural elements yet bears the characteristics of Stalinist architecture. Post-constructivism in the USSR developed in the 1930s and quickly became widespread, resulting in the transition from constructivism to Stalinist architecture which is represented in Rustaveli Cinema. The cinema building is famous in Tbilisi for its statues: the side which faces Rustaveli Avenue is decorated with prominent sculptures of a collective farmer, a worker, an athlete and a woman with her son, while from Purtseladze Street, the statue of a climber can be seen.
In 1988, Rustaveli Cinema was awarded the status of a cultural heritage monument for its role in the history of Tbilisi. Renovations were carried out in the 1970s, followed by stylistic reconstruction of the interior in the late 1990s. It was at this time that the foyer and upper floors were repurposed for a multifunctional role. Rustaveli Cinema in Tbilisi was closed for further reconstruction in July 2018, and extensive plans are currently underway to restore its columns, ceilings, staircases and the exterior with its beloved sculptures.