Shota Rustaveli Theater, Tbilisi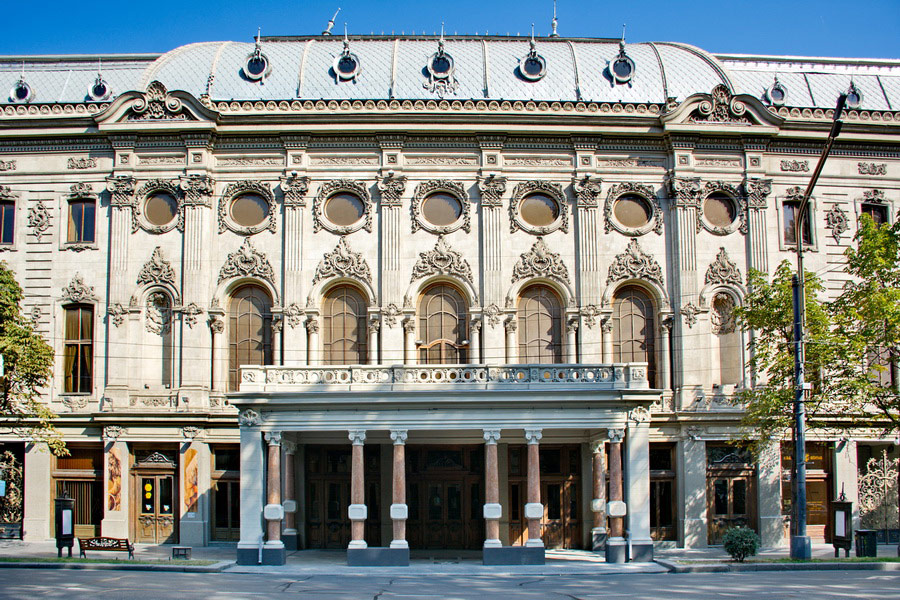 The Shota Rustaveli Theatre in Tbilisi is one of the most famous theaters in Georgia. It was founded in 1921, in a former Artistic Society building that dates back to the period of tsarist Russia. The theater building, constructed in 1899 in the Golovin Avenue, now is named after the great Georgian poet and statesman of the XII century Shota Rustaveli.
Shota Rustaveli Avenue itself, with the theater building located in it, is also a city's landmark. This is the city's central avenue, with length, beginning from Freedom Square, ending with Rustaveli Square, of 1.5 km. Though there are the Parliament and the Government buildings of Georgia, the Georgian National Museum, and Tbilisi Russian Drama Theater named after A.S Griboyedov, along with the Shota Rustaveli Theater, the latter can be called the central figure in the avenue for its grandeur and beauty.
Today the Shota Rustaveli Theatre is one of the leading theaters of Georgia. Here you can watch performances, magnificent in intensity of emotions, written by world-famous playwrights, and performed by the best Georgian thespians.
The Shota Rustaveli Theatre attracts attention with its exquisite architecture. The rectangular building of the theater with arches and glass windows creates an effect of its lightness and ethereality. The theater's outer walls feature the murals with images of mythical creatures: chimeras, harlequins, seductive houris and bacchantes enhancing its unusual beauty. All these architectural features make the Shota Rustaveli Theatre one of the main cultural attractions of the Georgian capital.